Report: Women's World Cups provide $493.6 million in economic impact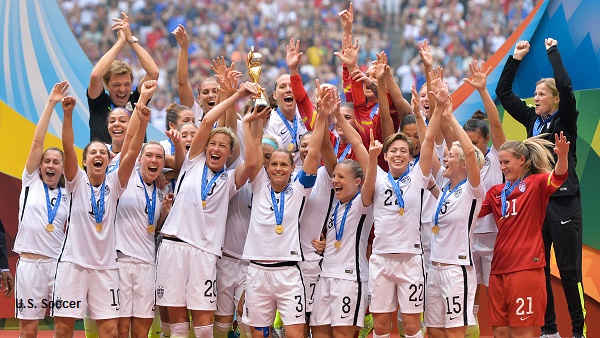 (Via Canada Soccer) – Canada Soccer has announced that the 2015 FIFA Women's World Cup and 2014 U-20 Women's World Cup supported an impressive $493.6 million in economic activity for Canada – exceeding the preliminary projections of $337 million made in February 2014 by 46 percent.
The total initial expenditure for both competitions was $216 million, which generated $249 million in net economic activity (GDP) with $97.6 million in tax revenues supported across the country. Of the $97.6 million in tax revenues supported, $46 million accrued to the federal government, $36.7 million to the provincial governments and $14.9 million to the official host cities.
The figures released today by Canada Soccer follow a study conducted using the Sport Tourism Economic Assessment Model Professional version (STEAM PRO) – an assessment tool provided by the Canadian Sport Tourism Alliance (CSTA).
Canada hosted the FIFA Women's World Cup Canada 2015 between June 6 and July 5 in six official host cities from coast to coast: Vancouver, British Columbia; Edmonton, Alberta; Winnipeg, Manitoba; Ottawa, Ontario; Montréal, Québec; and Moncton, New Brunswick. Unprecedented global television audiences and media interest, as well as record-breaking digital and social media figures ensured that the competition would be remembered as a landmark event for Canada and the development of the game. The FIFA U-20 Women's World Cup Canada 2014 was also a success, staged from 5 to 24 August 2014 in four official host cities: Edmonton, Alberta; Toronto, Ontario; Montréal, Québec; and Moncton, New Brunswick.
+Video: World Cup champion USWNT honored at White House
"On behalf of Canada Soccer, we would like to thank all of our funding partners for their support to successfully stage the largest single sporting event ever hosted in Canada," said Victor Montagliani, President Canada Soccer. "Without their early commitment to the hosting of these competitions and their outstanding support throughout, along with that of the Canadian soccer community, we could not have had such a profound impact on not only our economy, but also on our country and women's sport in Canada and around the world."
The FIFA Women's World Cup Canada 2015 set a new total attendance record (1,353,506) for a FIFA competition other than the FIFA World Cup and the new study has shown that it attracted thousands of out-of-town spectators. More than 84,000 visitors made one or more day trips while 174,000 visitors made an overnight visit to one of the official host cities. The study also showed that a total of 96,600 USA fans crossed the border. Spending by all of these visitors, combined with that of the 36,600 out of town visitors who were among the nearly 300,000 spectators at the FIFA U-20 World Cup Canada 2014, were reflected in the positive results of the economic impact assessment.
The two competitions were supported by more than 2,500 volunteers, representing over 100 nationalities, who collectively contributed in excess of 153,000 hours of their time to ensure the success of the events.
"The record crowds and TV audiences for the FIFA Women's World Cup Canada not only united us from coast to coast but also with the rest of the world," commented Peter Montopoli, Chief Executive Officer for Canada 2015. "As we strived to a greater goal both on and off the field of play, the legacy of these two competitions will have an impact for the sport, women and our country for years to come."
With the support of FIFA and Canada Soccer, the country now boasts 18 FIFA 2-Star recommended training fields. The women's game continues to advance thanks in large part to the highly competitive North American National Women's Soccer League (NWSL) in addition to the domestic Regional Excel Centres (REX) that have been established. It is hoped that the more than one thousand girls aged eight to 12 who attended the seven FIFA Live Your Goals festivals in the official host cities will continue their involvement in the game and strive to reach the top level.
For the first time, the sport was accessible in the school system to over 1.5 million students through the 'Move, Think, Learn – Soccer in Focus' school resource and curriculum supported by FIFA and Canada Soccer in conjunction with Physical and Health Education Canada. The programme will continue to benefit eight to 14 year olds through the partnership with PHE Canada. Beyond 2015, active soccer players in community clubs across the country will also benefit greatly from FIFA 11+ which is an injury prevention program. Launched in July 2015 by FIFA and Canada Soccer together with the Public Health Agency of Canada, the program is designed for ages 14 and older with those younger having access to the same resources through the Canadian Sport for Life's physical literacy program – Movement Preparation.