Reigning champ McLean Hotspur U-17 return to US Youth Soccer nationals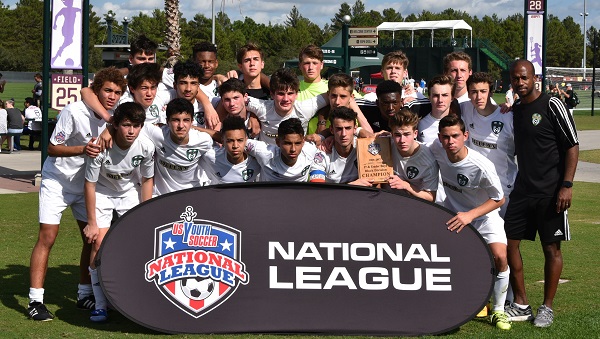 McLean 00 Hotspur Green Team
Front row, L to R: Brendan Murray, Billy Blake, Ryan Machado-Jones, Rogelio Benitez, Jack Rosener, Chris Schram
Middle row, L to R: Gustavus de Andrade, Jett Bisset, Ferdis Melgar, Jake Mayer, Dean Hughes, Tony Ducic, Charles Diallo, Noah Hannam, Stephen Yeonas, Coach Jamil Walker
Back row, L to R: Claudio Conde, Maverick McGann, Ethan Boshart, Nathan Paolozzi, Kris Schulte, Tyler Roy
(Via McLean Youth Soccer) – For the third year in a row, the McLean Youth Soccer Hotspur Green U17 Boys team will represent Virginia at the US Youth Soccer National Championships, held at the Toyota Soccer Center in Frisco, Texas from July 24-30.
The Hotspur team will be defending their title, as they won the 2016 National Championship.
The Hotspur boys earned their spot in the National Championships by finishing first in their National League bracket, with 5 wins and 2 ties. In bracket play, the boys competed against leading teams from California, Florida, Georgia, Maryland, Michigan, and Missouri. In addition to winning the National Championships last summer, the Hotspur boys have also won the Region 1 Championship in 2015 and the Virginia State Cup Championship in 2014 and 2012. The team is currently comprised of players from Maryland, Washington, DC, and Virginia.
+READ: Broadcast schedule released for US Youth Soccer National Championships
The US Youth Soccer National Championship Series is the country's oldest national youth soccer tournament, providing approximately 185,000 players on more than 10,000 teams from US Youth Soccer's 55 State Associations the opportunity to showcase their soccer skills against the best competition in the nation. Live broadcasts of games will be available from the championships on the official website including daily reports and complete results. The McLean Hotspur will play their first match at 9am local time on July 25.
The Hotspur team is coached by Jamil Walker, a former MLS professional player for DC United and the 2014 National Youth Soccer Coaches Association Coach of the Year.