Racing Louisville FC acquires USWNT stars Tobin Heath and Christen Press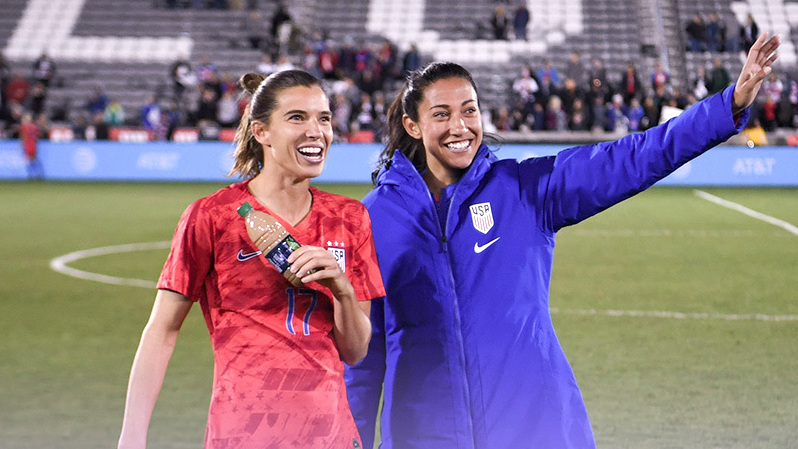 Racing Louisville FC bolstered its roster by making 14 selections in the 2020 NWSL Expansion Draft, headlining its haul with a pair of U.S. Women's National Team stars.
The club — which will make 2021 its inaugural season in the top-tier women's soccer league — took from Portland Thorns FC the rights to forward Tobin Heath with the 13th pick. At No. 14, Racing rounded out the evening by taking forward Christen Press from Utah Royals FC.
Both Heath and Press are currently playing in England for Manchester United Women. They signed for the 2020-2021 FA Women's Super League season, which runs through May 9, owing to interruptions to the NWSL playing calendar amid the COVID-19 pandemic.
Should Heath or Press return to play in the U.S. next year, their rights belong to Racing Louisville FC.
Racing head coach Christy Holly was permitted to select up to two unprotected players, or one U.S. Allocated Player, from all but one future NWSL rival club. The exception was Chicago, which in a trade last month last month sent forwards Yuki Nagasato and Savannah McCaskill to Louisville in exchange for full roster protection.
"The consistent theme would be that we have very hungry people coming in here with a really desire to prove their point within the NWSL," Holly said. "As you'll see with many picks, there's a high caliber of player. Some are unproven but we have quite a level of confidence in them in terms of the homework and the background digging that we've done, so that they can come here and contribute on the field to help us be competitive in everything that we do."
Racing club chairman John Neace and president Brad Estes flanked Holly during the expansion draft staged in a socially distant format at Louisville's new Lynn Family Stadium and broadcast live to the NWSL's Twitch channel.
Aside from Heath and Press, Holly opted to select, among others, two other full internationals, both Australian forwards from the Orlando Pride. Caitlin Foord's rights were transferred as she plays for Arsenal of the FA WSL, while Alanna Kennedy is on loan to Tottenham Hotspur.
Also highlighting the draft were the selections of forward Cece Kizer and defender Erin Simon away from the Houston Dash, who won the NWSL Challenge Cup over the summer as the league returned to play.
"We've been quite diligent about researching every single player from their favorite position, to where they're most valuable on the field, to the relationships they have off the field, and to what they can bring to the organization," Holly said. "Overall, we've tried to take that very diligent approach and we feel confident that we have hopefully selected the right people."
Racing's prospective roster entered Thursday consisting of the forwards Nagasato and McCaskill, in addition to forward Cheyna Matthews, who was claimed off the NWSL's Re-Entry Wire earlier this month. A rundown below introduces those who joined Louisville via the expansion draft.
Racing Louisville FC is nearing 3,000 season ticket members for its inaugural campaign. Visit RacingLouFC.com/tickets or call (502) 568-2489 during regular business hours to secure your tickets today.
Addisyn Merrick (Defender, North Carolina Courage)
Holding the University of Kansas' school record for minutes played at 2,278, Merrick appeared in all of her college matches. The Missouri native was also a key contributor to the Jayhawks' 2019 Big 12 Championship, earning all-conference first team and defender of the year honors. Merrick made her NWSL debut in the Challenge Cup after she was selected 28th overall in the college draft.
Julia Ashley (Defender, OL Reign)
The University of North Carolina product, via New Jersey, helped the school advance to the 2018 national title game as a senior. She was selected sixth in the 2019 college draft and played overseas in Sweden and Australia before OL Reign acquired her rights in January. Ashley received multiple U.S. U-23 call ups on her way to a professional career.
Jennifer Cudjoe (Midfielder, Sky Blue FC)
The native of Ghana is a newcomer to the NWSL having joined Sky Blue on a short-term contract for last summer's Challenge Cup. She brought seven years of international experience to the club, including her 2015 title as Ghana's Female Footballer of the Year. Cudjoe moved to the NWSL after three all-star seasons for Asheville City SC of the WPSL.
Cece Kizer (Forward, Houston Dash)
The Kansas native left Ole Miss the school's career leader in goals (48) and points (119) having also won the 2018 Senior CLASS Award recognizing student-athletes who make a positive impact in their communities. First-Team All-SEC in 2015, 2017 and 2018, Kizer then joined the Houston Dash, where she logged 61 minutes en route to the club winning the Challenge Cup's final. She's on loan in Norway through December, with her stint including a top-shelf goal scored back in October.
Katie Lund (Goalkeeper, Washington Spirit)
After three years with Texas Christian University, Lund transferred to Arkansas for her final collegiate season, earning All-SEC Second Team honors having posted 11 shutouts in 23 games and leading the conference in save percentage (0.871). The Texas native is versatile having also scored 56 goals during her high school career. She is awaiting her NWSL debut.
Alanna Kennedy (Defender, Orlando Pride)
An Australia native, Kennedy is currently on loan to Tottenham Hotspur in the FA Women's Super League from Orlando, where she has played since 2017. Kennedy, also a member of her home country's national team, has appeared in two World Cups, helping Australia advance out of the group stage in 2015. She can play in the midfield as well as on the back line and often takes set pieces for her clubs.
Lauren Milliet (Midfielder, North Carolina Courage)
A four-year starter at Colorado College, Milliet went 14th overall to the Courage in the 2019 NWSL College Draft. She made two appearances as a rookie before getting more involved in 2020, most recently logging 278 minutes in four NWSL Fall Series appearances. Going back to her senior season, she led her school with 17 points, combining six goals and five assists.
Kaleigh Riehl (Defender, Sky Blue FC)
On loan playing for Paris FC in France's first division, Riehl is in her first professional season having been drafted 11th by Sky Blue after starring for Penn State University. She started all 25 games in 2019 as a redshirt senior for the Nittany Lions and left the program as the NCAA's all-time leader in minutes played for a position player with 8,847. She has also represented U.S. Soccer at the U-18, U-20 and U23 levels, plus was called into a senior team camp in 2019.
Caitlin Foord (Forward, Orlando Pride)
Foord is currently signed with Arsenal of the FA Women's Super League in England. Should she return to the NWSL, Racing Louisville FC has her rights. A member of the Australian National Team, Foord represented her country in the World Cup as young as age 16 in the 2011 World Cup. During her globetrotting career, Foord has played within the NWSL for Sky Blue and Portland Thorns; Orlando acquired her rights in January.
Katie McClure (Forward, Washington Spirit)
A third-team All-American in her final season at Kansas University, McClure led the Big 12 Conference last year in goals (17), points (43) and game-winning goals (7). The Spirit selected her with their third-round pick in the most-recent college draft, and McClure made six appearances as a rookie across the Challenge cup and Fall Series.
Erin Simon (Defender, Houston Dash)
Signed by Sky Blue FC following a 2016 open tryout, the New Jersey native Simon was later picked up by West Ham United ahead of the distinguished English club's entry to the FA Women's Super League. Having returned to the NWSL earlier this year, Simon appeared in five Challenge Cup games for the Dash en route to the club's title, starting three of those.
Michelle Betos (Goalkeeper, OL Reign)
A New York native who attended the University of Georgia, Betos continues to rank high on the school's lists for career shutouts (26) and wins (48). Having entered the NWSL in 2013, Betos was named the league's Goalkeeper of the Year in 2015, a season in which she earned the distinction of becoming the league's first keeper to score a goal while with the Portland Thorns. Betos finished 2020 on the season-ending injury list after she underwent knee surgery; she is expected to be back for the start of the 2021 season.
Tobin Heath (Midfielder, Portland Thorns)
Heath, a New Jersey native, won three national championships at the University of North Carolina before her USWNT debut in 2008. Since then, she has been part of two World Cup-winning sides and in 2016 set the NWSL record for most assists in a season as a member of Portland Thorns FC.
Christen Press (Forward, Utah Royals FC)
A California native and Stanford University alum, Press is the former Women's Professional Soccer Rookie of the Year who has registered more than 100 caps since making the USWNT in 2012. Collegiately, she remains Stanford's assists leader. Professionally, Press ranks fifth on the NWSL's all-time scoring list.