Quarterfinals match-ups set at Region IV Presidents Cup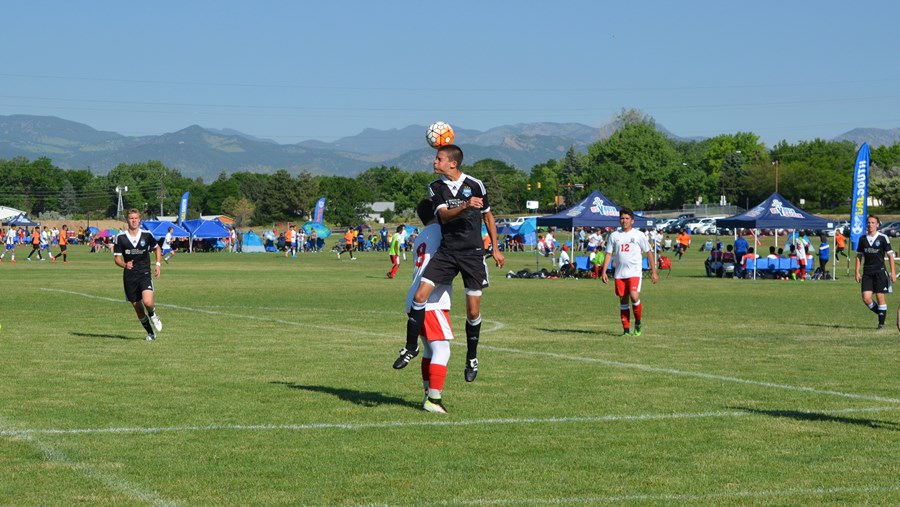 Quarterfinal Match-ups Set
Day 3 of 5
Schedules, Scores and Standings
ARVADA, Colo. (Via US Youth Soccer) – Quarterfinal match-ups are set in the Under-13 through Under-17 Boys and Girls teams participating in the 2016 US Youth Soccer Region IV Presidents Cup in Arvada, Colo. After three days of play, quarterfinal teams get one step closer to a regional title and a berth to the 2016 US Youth Soccer National Presidents Cup, July 14-17 in Tulsa, Okla. Under-12 Boys and Girls in the 2016 US Youth Soccer Region IV Championships are also competing at the 2016 Region IV Presidents Cup.
The US Youth Soccer Presidents Cup is designed for teams seeking additional challenges to play for a national title against teams of similar abilities. The cup provides a progressive, competitive experience to teams that might not otherwise get the opportunity to participate in a series of unique experiences highlighting competition, camaraderie and community from the state to regional to national levels of US Youth Soccer.
2016 Region IV Presidents Cup Highlights
Under-14 Girls      
Real Colorado Red 01/02 (CO) and Arizona Hammers 02 (AZ) took care of business to secure spots in the quarterfinals from Group A. Things got off to a bit of a rocky start for Real when Pacific FC 01 Ice's (OR) Shalece Easley scored her fifth goal of the tournament in the 14th minute, but the second half would belong to the Colorado side as Jenna Lakomy, Sara Gallegos and Tatum Gallegos found the back of the net to punch Real's ticket to the quarterfinals.
Arizona Hammers used a comeback for the ages to move to the next round when they defeated FC Warriors Red 02 (NV) in a thrilling 4-3 match. Julianna Viscardo, Viviana Cera and Jacklyn Monje scored three goals for Warriors in the span of 13 minutes in the first half, but Arizona's Alysia Rochin pulled her side within two before halftime. Lorraine Pedroza Montoya made the score 3-2 with a goal in the 58th minute, and two minutes later Anai Hernandez scored the equalizer. It was Montoya's second goal that was ultimately the game-winner that sealed Arizona's spot in the next round.
Under-15 Girls
So Cal Rush (CA-S) headed into its match against Washington Timbers 00 Green (OR) needing a win to have a shot at a quarterfinals, and the Southern California team took care of business with a 2-0 win. Melody Landphear broke the scoreless stalemate in the 41st minute, and Sydney Murphy would seal Rush's spot in the quarterfinals with an insurance goal in the 70th minute.
Joining So Cal Rush in the quarterfinals from Group A will be Heat FC 01 BM and Spokane Shadow Ogami (WA), who squared off in the other Group A match. Heat won the group with a 3-0 record after a 2-0 win over Spokane (WA). Tanayia Crosby got Heat on the board in the 38th minute, and Drew Morby would double Heat's lead in the 62nd minute.
Under-16 Boys
Heading into the final day of group play, both Corning NCU Manchester United (CA-N) and Real 99/00 Olympico (CO) already reserved a spot in the quarterfinals, and Bozeman Blitzz FC (MT) became the third team from the group to advance thanks to a 4-1 win over 4-H Tapatio (OR). Larkin Lane got Bozeman off to a dream start with a goal in the first minute. Tapatio would respond in the 35th minute, but a second-half brace from Noah Metzger and an additional goal from Lane gave Blitzz the win, and ultimately a spot in the next round.
In Group B, Matrix Elite San Marcos (CA-S) moved to the top of the group with a win against Agave la Raza (AZ). Joshua Tellez got Matrix on the board in the fifth minute, and Luiz Carbajal would add his fourth goal of the tournament in the 24th minute. Eric Ponce added an additional insurance goal for Matrix in the 67th minute to complete the 3-0 win. WPFC 99 White (WA) became the third team from Group B to advance to the quarterfinals with a 1-1 tie. Rage's Kalob Dudley scored nine minutes into the match, but Michael Saffari's 73rd equalizer secured the Washington squad's trip to the next round.
Under-17 Boys
West Covina FC Elite (CA-S) finished off a strong group play performance with a 3-0 win over BSC Newberg 98 Black (OR) thanks to goals from Kevin Romero-Ruiz, Diego Virgen and Daniel Heredia. CV San Jose Earthquakes 98 White (CA-N) will join West Covina and BSC in the next round after a 4-2 win against Sereno Tucson 99 White (AZ). Sereno went up 2-0 thanks to Kevin Payan Bojorquez's first-half brace, but the Earthquakes would come storming back with a goal from Daniel Whitworth and a pair of goals from Kyle Timmons to claim the victory.
In Group C, the Las Vegas Mobsters (NV) will join Rampage 99 Black SC/TL in the quarterfinals after a 1-1 draw with Visalia Galaxy Red (CA-N). Galaxy's Bryce Aguilar broke the scoreless stalemate with a goal in the 17th minute, but Eduardo Lopez's 57th minute goal gave the Mobsters exactly what they needed to secure a spot in the knockout round.
2016 Region IV Championships Highlights
Under-12 Girls
Arsenal FC Elite (CA-S) ended group play with a 3-0 record while failing to concede a goal after a 3-0 win over NM Rush Cardinals (NM). Alexandra Carvetta began the scoring for Arsenal merely three minutes into the game and added a second goal in the 60th minute. Spencer Gonzales' 30th minute goal was sandwiched in between Carvetta's brace. WPFC 03 (WA) and CO Storm South 04 Select (CO) met on the final day with identical records, and it was the hometown that would emerge victorious 2-0 thanks to goals from Anna Lantz and Clara Heistermann.
Eastside FC 03 Red (WA) finished off an undefeated group play with an exclamation mark as the Washington side defeated Alaska Rush 04 (AK). Mia Hammons netted a hat trick to go with goals from Ashley Kirschner, Jensyn Lins and Grace Reiff for Eastside. In Group A's other match, La Roca RH (UT) claimed a quarterfinals slot with a 2-0 win over Santa Clara Sporting 03 Green (CA-N) thanks to goals from Rylee Lopaz and Elizabeth Carlin.
Under-12 Boys
SD Surf Academy Select (CA-S) and Colorado Storm Select (CO) will represent Group A in the quarterfinals after playing each other today. Surf's Jacob Spurgiesz began the scoring in the 24thminute, and Vismay Manoj's fifth goal of the tournament would double the Southern California team's lead. A goal from Ethan Ballek would bring Storm back within a goal, but an equalizer could not be found. A goal from Dane Gallegos allowed Rio Rapids Crew (NM) to deny Sparta 04 Premier JK (UT) a spot in the quarterfinals with the two sides playing to a 1-1 draw. Sparta's Jonah Knubel scored in the 21st minute, but with just a few minutes remaining, Gallegos knotted the score at one with his goal.
In Group B, Legacy Red 04 (AZ) sits alone at the top of the standings with a 3-0 record after group play. Legacy defeated Real Colorado National (CO) 3-1 with goals coming from Jonathan Probst, Luke Schaefer and Ethan Calimpong, while Real's goal came courtesy of Cole Rojas. Crossfire Premier (WA) and Surf SC White 04 Shimatsu (HI) met with a quarterfinals spot on the line. Crossfire needed a draw to advance, and that is exactly what they got as the match ended 2-2.