PSA Wildcats announce Dan Manson as Girls Director of Coaching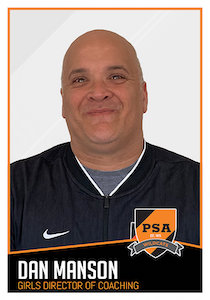 (Via PSA Wildcats) – Dan Manson has been announced as the Princeton Soccer Association (PSA) Wildcats Girls' Director of Coaching.
A long-standing coach in Monmouth and Ocean counties, Manson started his coaching career right from College. In 2000, he took the reins at Wall Soccer Club where, under his direction, the club flourished. The club's teams were recognized on the state and regional levels and also had two teams attend National Championships.
Over the past 20 years, Manson has helped hundreds of youth players further their careers into collegiate placement all over the country. In 2008, his achievements and commitment to the game were recognized as he was named NJ Coach of the year by Liberty Mutual. ​
Most recently, over the past 4 years, Manson coached with New Jersey Cedar Stars Academy (NJCSA) which now is Cedars Stars Academy Monmouth (CSA Monmouth). He was instrumental in developing and expanding the girl's program within the club, from two teams when he began to a fully slate of Girl's USSDA Teams and EDP teams today.
Manson held many managerial roles during his time with CSA including age group coordinator and more recently Director of Tournaments and Programs. Dan was an active coach within the club's USSDA program and looks to bring those experiences with him to PSA.
The extensive background in the local area and many years of developing youth players in the area to reach the highest levels of the game, are significant strengths he brings to the PSA Wildcats teams. Over his many years in the game, Manson has proven that he is able to create a positive and exciting environment for his players to improve and develop their love for the game.
​
Manson commented: "I'm very excited to work with PSA and it's incredible staff in an effort to create something new and special at PSA Wildcats. My focus will always be player centered, while insuring our staff is bringing tons of value to every player both on and off the field."
Wayne Galloway, PSA Director of Soccer, said: "We couldn't have hired a more suitable person for the girl's Director of Coaching position at PSA Wildcats. Dan is the most experienced and knowledgeable Girls Director in Monmouth county. His track record of success building soccer programs, speak for itself. I really look forward to collaborating with him as we build the best one yet.".
Ollie Hilliker, PSA Executive Director, stated: "Everyone at PSA is excited by the addition of Dan to our PSA Leadership. Dan's reputation speaks for its self and we are delighted to have someone of his caliber on board to help lead our staff, players and families within the PSA Wildcats girl's program. This is another sensational step forward for our organization as we continually look to offer our players the best developmental education possible."