PREVIEW: USWNT returns to action against the Netherlands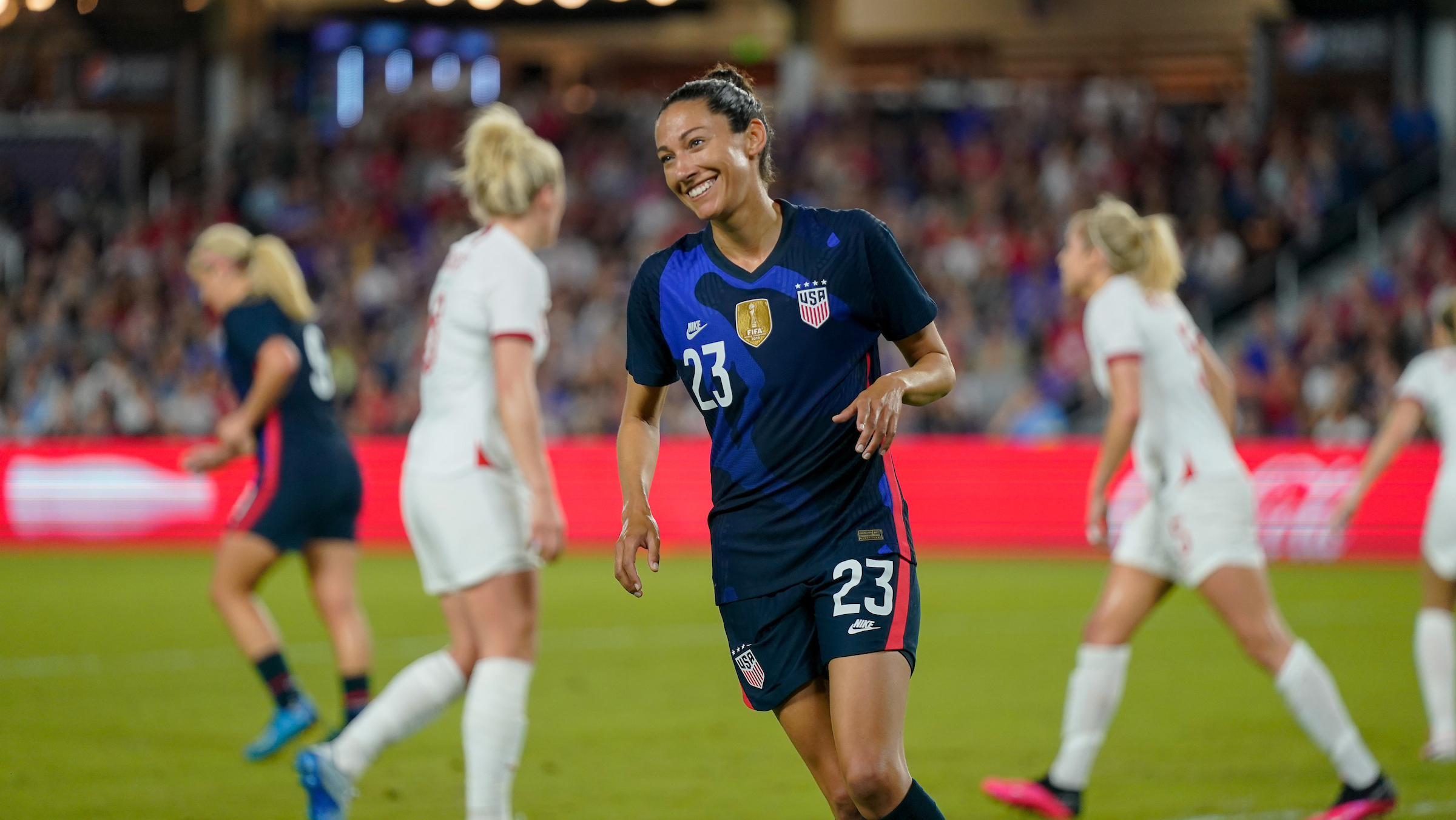 USA vs. The Netherlands
International Friendly
Nov. 27 | Rat Verlegh Stadium – Breda, Netherlands
USWNT RETURNS TO GAME ACTION FOR FIRST TIME IN 261 DAYS VS. THE NETHERLANDS: The U.S. Women's National Team will return to game action for the first time in 261 days – the most recent match was a 3-1 victory vs. Japan on March 11 to win the 2020 SheBelieves Cup – to face reining European champions Netherlands on Nov. 27 at Rat Verlegh Stadium in Breda, Netherlands (12:30 p.m. ET / 6:30 p.m. local on ESPN2 & TUDN). The match will be played without fans in the stands. This is the longest the team has gone without an international match since the program's infancy in the early 1990s. The previous longest time without a game was a 398-day stretch that ended in July 1990 with a game against Norway which featured the first career goal from an 18-year-old Mia Hamm.
MATCH VS. DUTCH WRAPS UP A TAXING 2020: This game will mark the final one for the USWNT in a strange, stressful and highly unusual 2020, but the fact that U.S. Soccer and the Royal Dutch Football Federation teamed up to stage the match is a positive in itself. As it did for its October training camp, the first training action for the team since the SheBelieves Cup, the U.S. delegation has operated inside a highly controlled environment with all players and staff getting tested before travel, upon and arrival and every two days thereafter. Said USWNT head coach Vlatko Andonovski: "First, everyone is just really excited to have an international match. That it's against the Netherlands makes it even better and more challenging. We had to get back on the field for a real game at some point, so it might as well be against one of the best teams in the world. We have a lot of work to do before the Olympics and facing a really talented Dutch team will give us a good look at where we are at the end of this very unusual year." The USA comes into the game with an 8-0-0 record in 2020 after having swept all five games at last January's Concacaf Women's Olympic Qualifying tournament and then winning all three games at the 2020 SheBelieves Cup. The USA will play nine total games in 2020, its fewest in a calendar year since 2009, when the team went 7-0-1.
FROM THE BRIGHT LIGHTS OF LYON TO THE BATTLE OF BREDA: The match will of course mark the first meeting between these two countries since the 2019 FIFA Women's World Cup Final. The USA and Netherlands will be forever linked in women's soccer history after meeting in that historic championship game in Lyon, France on July 7 of last year. The USA won 2-0 to lift its fourth World Cup trophy on goals from forward Megan Rapinoe, via a penalty kick, and a brilliant solo run and strike from midfielder Rose Lavelle. The match will mark 509 days since the World Cup Final and is the USA's first match abroad since that historic game. The USA is still ranked #1 in the world. The Netherlands is #4 following its run to the World Cup Final.
GETTING THE BAND BACK TOGETHER: The USA's October training camp in Colorado did not feature any players currently playing their trade in Europe, but for this training camp, which will be a short one with only six days of training opportunities before the match, U.S. head coach Vlatko Andonovski has called in seven players who have been playing for clubs in Europe. The roster includes 14 players currently playing in the National Women's Soccer League, seven who have been playing in Europe and two college players. Fifteen of the players named to the roster attended the USA's most recent training camp held in late October in Commerce City, Colorado. Of the eight players on this roster who did not participate in the USA's October training camp in Colorado, seven were a part of the 2019 Women's World Cup champions. That group includes 2019 U.S. Soccer Female Player of the Year Julie Ertz and a trio of England-based forwards in Tobin Heath (Manchester United), Alex Morgan (Tottenham Hotspur) and Christen Press (Manchester United) who have accounted for a combined 198 international goals. Midfielders Rose Lavelle and Samantha Mewis return to the roster after helping Manchester City win the Women's FA Cup on Nov. 1 and Orlando Pride defender Emily Sonnett returns after ending her loan spell in Sweden by helping Kopparbergs/Göteborg FC win the Damallsvenskan title. Andonovski will name 18 players to suit up for the match.
USWNT – Netherlands Training Camp Roster (Club; Caps/Goals)
GOALKEEPERS (3): Aubrey Bledsoe (Washington Spirit; 0), Jane Campbell (Houston Dash; 3), Alyssa Naeher (Chicago Red Stars; 63)
DEFENDERS (8): Alana Cook (Paris Saint-Germain, FRA; 1/0), Abby Dahlkemper (NC Courage; 61/0), Tierna Davidson (Chicago Red Stars; 26/1), Crystal Dunn (Portland Thorns FC; 104/24), Kelley O'Hara (Utah Royals FC; 131/2), Margaret Purce (Sky Blue FC; 1/0), Becky Sauerbrunn (Portland Thorns FC; 177/0), Emily Sonnett (Orlando Pride; 45/0)
MIDFIELDERS (6): Julie Ertz (Chicago Red Stars; 102/20), Jaelin Howell (Florida State; 0/0), Rose Lavelle (Manchester City, ENG; 45/12), Catarina Macario (Stanford; 0/0), Kristie Mewis (Houston Dash; 15/1), Samantha Mewis (Manchester City, ENG; 67/18)
FORWARDS (6): Ashley Hatch (Washington Spirit; 2/0), Tobin Heath (Manchester United, ENG; 168/33), Alex Morgan (Tottenham Hotspur, ENG; 169/107), Christen Press (Manchester United, ENG; 138/58), Sophia Smith (Portland Thorns FC; 0/0), Lynn Williams (NC Courage; 28/9)
HOWELL FOR HORAN: The USA had to make a late roster change due to a positive COVID-19 test for midfielder Lindsey Horan. Horan is currently resting at home, doing well and observing the appropriate quarantine protocols. Her positive test came during the U.S. Soccer's pre-trip testing procedures. She was replaced on the roster by midfielder Jaelin Howell. The 21-year-old Howell, who is fresh off helping Florida State win the 2020 ACC Women's Soccer Championship in which she scored twice, attended the USA's October training camp in her home state of Colorado.
POST-99ERS: Both Howell and her former youth club teammate Sophia Smith are uncapped. Either or both could become the first player(s) born after the 1999 FIFA Women's World Cup to earn a full National Team cap. Howell earned 29 Under-20 caps and scored two goals while Smith scored 23 goals in 30 games for the U-20s. Only Sydney Leroux (29) and Lindsey Horan (24) scored more goals at the Under-20 level for the USA. Smith was age-eligible for next FIFA U-20 Women's World Cup, but FIFA cancelled the tournament last week, along with the U-17 Women's World Cup, due to the global pandemic. If Smith plays against the Netherlands, she will become the first player to appear for the USA who was born in the aughts (2000s) to earn a senior team cap.
RUN FOR OLYMPIC ROSTER RAMPS BACK UP: When Vlatko Andonovski was hired as head coach for the USWNT in late October of 2019, he thought he had a short run-up to prepare the team for the 2020 Olympics. When the global pandemic hit and the Olympics were postponed to 2021, his plans were altered to say the least, and without having a game or practice for more than seven months, he and his coaching staff took in NWSL Challenge Cup matches, Fall Series matches and more recently, matches from Europe to watch the players. Viewing those matches, combined with countless video meetings and watching countless games and video clips, helped prepare the coaching staff to resume the difficult job of eventually choosing the Olympic Team. That process finally resumed on-field again at the October training camp in Colorado. Now, a match against one of the best teams in the world will give him and his staff even more valuable information as they ramp the process back up to choose an Olympic roster which will feature just 16 field players and two goalkeepers, a Herculean task for any National Team coach, but even more so with a U.S. player pool featuring enviable depth at almost every position. The Olympic Women's Soccer Tournament is scheduled to be held July 21-Aug. 6, 2021.
WELCOME BACK, ALEX: Forward Alex Morgan makes her return to U.S. camp for the first time since the USA's post-World Cup Victory Tour, but has not played in a match for the USA since the 2019 Women's World Cup Final, setting up the scenario in which her last game before giving birth to her first child, a daughter Charlie on May 7, and her first game as a mom, could be against the Netherlands. It would be her first cap under Vlatko Andonovski. Morgan returned to the field for the first time since giving birth in a 20-minute substitute appearance for Tottenham Hotspur on Nov. 8, played 45 minutes in her first start on Nov. 14 and played 45 minutes off the bench in a Continental Cup match on Nov. 18. One of the most prolific strikers in USWNT history, Morgan has 107 career goals and with one more, will pass the great Michelle Akers for sole possession of fourth all-time in U.S. history. If she plays, she will become the 12th player to appear for the U.S. Women's National Team after becoming a mother. Joy Fawcett was the first and Jessica McDonald is the most recent mom to play for the USA. The complete list of USWNT Ultimate Soccer Moms features: Fawcett, Shannon Boxx, Stephanie Cox, Tina Ellertson, Danielle Fotopoulos, Sydney Leroux, current USWNT GM Kate Markgraf, 2019 Women's World Cup champion McDonald, Carla Overbeck, Christie Pearce and Amy Rodriguez.
WHAT IS THE PLURAL OF MEWIS ?: With both Kristie (29-years-old) and Samantha Mewis (28) named to the roster, this is the first time sisters have been on a USWNT roster since the 2014 Algarve Cup, which also featured both Mewis sisters. Kristie has 15 career caps and one goal (scoring memorably against the Korea Republic in her home state of Massachusetts at Gillette Stadium in 2013) but has not played for the USWNT since March of 2014 at that Algarve Cup. The Mewis sisters are just the second pair of sisters to play for the U.S. Women's National Team following twins Lorrie and Ronnie Fair who were on the team together in the late 1990s. The Mewis sisters have played in two matches together, both at the 2014 Algarve Cup. They came into their first game together on March 7, 2014, against Sweden, which was Sam's first cap, and then started their only game together thus far on March 10, 2014, vs. Denmark. If they play in one more game together, they will surpass Lori and Ronnie Fair for the most games played together as sisters. Lorrie and Ronnie played twice together in 1997.
CAT ATTACK ON HOLD FOR NOW: Catarina Macario, the two-time reigning MAC Hermann Trophy winner as college soccer's best player out of Stanford University, is one of two non-professionals on the roster. As the process allowing Macario to be eligible to represent the USA in a full international match has not yet been completed, she will not be on the game day roster, meaning Andonovski will pick his 18 from the other 22 players in training camp. She recently obtained U.S. citizenship and received her U.S. passport, and now she awaits FIFA approval, but the U.S. coaching staff felt the trip to the Netherlands and training environment was an important enough experience for her growth to include her on the 23-player roster. Macario, who was born in Brazil but played her youth soccer in San Diego, has scored 63 goals with 47 assists for Stanford in 68 career college games so far. She had a remarkable 32 goals and 23 assists in 2019 in helping Stanford to the NCAA title. Stanford, along with the rest of the Pac-12 Conference and many conferences nationally, saw its 2020 fall season postponed due to the COVID-19 pandemic.
NAC BREDA LEGEND: U.S. Soccer Sporting Director Earnie Stewart, who played 101 times for the U.S. Men's National Team and in three World Cups (1994, 1998, 2002), spent a large part of his professional career at NAC Breda from 1996-2003, scoring 50 goals in 189 matches.
U.S. ROSTER NOTES
TEAM
Defender Becky Sauerbrunn is the most experienced player on the training camp roster with 177 caps. The other players on the roster with over 100 caps are forwards Alex Morgan (169), Tobin Heath (168) and Christen Press (138), midfielder Julie Ertz (102) and defenders Kelley O'Hara (131) and Crystal Dunn (104).
Eleven players on the roster have 28 caps or less. The average caps per player on this training camp roster is 62.
The roster includes 12 players who saw action at the 2020 SheBelieves Cup last spring and 12 who saw action during Olympic qualifying in January.
Of the 17 players from the October training camp who were not on the 2019 World Cup Team, eight made this training camp roster: Goalkeepers Jane Campbell and Aubrey Bledsoe, defender Margaret Purce, midfielders Jaelin Howell, Kristie Mewis and Catarina Macario and forwards Williams, Smith, Ashley Hatch.
Three players will come into training camp looking for their first senior team caps in 20-year-old Smith, 21-year-old Howell and 29-year-old goalkeeper Aubrey Bledsoe.
Ten players have scored so far for the USA in 2020: Lindsey Horan (7), Christen Press (7), Samantha Mewis (4), Lynn Williams (3), Rose Lavelle (2), Carli Lloyd (2), Jessica McDonald (2), Tobin Heath, Megan Rapinoe and Julie Ertz. Of those 10, six are on this roster.
The USA is riding a 31-game unbeaten streak and have scored two or more goals in 27 of those games.
In just his seventh event as head coach, Vlatko Andonovski has already looked at 56 different players in a training camp environment. Of those 56 players, 26 have earned at least one cap. Andonovski has given 16 players their first senior team call-ups and so far, two players their first senior team caps (Alana Cook and Margaret Purce).
Since its inception in 1985, the USWNT has compiled a record of 529 wins, 66 losses and 77 ties. Over the history of the program, the USA has gone 302-20-31 (90% winning percentage) at home, 53-18-13 away (71%) and 174-28-33 (81%) on neutral ground. Of the USA's 66 losses, 12 (18%) came at the Algarve Cup in Portugal.
The USA has scored in 59 consecutive matches and has averaged more than three goals per game in that time. Since the end of the 2015 World Cup, the USA has played 102 matches and has an 87-5-10 record.
The roster features five NWSL No. 1 overall draft picks in Crystal Dunn (2014), Emily Sonnett (2016), Rose Lavelle (2017), Tierna Davidson (2019) and Sophia Smith (2020).
The USWNT is unbeaten in its last 14 matches in all competitions against European nations, winning the last 12 in a row by an aggregate score of 32-5. The last European nation to beat USA was France in January of 2019 in Le Havre.
Horan is the USA's leading scorer so far this year with seven goals and three assists. Press has seven goals and two assists.
U.S. head coach Vlatko Andonovski is 10-0-0 in his first 10 games (two at the end of 2019 and eight so far this year), tying a record for best start for a head coach in USWNT history.
A victory against Netherlands would break the tie with Pia Sundhage for the best start for any head coach in USWNT history. In 2008, Sundhage won her first 10 games as USA head coach before playing Canada to a 1-1 draw in the 2008 Concacaf Olympic Qualifying Tournament Final. The USA claimed the title on penalty kicks, 6-5.
Of Andonovski's first 11 games (counting the Netherlands), six will have been against teams ranked in the top-13 in the world.
IN FOCUS: THE NETHERLANDS
Royal Dutch Football Federation
FIFA World Ranking: 4
UEFA Ranking: 2
Olympic Appearances: 1 (2021)
Best Olympic finish: N/A
Record vs. USA: 1-7-0
Head Coach: Sarina Wiegman
Netherlands Women's National Team Roster by Position:
GOALKEEPERS (3): Lize Kop (Ajax), Sari van Veenendaal (PSV), Daphne van Domselaar (FC Twente)
DEFENDERS (8): Stefanie van der Gragt (Ajax), Dominique Janssen (Wolfsburg, GER), Kika van Es (Twente), Merel van Dongen (Atlético Madrid, ESP), Danique Kerkdijk (Brighton & Hove Albion, ENG), Aniek Nouwen (PSV), Lynn Wilms (Twente)
MIDFIELDERS (5): Sherida Spitse (Vålerenga, NOR), Daniëlle van de Donk (Arsenal, ENG), Jackie Groenen (Manchester United, ENG), Inessa Kaagman (Brighton & Hove Albion, ENG), Victoria Pelova (Ajax)
FORWARDS (8): Lieke Martens (Barcelona, ESP), Shanice van de Sanden (Wolfsburg, GER), Lineth Beerensteyn (Bayern Munich, GER), Renate Jansen (Twente), Sisca Folkertsma (Twente), Katja Snoeijs (Bordeaux, FRA), Jill Roord (Arsenal, ENG), Joëlle Smits (PSV)
USA VS. NETHERLANDS
The USA and the Netherlands have met eight times with the USA holding a 7-1-0 record. The teams have played just three times in the past 14 years: on April 9, 2013 in The Hauge, on Sept. 18, 2016 in Atlanta, Ga. and the World Cup Final.
This will be the third time the U.S. Women have played in the Netherlands. The most recent match took place on April 9, 2013, in The Hague, a 3-1 U.S. victory. Tobin Heath had one goal and Christen Press had two in that match. They were the fifth and sixth international goals for Press, who now has 58.
The match in Atlanta saw the speedy Shanice van de Sanden score in just the 2nd minute, but Carli Lloyd tied the game in the 35th, the USA forced an own goal in the 50th and Allie Long sealed it in the 77th.
The teams played way back in 1991 in Vianen, a 4-3 victory for the Dutch, which has been rumored to be legendary midfielder Julie Foudy's one and only match as a center back.
In a slight oddity, the teams played in South Korea in November of 2006 at the Peace Queen Cup, a 2-0 win for the USA in a match that saw Kristine Lilly receive the one and only red card in her 354-cap career.
Of the 15 players who played against the Netherlands in the 2019 Women's World Cup Final, 11 are on this roster:

USA Lineup in 2019 World Cup Final: 1-Alyssa Naeher; 5-Kelley O'Hara (11-Ali Krieger, 46), 7-Abby Dahlkemper, 4-Becky Sauerbrunn, 19-Crystal Dunn; 16-Rose Lavelle, 8-Julie Ertz, 3-Samantha Mewis; 17-Tobin Heath (10-Carli Lloyd, 87), 15-Megan Rapinoe (capt.) (23-Christen Press, 79), 13-Alex Morgan​​​​​

Of the 14 players who played for the Dutch in the World Cup Final, nine are on this roster:

NED Lineup in 2019 World Cup Final: 1-Sar Van Veendendaal (capt.); 2-Desiree Van Lunteren, 3-Stefanie Van Der Gragt, 20-Dominique Bloodworth, 6-Anouk Dekker (7-Victoria Pelova, 73); 14-Jackie Groenen, 8-Sherida Spitse, 10-Danielle Van De Donk; 21-Lineth Beerensteyn, 9-Vivianne Miedema, 11-Lieke Martens (19-Jill Roord, 71)
NETHERLANDS NOTES
The Netherlands will be without one of its star forwards in Arsenal star Vivianne Miedema, who has a hip injury. At the age of 24, she has scored a remarkable 71 goals in 90 games for the Dutch.
Still, Sherida Spitse, who is the Netherland's all-time leader in caps, and who got an early yellow card in the World Cup Final, leads an experienced side against the USA. She has 180 caps and 41 goals.
The defending European champions feature some of the world's best players at their positions in goalkeeper Sari van Veenendaal (PSV), who played so well against the USA in the World Cup Final and was named the Best Goalkeeper of the tournament, midfielders Daniëlle van de Donk (Arsenal), Jackie Groenen (Manchester United) and Sherida Spitse (Vålerenga), and forwards Lieke Martens (Barcelona) and Miedema (Arsenal).
Shanice van de Sanden (18 goals in 80 games) and Lineth Beerensteyn (58/11), who started the World Cup Final in place of van de Sanden, are also both tremendously dangerous strikers.
The Dutch bring an experience side to this match, with 12 players with 40 or more caps and three with over 100: van Donk (107), Martens (116) and Spitse (180).
The 27-year-old Martens, who won the Bronze Boot as the third leading scorer and the Golden Ball as the best player at the 2017 UEFA Women's Euros, is the top scorer on the roster with 46 goals in 116 caps. She was also named the FIFA Women's World Player of the Year in 2017.
Midfielder Jackie Groenen, who has 64 caps and five goals, is currently teammates with Tobin Heath and Christen Press at Manchester United.
Of the 23 players on the roster, 12 play outside of the Netherlands, with a strong contingent of five in England, two in Spain, three in Germany, one Norway and one in France.
Of the 11 domestic-based players, three play for Ajax, three play for PSV, and five play for FC Twente, which are the top three teams currently in the Women's Eredivisie, respectively.
Netherlands qualified for the next UEFA Women's Euros by routing Estonia 7-0 at home on Oct. 23. After a 6-0 win over Kosovo on Oct. 27, head coach Sarina Wiegman's side sits atop their group with a maximum of 27 points from nine matches, earning their spot at the Euros in England, which were originally scheduled to be played in the summer of 2021. Due to COVID and the postponement of the Olympics to 2021, the UEFA Women's Euros will be played July 6-31, 2022.
Only three of those UEFA qualifiers were played this year, a 1-0 victory over Russia in September in Moscow and the drubbings of Estonia and Kosovo during the most recent FIFA window.
Following the match against the USA, the Netherlands will play Kosovo on December 1 to finish the group, but with a nine-point cushion over Russia in Group A, qualification for the Euros is secured.
Wiegman, who played college soccer in the USA at the University of North Carolina, will coach the Orange Lionesses through the Olympics next summer before taking over as the head coach of England.
By virtue of its second-place finish at the 2019 Women's World Cup, the Netherlands qualified for its first Olympics Games, where the Dutch could meet Great Britain and many of the players Wiegman will eventually be coaching.
The Netherlands established itself as a world power by winning the 2017 UEFA Women's Euros on home soil, igniting and already passionate soccer country behind its team, sparking wild celebrations across the country, and helping generate a huge, raucous and supremely entertaining flock of fans that followed the team in France.
At the Euros, Netherlands beat Sweden in the quarterfinals, England in the semifinal and Denmark in the Final.
At the 2019 Women's World Cup, the Netherlands took down Japan in the Round of 16, upstart Italy in the quarterfinal and Sweden AET in the semifinal, before meeting the USA in the championship game.