PREVIEW: USA taking on Mexico in Concacaf Women's U-17 Championship Final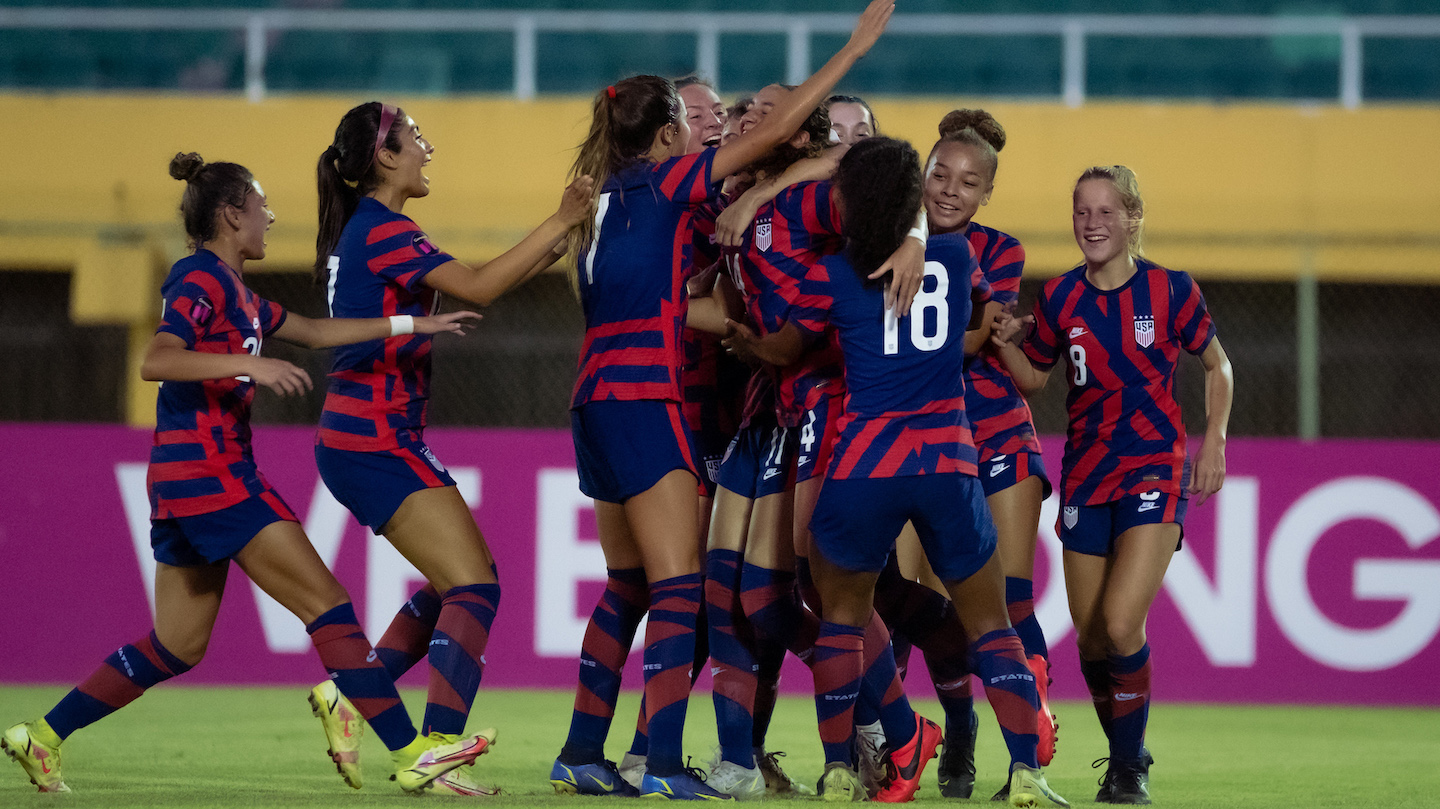 U.S. Under-17 Women's Youth National Team
2022 Concacaf Women's U-17 Championship – Final
USA vs. Mexico
Estadio Olímpico Félix Sánchez; Santo Domingo, Dominican Republic
May 8, 2022
5 p.m. ET (Fox Soccer Plus, ViX App in Spanish)
WITH WORLD CUP BERTH SECURED, USA FACES MEXICO IN TITLE GAME OF 2022 CONCACAF WOMEN'S U-17 CHAMPIONSHIP:
After rolling through the first six games of the 2022 Concacaf Women's U-17 Championship, scoring 56 goals and conceding zero, the U.S. Under-17 Women's Youth National Team has arrived at its seventh and final game of the tournament where it will face Mexico in the championship on Sunday, May 8 at 5 p.m. ET at Estadio Olímpico Félix Sánchez in Santa Domingo, Dominican Republic (Fox Soccer Plus, ViX App in Spanish). Mexico earned its berth to the 2022 FIFA U-17 Women's World Cup in India with a 5-0 victory over Puerto Rico in the other semifinal. Puerto Rico and Canada will play in the Third-Place Match on May 8 at 2 p.m. ET (Fox Soccer Plus / ViX) for Concacaf's third and final berth to the upcoming FIFA U-17 Women's World Cup in India.
The USA will be playing for its third straight Concacaf Women's U-17 title and fifth overall. The USA and Mexico met in the championship game of this tournament in 2016 and 2018. The 2020 tournament was cancelled due to the COVID-19 pandemic.
The USA's goals have come from 14 different players (only four field players have yet to score) and the 56 goals are the most goals scored in a Concacaf Women's U-17 Championship by a U.S. team, albeit coming in the new format that features 20 nations and requires seven games to lift the trophy. Each of the past U-17 Concacaf tournaments have featured eight teams and five games to win the title. Fifteen different U.S. players have registered assists in the Dominican Republic.
Players born on or after Jan. 1, 2005, are age-eligible for the 2022 Concacaf Women's U-17 Championship. U.S. head coach Natalia Astrain selected 16 players born in 2005 and four born in 2006. Due to the COVID-19 pandemic and its impact on Youth National Team programming, all the U.S. players in this tournament made their international debuts in the Dominican Republic, and for those who scored, the goals were their first in international competition.U.S. UNDER-17 WOMEN'S YOUTH NATIONAL TEAM ROSTER BY POSITION (CLUB; HOMETOWN; CAPS/GOALS): 
GOALKEEPERS (2): 1-Abigail Gundry (NC Courage; Wake Forest, N.C.; 3), 12-Victoria Safradin (Internationals SC; Eastlake, Ohio; 3)
DEFENDERS (6): 2-Nicola Fraser (Real Colorado National; Highlands Ranch, Colo.; 5/1), 17-Alyssa Gonzalez (San Diego Surf; San Diego, Calif.; 4/0), 3-Savannah King (LAFC SoCal Youth; West Hills, Calif.; 5/0), 4-Cameron Roller (Solar SC; Sherman, Texas; 4/1), 5-Keegan Schmeiser (Chicago FC United; Bolingbrook, Ill.; 3/0), 20-Gisele Thompson (Total Futbol Academy; Studio City, Calif.; 5/0)
MIDFIELDERS (6): 10-Mia Bhuta (Internationals SC; Pittsburgh, Pa.; 6/2), 15-Shae Harvey (Slammers FC HB Koge; Hermosa Beach, Calif.; 5/4), 13-Claire Hutton (World Class FC; Bethlehem, N.Y.; 6/6), 7-Riley Jackson (Concorde Fire; Roswell, Ga.; 4/2), 8-Charlotte Kohler (Mountain View Los Altos; Woodside, Calif.; 4/6), 19-Lauren Martinho (NC Courage; Cary, N.C.; 6/3) 
FORWARDS (6): 18-Onyeka Gamero (Beach FC; Cerritos, Calif.; 5/5), 11-Nicollette Kiorpes (NEFC; Worcester, Mass.; 5/5), 6-Mia Oliaro (NC Courage; Chapel Hill, N.C.; 6/3), 14-Melina Rebimbas (Players Development Academy; Warren, N.J.; 6/7), 9-Taylor Suarez (Charlotte SA; Charlotte, N.C.; 5/2), 16-Amalia Villarreal (Michigan Jaguars FC; Lansing, Mich.; 6/8)
USA VS. MEXICO — HOW THEY GOT HERE:
USA
| | | | |
| --- | --- | --- | --- |
| Date | Match-Up | Result | GoalScorers |
| Apr. 23 | Grenada | W 20-0 | Harvey (4), Kohler (4), Kiorpes, Rebimbas (3), O.G., Oliaro (2), Roller, Hutton (2), Martinho, Villarreal |
| Apr. 25 | Puerto Rico | W 13-0 | Martinho, Villarreal (5), Suarez (2), Hutton (3), Kiorpes, Fraser |
| Apr. 27 | Costa Rica | W 5-0 | Villarreal, Kohler, Jackson, Gamero, Hutton |
| Apr. 30 | Curaçao | W 11-0 | Gamero (3), Kiorpes (3), Rebimbas, Martinho, Bhuta (2), Oliaro |
| May. 4 | Jamaica | W 4-0 | Villarreal, Kohler, Jackson, Rebimbas |
|  May. 6 | Canada |  W 3-0 |  Rebimbas (2), Gamero  |
MEXICO
Date
Opponent
Result
Goal Scorers
April 23
Nicargua
13-0 W
Vargas (3), Meza (2), M. Flores (2), T. Flores, Saldivar, Sirdah
April 25
Mexico
7-0 W
Sirdah, Soto, M. Flores, Vargas (2),

Vega

April 27
Trinidad and Tobago
10-0 W
OG, Pineda, Sirdah, Jiménez, Vega, M. Flores (2), Ramirez (2), T. Flores
April 30
Guyana
15-0 W
Vargas (3), Fong, Sirdah (3), Martinez, T. Flores (3), Guijarro, OG, M. Flores, Ramirez
May 4
Dominican Republic
10-0 W
T. Flores (3), Soto (3), M. Flores, Colin, Ramirez, Sirdah
 May 6
Puerto Rico
 5-0 W
 Vargas (2), Soto, Sirdah, T. Flores
USA U-17 WYNT VS. MEXICO:
The Championship Game is set up to be the best game of the tournament as Mexico has also dominated all its matches so far while playing an attractive style of attacking soccer.
Remarkably, Mexico has scored even more goals than the USA in this tournament 57-to-56 and has hit double-figures in four of its six matches. And like the USA, Mexico has yet to concede a goal.
Mexico has three of the top four scorers in the competition in Valerie Vargas (10 goals), Tatiana Flores (9) and Layla Sirdah (8).
This will be the sixth meeting between the USA and Mexico in the Concacaf Women's U-17 Championship. All the matches have been close and four of the five have been decided by one goal or fewer. Two of those meetings have come in the semifinals, two in championship games and one in group play.
In the semifinal round meetings, the USA won 1-0 in the first-ever Concacaf Women's U-17 Championship in 2008 on a goal from USWNT star Crystal Dunn but lost in penalty kicks in 2014 in Jamaica after a 1-1 tie in regulation.
This is the third straight Concacaf Women's U-17 Championship in which the USA and Mexico have squared off in the title game. In 2016 in Grenada, the USA won 2-1 on goals from current USWNT player Ashley Sanchez and a late game-winner from Civana Kuhlmann. In 2018 in the tournament that started in Nicaragua but was finished in Bradenton, Fla., the USA won 3-2 on goals from Hannah Bebar, Sunshine Fontes and a late game-winner from Maya Doms.
The USA's group play win came in Guatemala in 2012, a 3-0 victory on a hat trick from Summer Green.
Mexico has six Mexican-Americans on its roster, all of whom play for some of the stronger youth clubs in the USA in Tophat SC out of Georgia, the D'Feeters Kicks of out Texas, Beach FC, which is also the club for U.S. forward Onyeka Gamero, Slammers FC out of Southern California, which is also the club for U.S. midfielder Shae Harvey, and the Concorde Fire, which is also the club of U.S. captain Riley Jackson.
Tatiana Flores, who is of Canadian descent, is on the books of current league leaders Chelsea in the FA WSL.
The remainder of the Mexico roster all play in growing and increasingly successful Liga MX Femenil, which has proved to be an excellent development environment for young Mexican players.
SPREADING THE MINUTES AROUND:
All 20 players on the roster have seen significant action in the tournament, but only five have played in all six games thus far: Mia Bhuta, Lauren Martinho, Mia Oliaro, Melina Rebimbas and Amalia Villarreal.
Forward Onyeka Gamero leads the USA in minutes with 384, but defender Gisele Thompson has played 371. Defender Cameron Roller has played 360 and Savannah King has 359.
The minutes have been evenly distributed by the U.S. coaching staff, with no player playing fewer than 194 minutes and no player playing more than 384, or the equivalent of just over four of the six games played so far, ensuring that the U.S. players will be as rested as possible in a tournament that features seven games in 16 days in the heat and humidity of the Caribbean.
Abigail Gundry and Victoria Safradin have split time in goal so far, with Gundry playing three games and Safradin playing three.
VILLARREAL LEADS USA WITH EIGHT GOALS:
After scoring one goal against Grenada, five against Puerto Rico (tying a U.S. record for most goals in a game at any level), one against Costa Rica and one against Jamaica, forward Amalia Villarreal leads the USA in scoring with eight goals and is tied for fourth at the tournament. Villarreal's goal vs. Jamaica was the USA's 50th of the tournament. No U.S. youth team has ever scored 50 goals in a Concacaf World Cup qualifying tournament. After scoring twice in the semifinal victory over Canada, forward Melina Remimbas has seven goals. Midfielders Claire Hutton and Charlotte Kohler have six goals each while forwards Nicollette Kiorpes and Onyeka Gamero have five each. In the four-goal club is midfielder Shae Harvey. Fourteen different players have scored for the USA and fifteen different players have assists. Gamero leads the team in assists with six, but Villarreal has five to go with her eight goals making her the player involved in the most goals for the USA in the tournament. She also leads the tournament in shots with 35.
USA IS NINTH NATION TO QUALIFY FOR 2022 FIFA UNDER-17 WOMEN'S WORLD CUP IN INDIA: QUALIFIED:
With the USA and Mexico earning berths on May 6 to the 2022 FIFA Under-17 Women's World Cup to be played in India from Oct. 11-30, nine countries have now qualified. In addition to the USA and Mexico, host India, China PR and Japan have qualified from Asia via nominations by Asian Football Confederation based on results of 2019 AFC U-16 Women's Championship after the U-17 qualifying tournament was cancelled. Brazil, Chile and Colombia qualified from the 2022 South American U-17 Women's Championship, while New Zealand was nominated by the Oceania Football Confederation after their qualifying tournament was also cancelled. Seven berths remain to be filled, one from Concacaf, and three each from Africa and Europe, where the UEFA Women's U-17 Championship is currently being played in Bosnia and Herzegovina. The Final Draw for FIFA U-17 Women's World Cup will be held in Zurich on June 24. The cities in India that will host the world cup are Bhubaneswar, Goa and Navi Mumbai.