Potomac ECNL review: MD United U-17s strengthen playoff bid, Bethesda SC teams earn tough wins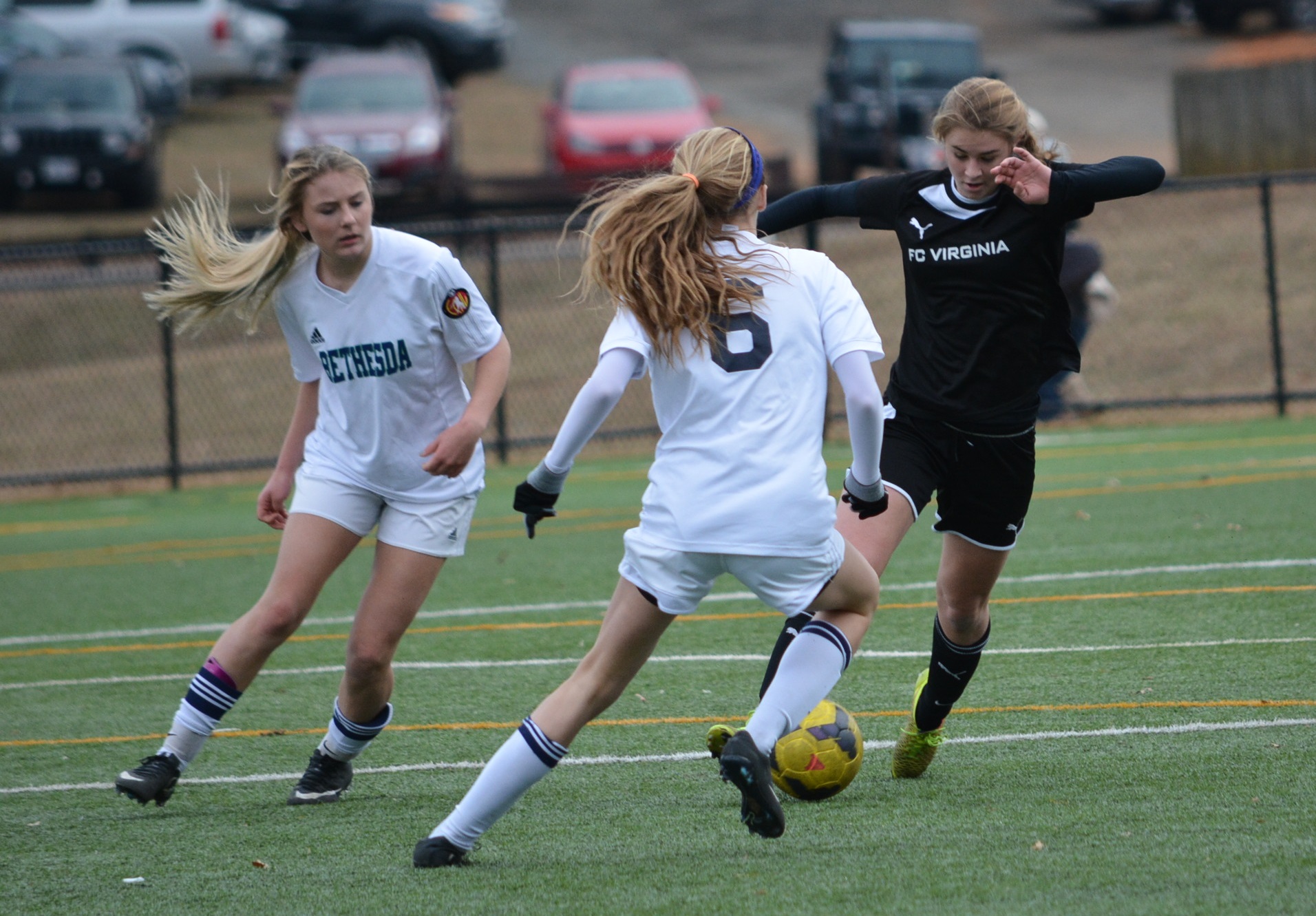 In a busy weekend of action for Potomac region ECNL teams, the Maryland United U-17s had a terrific showing with two wins over Ohio Elite, solidifying their playoff bid while improving to 6-2-0 and remaining second place in the Ohio Valley Division.
[player_box id=53285 leftright=right]Kia Rankin continued her outstanding season with a goal and an assist in Saturday's 3-0 win and also netted the only goal of the match in Sunday's 1-0 win at home against fourth place Ohio Elite. Nia Dorsey assisted Rankin's game-winner on Sunday and added a goal of her own [player_box id=53802 leftright=right]in Saturday's win. Gabrielle Vincent found the net and Abbigale Ellis contributed an assist on Saturday as well, while goalkeeper Melanie Stiles and the Maryland United back line led the team to two clean sheets.
[player_box id=47442 leftright=right]Elsewhere, the FC Virginia and McLean U-14 sides each lost tough 2-1 matches to first place CASL, which improved to 10-1-1 atop the Chesapeake Division. Haleigh Stackpole and Mattie Murphy each had 1 goal and 2 assists on the weekend for CASL. Abbey [player_box id=47003 leftright=right]Duncan assisted Victoria Powell on FC Virginia's goal against CASL on Saturday.
[player_box id=45458 leftright=right]Bethesda SC U-15 traveled to Columbus, OH over the weekend where they tied one and lost one to Ohio Valley Division leaders Ohio Premier. Midfielder Molly Olcott scored on an assist from Marisa DiFonso to help Bethesda earn a 1-1 draw on Saturday, but an Abby [player_box id=53791 leftright=right]Steiner brace propelled Ohio Premier to a 2-1 win on Sunday. Tatiana Ortega netted her fifth goal of the season on an assist from defender Jillian Gonzales, her third of the season.
[player_box id=48436 leftright=right]In the U-16 age group, Bethesda split a pair with Ohio Premier, winning 4-2 on Saturday and falling 2-1 on Sunday for their first Ohio Valley Division loss of the season. Cameron Murtha had a part in all four of Bethesda's goals on Saturday, scoring two and assisting the other [player_box id=53281 leftright=right]two. Olivia Kane added a goal and an assist, while Ashley Ventura also scored and Jadyn Wilensky contributed an assist as well. Isabella Shivley led Ohio Premier to their win on Sunday, contributing to both goals while Kane set up Julia Gray for Bethesda's lone goal. At 6-1-2, Bethesda remains second in the division and in position for a playoff spot.
Bethesda's U-18 squad rebounded from a 4-2 loss to Ohio Premier on Saturday with a 2-0 win on Sunday. Columbia University commit Rachel Alexander scored 3 of Bethesda's 4 goals on the weekend, including both in Sunday's win. Samantha Sullenger also scored and Stephanie Shin added an assist for Bethesda over the weekend. Goalkeeper Mikayla Krinetz and the back line led by Clare Severe, Maddie Pack and Kali Amoah among others shut down the Ohio Premier attack in Sunday's clean sheet win. Madison Costner stood out for Ohio Premier 1 goal and 2 assists. At 3-2-3, Bethesda is in third place and still within striking distance of claiming a playoff spot.
See below for a full rundown of ECNL scores involving teams representing the Potomac area… 
U-14
| | | | |
| --- | --- | --- | --- |
| Apr 18 12:00pm | | | |
| Apr 19 10:00am | | | |
U-15
| | | | |
| --- | --- | --- | --- |
| Apr 18 9:00am | | | |
| Apr 18 9:00am | | | |
| Apr 19 9:00am | | | |
| Apr 19 11:00am | | | |
U-16
| | | | |
| --- | --- | --- | --- |
| Apr 18 9:00am | | | |
| Apr 18 11:00am | | | |
| Apr 19 9:00am | | | |
| Apr 19 9:00am | | | |
U-17
| | | | |
| --- | --- | --- | --- |
| Apr 18 11:00am | | | |
| Apr 18 1:00pm | | | |
| | | | |
| --- | --- | --- | --- |
| Apr 19 9:00am | | | |
| Apr 19 11:00am | | | |
U-18
| | | | |
| --- | --- | --- | --- |
| Apr 18 11:00am | | | |
| Apr 18 3:00pm | | | |
| | | | |
| --- | --- | --- | --- |
| Apr 19 11:00am | | | |
| Apr 19 11:00am | | | |
Standings
Playoff Picture