Potomac ECNL Preview: McLean host FC Virginia in four local clashes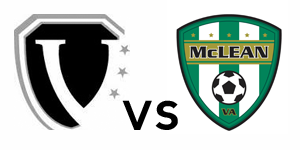 Weather permitting, the Elite Clubs National League is scheduled to ease back into action this weekend, with two teams from the Potomac region involved in a rivalry clash for local bragging rights. McLean host FC Virginia in the Under-15s to Under-18s age groups, with both sides sure to present their opponents with a tough test.
Let's break down all four games in the Chesapeake Division, with the help of SoccerWire's companion youth soccer database Report-a-Score.com for some score predictions of these vital games.
McLean Under-15s vs. FC Virginia (2/21, 10 a.m. KO)
McLean: 6-4-1, 19 points
FCV: 7-0-4, 25 points
McLean's Under-15s come into this game having won two and lost three of their last five games going into the winter break, but they remain firmly ensconced in mid-table and just six points off the playoffs. Meanwhile, FCV are top of the Chesapeake Division having lost just once all season. That defeat came at ECNL Florida outside of league play at the hands of Continental FC DELCO, and was by a margin of 1-0.
[player_box id=43843 leftright=right]McLean have scored the most goals in the division, led by top scorer Kristina Toms with six. Just behind her with four goals apiece are Megan Fisher, Grace Sklopan and Aleigh Gambone, the latter of which also has six assists.
Captain Amy Thompson has led FC Virginia's offense with eight goals and nine assists, followed closely by Renee Kohler with seven goals and two assists. FCV have also had seven players playing up in the Under-15s.
  Report-a-Score.com Prediction: McLean 1-1 FC Virginia

McLean Under-16s vs. FC Virginia (2/21, Noon KO)
McLean: 0-9-2, 2 points
FCV: 6-1-4, 22 points
In the Under-16s age group, McLean come into this game having failed as yet to win in league play or in any of the ECNL showcase events. On the other hand, Virginia have lost just once in the Chesapeake Division, although they lost all three of their games at ECNL Florida in December.
Goals have been a problem for McLean, as they have found the net just five times all season. Leading the way for them has been midfielder Emily Stranne with three of their five goals. For Virginia, Lillian Weber has been key on offense with eight goals, while Ashley Andersen and Isabella Ponzi are not far behind with five and four respectively.
FC Virginia won the game between these two sides earlier this season by a 3-1 margin. On that occasion, Andersen, Weber and Susanna Weisskopf were in the goals for FCV, with Stranne finding the net for McLean.
  Report-a-Score.com Prediction: McLean 0-3 FC Virginia
McLean Under-17s vs. FC Virginia (2/21, 2 p.m. KO)
McLean: 6-4-1, 19 points
FCV: 10-0-1, 31 points
The game between these two in the Under-17s age category could be very close indeed, with McLean in second place in the Chesapeake Division and FC Virginia in first with an unbeaten record.
Both have found goals easy to come by, with McLean's offensive output led by 11 goals from Breanna Mitchell and 10 by Ohio State commit Meghan Kammerdeiner. In addition, Virginia Tech commit Kristina Diana has been a force to be reckoned with having scored seven goals and notched eight assists.
[player_box id=43841 leftright=left]FC Virginia have relied heavily on the goals of Emily Fox, who is committed to North Carolina and has scored 17 goals in 16 appearances. She is far ahead of FCV's second-highest scorer, Julia Phillips, who has six.
Earlier this season, Virginia came out on top 2-1 against McLean thanks to a goal apiece from Fox and Phillips, with Mitchell tallying for McLean.
  Report-a-Score.com Prediction: McLean 1-3 FC Virginia
McLean Under-18s vs. FC Virginia (2/21, 4 p.m. KO)
McLean: 11-0, 33 points
FCV: 1-9-1, 4 points
Finally, in the Under-18s age group, McLean have looked very impressive as they have compiled a perfect 11-0 record in the Chesapeake Division, although they lost two of their three games at ECNL Florida to Eclipse Select Soccer Club and Match Fit. Their opponents have not been so successful in this age group, having won just once in league play over the NC Fusion.
[player_box id=48444 leftright=right]Pittsburgh commit Jarena Harmon has led the way for McLean with 15 goals in 13 appearances, while early Penn State attendee Kristin Schnurr will be missing. FCV will look to the goals of Isabella Krider and Makayla Lewis, who have three apiece.
McLean were big winners in the reverse fixture earlier this season as they took a 4-0 win. Schnurr scored a hat-trick and had an assist, while Kristina Diana had the other goal and two assists of her own.
  RaS Prediction: McLean 2-0 FC Virginia