Potomac area teams compete in Girls Development Academy Playoffs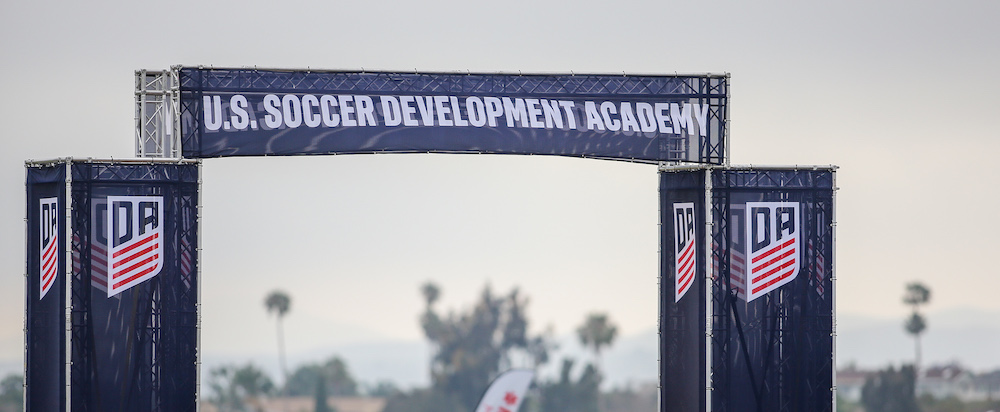 DA Playoffs Home Page | Girls DA Playoffs Results
Four Potomac area teams competed in the U.S. Soccer Girls Development Academy Playoffs over the last week in Oceanside, Calif.
See below for a rundown of each team's results, as three sides represented FC Virginia and one for Washington Spirit Academy.
FC Virginia U-15
Atlantic Division champion FCV struggled in their first two matches, falling to LA Galaxy and Reign Academy, but bounced back with a dominant 5-2 victory over New York City FC Academy in their Group A finale.
Avery Chapel (9'), Ella Carter (48') and Kathryn Cassidy (76') each netted one goal, and Taylor Price (11', 49') recorded a brace as the FCV attack found their stride against NYCFC Academy. FCV placed 3rd in Group A.
Washington Spirit Academy (MD) U-15
Competing in a challenging Group C, the Spirit Academy U-15s went 1-2-0 to finish 3rd place. After coming up just short in a 2-1 battle against LA Galaxy San Diego in their group stage opener, the Spirit fell to the eventual Group C champion Colorado Rush in their next match.
However, the Spirit finished the event on a high note, surging past Midwest United FC 3-0. Meghan Piazza (18'), Shari Atkins (25') and Cate Shepherd (80') provided the scoring, while the Spirit back line notched their 6th clean sheet to finish the 2018-2019 campaign.
Shepherd, who finished the regular season ranked 7th in the country with 31 goals, led the squad with 2 goals in 3 games at the DA Playoffs.
FC Virginia U-16/17
At the U-16/17 level, FCV earned a strong 2nd place finish in Group F, just behind Texas side Lonestar SC.
In their opening match, FCV picked up a point against Southern California club Legends FC, playing to a 1-1 draw. Legends took the lead in the 19th minute before FCV's Anna Tekampe netted an equalizer in the 24th minute. Meanwhile, the FCV defense held Legends FC off the scoreboard for the final 71 minutes.
Lonestar SC shutout the FCV offense in their second group match, which ended 2-0. But FCV roared back with a 2-0 victory of their own on June 27 against Chicago-based Sockers FC, as Brooke Potter (11', 20') notched a brace in the first half. FCV's defense closed the season with their 10th clean sheet performance.
FC Virginia U-18/19
FCV also claimed points in 2-of-3 group games in the U-18/19 age group, finishing with a 1-1-1 record.
The team went unbeaten in their first 2 group games, playing Crossfire Premier to a 1-1 draw and shutting out SC del Sol 3-0 in their second matchup. Four different players – Alexis Theoret, Olivia Migli, Ellis Wheeler and Carrie McIntire – found the net for FCV's balanced attack.
In their Group D finale, FCV fell 3-0 to Sockers FC, who placed 1st in the group and advanced to the knockout stage.