Portland Thorns FC acquires USWNT defender Becky Sauerbrunn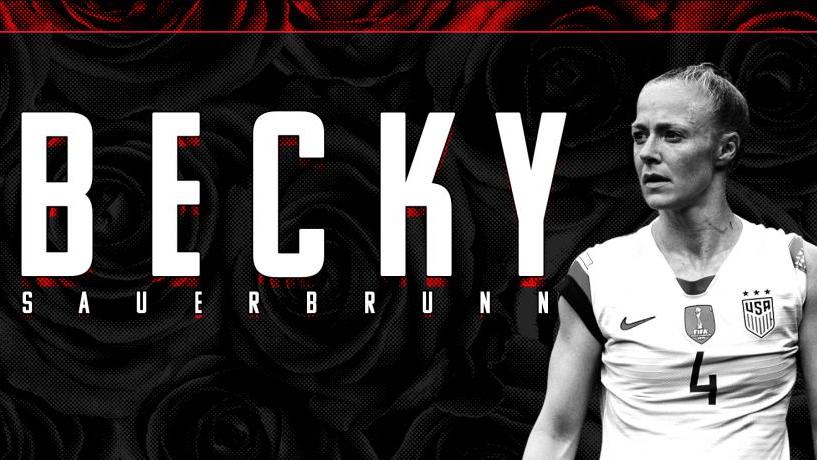 PORTLAND, Ore. – Portland Thorns FC today announced that the club has acquired defender Becky Sauerbrunn from Utah Royals FC in exchange for defender Elizabeth Ball and $100,000 in allocation money. Additionally, Utah will receive additional allocation money if future conditions are met.
"We appreciate Utah being amicable to this trade in helping fulfill the wishes of Becky and her desire to come to Portland," said Gavin Wilkinson, general manager and president of soccer of Thorns FC. "Becky will give us tremendous experience and leadership at the back. Her addition to a group of players with championship capabilities and aspirations is exciting on all levels."
The 2020 season will mark Sauerbrunn's eighth campaign in the NWSL. Sauerbrunn, 34, began her career with FC Kansas City (2013-17) and most recently featured for Utah during the 2018 and 2019 seasons. Individually, Sauerbrunn has been named NWSL Defender of the Year four times, including three consecutive seasons (2013-15) and has earned NWSL Best XI honors in all seven NWSL seasons. Across seven seasons, Sauerbrunn has played in 122 regular-season matches (121 starts), logging 10,900 minutes, while tallying four goals and three assists.
"Becky has the technical quality and tactical knowledge of one of the top players in the game," said Mark Parsons, Thorns FC head coach. "She is a true professional with a strong work ethic and has a team-first attitude in all areas that will raise the level of those around her."
With Utah, Sauerbrunn appeared in 34 matches in league play (33 starts), logging 2,980 minutes and one goal. In 2014 and 2015, she helped guide FC Kansas City to consecutive NWSL Championships. In five seasons with FC Kansas City, Sauerbrunn made 88 regular-season appearances (88 starts), playing 7,920 minutes, while also recording three goals and three assists.
Professionally, Sauerbrunn began her career with the Washington Freedom of Women's Professional Soccer (WPS) in 2009 after she was selected No. 3 overall in the 2008 WPS General Draft out of the University of Virginia. The St. Louis, Mo., native played two seasons (2009-10) with the Freedom, appearing in 44 regular-season games and one season with magicJack in 2011, featuring in 13 regular-season matches. Additionally, Sauerbrunn played for Toppserien side Røa IL in 2009, the top division in Norway, helping the club win a league title.
With the U.S. Women's National Team, Sauerbrunn, who has 174 international caps, has won two FIFA Women's World Cups (2015, 2019) and an Olympic gold medal (2012). She has played for the USWNT in three World Cups (2011, 2015, 2019) and two Summer Olympics (2012, 2016).
Ball, 24, signed with Portland ahead of the 2018 NWSL season. In two seasons with the club, Ball played in 20 matches (13 starts), logging 1,189 minutes.
Becky Sauerbrunn
Pronunciation: SOUR-brunn
Position: Defender
Height: 5-7
Born: June 6, 1985
Hometown: St. Louis, Mo.
College: University of Virginia