Ponte Vedra SC joins Jacksonville Armada FC Youth Academy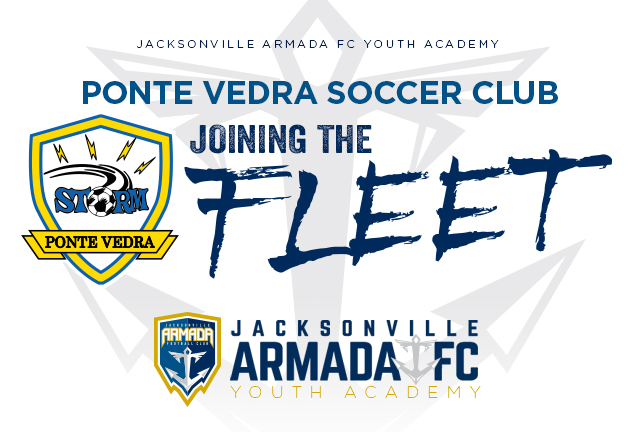 JACKSONVILLE, Fla. (Via Jacksonville Armada FC) – The Jacksonville Armada FC announced on Wednesday that the boys and girls competitive Storm Programs of Ponte Vedra Soccer Club (PVSC) are joining the Jacksonville Armada Football Club Youth Academy.
PVSC's competitive Storm programs are the first strategic partner joining the academy since it was established last week when Jacksonville FC officially rebranded as the Jacksonville Armada FC Youth Academy. With the addition of another prestigious youth club, it strengthens the full club development pyramid and player pathway for local talent while at the same time remaining focused on area athletic association regulations.
"This is great for youth soccer in Northeast Florida," said Jacksonville Armada FC Youth Academy President Mark Frisch. "I would like to thank the PVSC leadership for their belief in our collective long-term vision of a clear path for local talent from the youth to professional ranks. Adding a prestigious club like PVSC with its rich tradition will only make that vision stronger."
During the past three years, PVSC and JFC players have enjoyed many benefits under the JFC Storm program, including two United States Youth Soccer Association (USYSA) National Championships and membership in U.S. Club's National Premier League (NPL) and the prestigious Elite Club National League (ECNL).
"This is a great day and I couldn't be happier for what this means for the kids in our communities," said Jacksonville Armada FC Youth Academy President David Proehl. "I am equally thankful for the PVSC leadership team's shared vision as this relationship started over three years ago and has grown to be so much more than originally imagined. Welcome to the fleet!"
"Ponte Vedra Soccer Club is looking forward to joining the fleet and becoming a part of the Jacksonville Armada FC Youth Academy along with our strategic partners," said Ponte Vedra Soccer Club Commissioner Chris Herb. "This is an exciting step forward that promotes our youth athletes, our membership and the soccer community in our great city. Our players will benefit from expanded developmental opportunities at all ages and levels of play as part of the fleet. Our partnership with the Jacksonville Armada will connect families across the soccer community and engage our players in an exciting environment where passion for youth soccer is unrivaled."
Current Ponte Vedra Palm Valley Athletic Association (PVAA) Commissioner Gary Easom added: "PVAA is pleased with this opportunity to improve our recreational youth sports programs for St John's County children by partnering with the Jacksonville Armada FC for our competitive programs."
Current Jacksonville Armada FC Youth Academy Executive Director Eric Dade will work closely with Armada FC head coach and technical director Tony Meola in establishing a youth development model for all of the academy's teams, including developmental direction for PVSC's recreation program.
"This is a tremendous step forward in working together to improve the developmental opportunities for all of our players, at every level," said PVSC Executive Director Daniel Villarreal. "The Armada's continued support and motivation of the youth in our community is directly in line with our philosophy, and something we will work together to grow. A fun and active environment for all of our players has always been one of our core values, and this opportunity will allow us to take that to the next level."
Dade added: "We're extremely excited that Ponte Vedra Soccer Club is joining the fleet. Our visions began aligning themselves three years ago and this unification is a logical next step in the process. The PVSC is full of rich soccer traditions, historical success and great leadership. We embrace and look forward to our future together as the Jacksonville Armada FC Youth Academy."