Players react joyfully to news of new women's pro league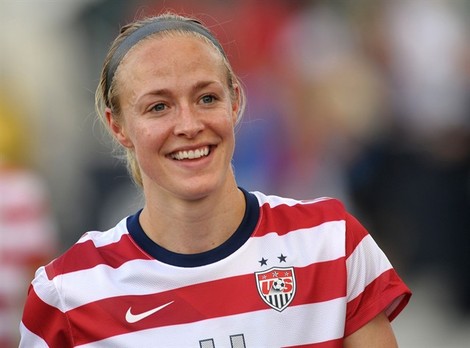 By Charles Boehm
The United States' new women's professional soccer league doesn't even have a proper name yet.
All the same, it's exceedingly welcome news for the players who have been without a fully pro competition to call their own since Women's Professional Soccer played its final game more than a year ago.
"The WNT [U.S. Women's National Team] players are excited about the prospect of a stable, quality and competitive league," U.S. international Becky Sauerbrunn told Soccerwire.com via email. "We are happy to see so many people in the soccer community working together with the U.S. Soccer Federation to make this league happen."
The plan for the new league calls for national teamers like Sauerbrunn – as well as a number of their Mexican and Canadian counterparts, thanks to a unique partnership with those nations – to be paid by the federation, underlining one of U.S. Soccer's leading motives for shouldering much of the responsibility for this enterprise.
"The best way, long-term, to develop players is in a league format where they're challenged every day," noted federation president Sunil Gulati.
But Gulati's announcement on Wednesday was also a blessing for those at other stages in their playing careers, especially the ones who've suffered through the ups and downs of failed enterprises like WPS and the Women's United Soccer Association.
"To be a women's soccer player in the U.S., there's always so much potential – see our national team and how successful they are, the number-one team in the world. But it's so disappointing and disheartening to see two leagues fold," said Joanna Lohman, who played for the Washington Freedom and Philadelphia Independence of WPS before the league shut down in January.
"It makes it a struggle to really do what you love, to play the game of soccer. With a third league, hopefully the owners and the league have finally figured it out – that will be a sustainable league where we can develop talent in the U.S. and we will only grow as a superpower in the women's soccer world."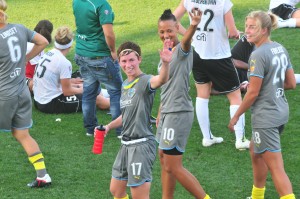 Lohman (pictured at right, center), who briefly moved abroad to Spanish club RCD Espanyol after the demise of WPS, admits that her playing days are numbered and is eager to suit up closer to home before she calls it quits. But more importantly, she wants future generations to have the same opportunities hers did.
"For players like me, I'm coming to the later stages of my career and it's such an amazing feeling to be able to close out my career in the U.S. and not have to go abroad anymore," she said.
"No matter what, I'm super-excited for the league to be back. Whether or not I'm playing in it is irrelevant, basically. I'm just happy that so many little girls now are dreaming [of a pro career]."
With the next Women's World Cup almost three years away, the new league is also seen as a crucial element of the U.S. Women's National Team's defense of its current No. 1 world ranking.
"We want the league to be good and be sustainable and be something that can last for a long time," U.S. star Megan Rapinoe told PortlandTimbers.com. "But to be able to play games on a regular basis, I think is the most important thing.
"Playing on a regular basis allows you to really develop. Training's good, but there's something special about games, something you can't replicate in training."
The steady progress of rival nations with domestic leagues has not escaped the USWNT, a fact that Sauerbrunn alluded to.
"The level of women's international soccer is getting better and better," said the University of Virginia product. "I think we saw how countries with domestic leagues of their own have really progressed in their style and understanding of the game. To keep our level as high, the WNT would love to have the same opportunities to play as countries like Germany, Sweden and Japan."