La Liga methodology course brings Spanish savvy to Va. coaches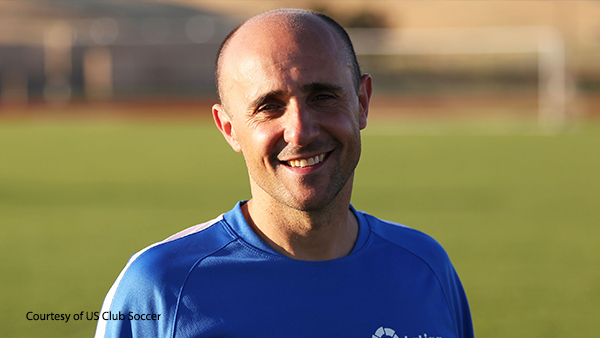 LORTON, Va. – How can American soccer improve in the years ahead?
Whatever your or your organization's particular plan for the future may be, coaching education is most likely involved – and towards that end, one of the country's largest youth soccer organizations has turned to the proven mastery of Spain's vaunted La Liga.
Some 125 coaches from across the East Coast gathered in Northern Virginia over the weekend for the third edition of US Club Soccer's La Liga "Formation Methodology" coaching education course, immersing themselves in nearly 25 hours of theory, planning and practical applications.
Following on from sessions in Texas and Northern California, the Friday-to-Sunday seminar at South County High School marks the next step in US Club Soccer's effort to spread the Spanish gospel – and its wider "Players First" platform – to as many clubs and coaches as possible across the nation.
+READ: US Club Soccer set to unveil new "Players First" youth development platform
Leading the way was Gari Fullaondo, a longtime, UEFA-PRO certified trainer at Athletic Bilbao and a Methodology Adviser to the Royal Spanish Football Federation who is getting a crash course in North American soccer as he spearheads this methodology program. It's also a great opportunity for him to expose North American audiences to his own Kimet training-software system, a one-year subscription to which is provided as part of the methodology course.
Let's learn from the best: @LaLigaEN. #P1soccer pic.twitter.com/ysEzzlaiwY

— US Club Soccer (@USClubSoccer) July 29, 2016
Utilizing both classroom and training-field sessions, Fullaondo paced his students through an information-dense curriculum and even let drop a few striking observations about the U.S. system when SoccerWire.com stopped by for a few hours on Saturday.
"I think in the beginning, as we were expecting, the response was more cold," Fullaondo said of the weekend. "But we have succeeded in getting inside their problems, and the feedback now is really good. We have showed how we understand the way to teach soccer and I think they know that they need some help in some areas. And I think they are very open to hear different ways to teach soccer, principally in the tactical context."
Carrying some three decades of experience honed at the quiet powerhouse that is Bilbao's academy, Fullaondo touched on a wide variety of influential topics as he introduced participants to the developmental framework Spain's top-flight clubs have used to grow some of the world's most skilful players and one of the planet's most aesthetically-pleasing professional competitions.
And it's only the first of three steps in the process: This "Level 3" course is intended to lay the groundwork for participants to develop their mastery via progression through a Level 2 seminar, and eventually a Level 1 certification attained in Spain.
Playfully using his own young son – whom he self-deprecatingly dubbed small and slow, but smart – as an example, Fullaondo praised the technique, dedication and athleticism of American players, but pointed to tactical depth and a nuanced understanding of the game as the missing link here.
"Thinking is better," he told participants during one classroom session that began with an open Q&A period – one that moved quickly from the influence, or "contamination," of culture on how the game is taught to the difference between the "book knowledge" of a federation's curriculum and the individual accumulation of understanding and experience.
"You must think on your own – take from here and here and here," urged Fullaondo, who often paced around the stage energetically as he spoke, occasionally turning to US Club Soccer's Ashley Lehr for translation help when his English skills were outstripped by a particular bit of soccer terminology.
+READ: O'Sullivan: Can Players First fix American youth soccer?
"I think we only have one difference," he said afterwards when asked for his impressions of the U.S. soccer scene as compared to Spain's. "I think the soccer has been in our culture, the soccer has been in the street. Maybe the soccer has not been here in the States. You are so much better than us in a lot of things – in athletics, in the mechanical execution, in the facilities, in other things – in the dedication to soccer. But I think we have the benefit of time.
"We have soccer in the blood, and it's more cultural, because all the people play and understand soccer. I think this is the difference. In my country everybody speaks and understands soccer. Maybe here, not so much people in the colleges, in the school, the coaches or the teachers, speak about soccer."
Even a brief exposure to the course's content hinted at myriad layers of complexity and craftsmanship. Explaining his approach to formations in the context of player development, Fullaondo's dry-erase marker rapidly filled up a whiteboard with tactical renderings explaining the utility of the 4-3-3 vs. the 4-4-2 for inculcating midfield players with the incisive diagonal passes that break the opposition's lines without exposing one's own defense.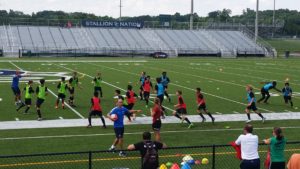 Fullaondo and his coursework represent levels of nuanced knowledge that have often been lacking on these shores, but are now becoming more available to U.S. coaches, be it from "Players First" or other sources. He sees a hunger within the coaches he's worked with thus far.
"I think you are very passionate," he said of American soccer. "You don't express it, but I see it on the field. I think you are very influenced by the typical sports of your country – maybe a lot of mechanical execution, maybe a lot of importance on the individual content, in the athletic content, in the technical, and maybe not so much in the tactical concept. But I am looking at a lot of people with a lot of passion to learn more about this.
"I think when a country is open to learning, it's an intelligent country. And I think you saw that there. In the beginning they were quite closed, and now in two days people are really open, absolutely open. So we are very, very happy with this."
US Club Soccer takes the La Liga course to the Chicago area next week, where retired Spanish great Raul will take part, and will roll out Level 1, Level 2 and Level 3 courses next year.