Play continues on Day 2 at US Youth Soccer Region IV Presidents Cup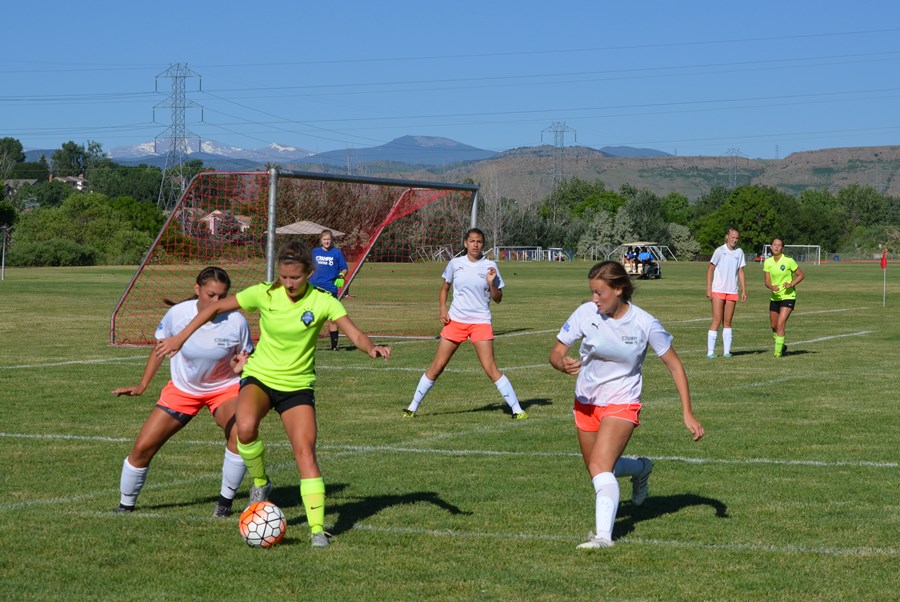 Day 2 of 5
Schedules, Scores and Standings
ARVADA, Colo. (Via US Youth Soccer) – The 2016 US Youth Soccer Region IV Presidents Cup continued its second day of play in Arvada, Colo., as groups started to take shape in the Under-13 through Under-17 boys and girls age groups. Under-12 Boys and Girls age groups of the 2016 US Youth Soccer Region IV Championships are also being held at the Region IV Presidents Cup.
The tournament takes place June 14-19 and features 120 US Youth Soccer teams from US Youth Soccer Region IV (West) competing for a regional title, and a berth to the 2016 US Youth Soccer National Presidents Cup, July 14-17 in Tulsa, Okla.
The US Youth Soccer Presidents Cup is designed for teams seeking additional challenges to play for a national title against teams of similar abilities. The cup provides a progressive, competitive experience to teams that might not otherwise get the opportunity to participate in a series of unique experiences highlighting competition, camaraderie and community from the state to regional to national levels of US Youth Soccer.
2016 Region IV Presidents Cup Match Highlights
Under-14 Boys
OUSL Crusaders FC 01 White (CA-S) have guaranteed a spot in the quarterfinals with a 4-1 victory over Arsenal United Pumas (ID). Four different players got on the scoresheet for OUSL with Roman Gutierrez, Alfredo Botello Pineda, Erick Cardenas and Mauricio Hernandez Orozco all finding the back of the net, while Arsenal's goal was scored by Timothy Bassett. Sage Brush SC United Red 01 (NV) controls its own destiny for the other quarterfinals slot after a 1-1 tie with CASA Thunders (CO). Jesus Macias scored for Sagebrush just seven minutes into the match, but CASA's Samuel Benitez Tovar netted the equalizer in the 26th minute. The second half would feature plenty of chances, but neither team was able to break-through resulting in a draw.
In Group C, Washington Premier 01 White (WA) and Sereno SE 02 Chelsea White (AZ) are both through to the quarterfinals after both squads went 2-0 over the first two days. Anderson Hurricanes (CA-N) got off to a dream start against Washington Premier when Jovani Casillas-Escajeda scored in the first minute of the match. However, Washington Premier would counter with first half goals from Kohl Simmons and Sammy Aguilar to go with Carsten Smit's 38th minute goal as the match ended 3-1. Sereno got out to an early lead when Ryan Galloway found the back of the net in the 18th minute, and Stephen Soto would double Sereno's lead right before the final whistle to give Sereno the 2-0 win.
Under-15 Girls
Heat FC 01 BM (UT) took control of Group A after a 3-1 win over SoCal Rush (CA-S) in a battle of 1-0 teams. Just two minutes in to the match, Robyn Neville's goal gave Heat the 1-0 lead, and Drew Morby would double his side's advantage in the 49th minute. Katelyn Pineda's goal brought Rush back within one goal in the 75th minute, but just five minutes later Kennedy Warnick answered for the final goal of the match. In the second Group A match, Brynn VanOrden's 61st minute goal for Spokane Shadow brought its record to an even 1-1 after a 1-0 victory over Washington Timbers 00 Green (OR).
West Coast FC Murphy (CA-S) and Players 01 Elite (NV) qualified to the quarterfinals in Group B each with 2-0 records. Both teams notched impressive wins today as West Coast beat Meridian United Purple (ID) 6-1, while Players took care of business against Alaska Eclipse 01 (AK) 6-2. West Coast received goals from Jenna Sentman, Ryanne Molenaar, Kaitlin LaBella, Meagan Rowlett and a Miranda Diaz Casarrubias brace, while Jordyn Dalling scored for Meridian. Carmen Enicott's hat trick accompanied by Preshus McCraney's brace and a goal from Molly Roses fueled Players to victory. Both of Eclipse's goals had grace in common as Grace Moore and Grace Mark both found the net.
Under-15 Boys
Group A is the epitome of the term "up for grabs" as all four matches over the span of two days have ended in draws. Both matches on Wednesday ended in 1-1 draws with Porterville United Black (CA-N) tying CO Rapids Youth Soccer 01 Burgundy (CO) and Arsenal JJ drawing Snohomish United (WA). Rogelio Bedolla-Ponce got Porterville on the board just five minutes into the match, but Noah Espino-Kennedy would knot things up at one apiece in the 40th minute. The match between Arsenal and Snohomish rendered a similar fashion, albeit with a bit more drama. Arsenal's Braeden Brown put the Utah side up 1-0 in the tenth minute, and the lead would hold for 60 minutes until Cameron Haupt equalized for Snohomish.
Players Elite AP (NV) secured a spot in the quarterfinals after its second win in as many days. After an Antelope Valley Predators (CA-S) goal in the 11th minute, Alfredo Robles gave Players a 2-0 lead with a goal in the 33rd minute. Henry Arguello would bring Antelope Valley back within one, but the Nevada squad would hold on for the 2-1 win. In the other group match, Gremio FC (UT) and Fairbanks Alaska Rush 01 (AK) battled to a 3-3 draw. Gremio looked to in control of the match after first-half goals from Erik Arroyo and Alfredo Cano to go with a 50th minute goal from David Luna for the 3-0 lead. Fairbanks had no intentions of suffering a second straight loss as Ethan Raygor got the Alaskan side on the board in the 61st minute before Paul Kopp brought Fairbanks within one with a goal just two minutes later. 2015 US Youth Soccer ODP Thanksgiving Interregional participant Drew Rizk would complete the comeback with his third goal of the tournament in the 75th minute as the final whistle blew with a 3-3 score.
Under-16 Girls
Cook Inlet SC 00 (AK) and Utah Storm Premier Lake (UT) will advance to the quarterfinals from Group A after both teams won their respective games over the last two days. Cook Inlet edged out a 1-0 win over Broomfield Blast 00 Prestige (CO) courtesy of a goal from Savannah Nichols merely six minutes into the match. Utah Storm also produced a shutout in a 3-0 win over El Camino Real Strikers (CA-N) thanks to goals from Chloe Martin, Katie Taylor and Jade Marziale.
Eastside FC 99 White (WA) sits alone at the top of Group C after two days of play with a 2-0 record. Eastside used goals from Hannah Hall, Katelyn Reeves and Karlyn Stokes to propel it to a 3-0 win over Santa Cruz Jaws 99 White (CA-N). After an impressive 5-0 on day one, LVSA 00 Red got off on the right foot with a 28th minute goal from Katelyn Moxley, but two second-half goals courtesy of Natalie Horton and Rielly Rasmussen gave California Elite Soccer Club Black (CA-S) its first win of the tournament with the 2-1 result.
Under-16 Boys
Agave la Raza (AZ) sits alone atop Group B after defeating Rage FC (UT) 4-2. Rage's Alexander Tholen began the scoring in the 17th minute, but Agave's Remijio Ramos Vazquez tied the match at one with a goal in the 25th minute. Oscar Lopez's goal gave Agave the lead just four minutes later, but Rage's Kalob Dudley would bring the match back to a tie with a goal in the 47th minute. However, that would be the last time the two sides were level as Sebastian Gutierrez Alvarez and Ervey Diaz Radilla scored unanswered goals to give Agave the 4-2 win. The other Group B match would also end in a 4-2 score as WPFC 99 White (WA) defeated Matrix Elite San Marcos (CA-S). Luis Carbajal scored both goals for Matrix, while Dylan Sam, Grant Cox, Jordan Neuman and Adam Berg all scored for WPFC.
LVSA 00 Red (NV) and Oxnard United SC (CA-S) will represent Group C in the quarterfinals after both teams went undefeated in their first two games. LVSA defeated Cook Inlet SC 00 (AK) 1-0 thanks to John Lynam's 13th minute goal, while Oxnard United won 2-0 against Utah FC Black (UT) courtesy of Michael Morales Almanza's brace.
Under-17 Girls
2014 Region IV and National Presidents Cup champions Crush Blue (UT) got significantly closer to a quarterfinal spot with a 3-2 win over CO Storm South Premier (CO) in a battle of day one winners. Crush took a 2-0 lead thanks to goals from Kinsley Napoli in the 22nd minute and Cambrie Lake seven minutes later. Sabrina Armstrong's goal brought Storm back within one right before the half, but Kambri Curtis increased Crush's lead back to two just two minutes after halftime. Valerie Peyton made the score 3-2 with her goal in the 63rd, but the former champs would prevent an equalizer to take the win. Crush's opponent for tomorrow, FC Golden State OC (CA-S) defeated Natomas United FC Nitro (CA-N) in the other Group A match. Vidalia Abarca, Sophia James and Nathalia Lopez all found the back of the net for FC Golden State, while United's goal came courtesy of Brianna Ulloa.
All four teams in Group B still have a shot at one of the two remaining quarterfinals spots after two days of play. La Roca South CS (UT) rebounded after a day one defeat with a 3-2 win over Gillette Edge (WY). Jacilynn Dandos-Cook got the Utah side on the board with a goal in the 22nd minute, but Edge's Kylie Hatzenbihler netted an equalizer right before halftime. Dandos-Cook broke the stalemate for a second time for La Roca in the 65th minute, and Addison Holmstead added an insurance goal in the 83rd minute. Holmstead's goal would prove to be crucial as Delaney Hallcroft found the back of the net for the Wyoming squad, but a last-minute equalizer was not in the cards with 3-2 becoming the final score. The other Group B match between Alaska Rush 99 (AK) and Bozeman Blitzz FC (MT) was dominated by each team's defense, resulting in a goalless draw.