Play begins at US Youth Soccer National Championships in Oklahoma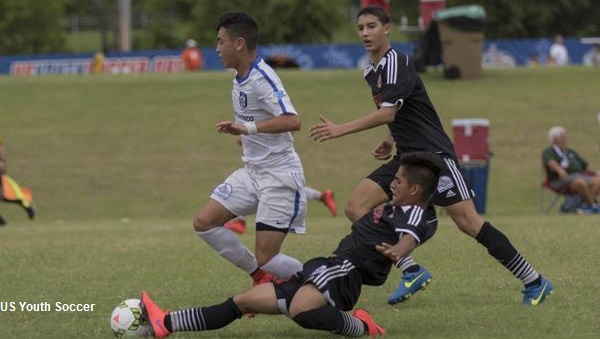 Tulsa, Okla. (Via US Youth Soccer) — Games kicked off Tuesday at the 2015 US Youth Soccer National Championships at the Mohawk Soccer Complex in Tulsa, Okla. Excitement filled the air as teams made their first push to earn one of the 14 National titles that will be awarded this weekend. The field of 96 teams is comprised of some of the nation's top players in the Under-13 through Under-19 Boys and Girls age groups.
Teams are seeking positive results throughout group play, which concludes Thursday. Three points are awarded for a win, one point for a tie and zero points for a loss. The top two teams in the Under-13 and Under-19 age groups will advance to the National Championship final on Saturday, while the top two teams in each group in Under-14 through Under-18 play advance to their respective semifinals.
The event is estimated to bring more than $5 million to the local economy. In addition to the impact locally, the championships provide college coaches from around the country with a premier stage to evaluate future collegiate players, offering a tremendous impact to players and their families. Many college coaches and U.S. Soccer scouts lined the sidelines on Tuesday to watch the players make their first push for the 2015 National Championship.
All of the teams competing in Tulsa earned their place in the National Championships via success in the US Youth Soccer National Championship Series or the US Youth Soccer National League.
A few highlights from Tuesday's matches…
Girls
Tophat 19 Gold (GA) defeated Under-14 Girls CUP Gold 00/01 (OH-S) 1-0. After a competitive first half, the match went into halftime scoreless. Tophat's Katie Scarborough found the back of the net in the 43rd minute, and the lone goal stood to give the Region III Champs the victory in Group A.
A pair of second half goals gave Under-15 Girls Penn Strikers (PA-E) a 2-0 win against Carlsbad Elite 99 (CA-S). After a scoreless first half, Avery Cotter broke the stalemate in the 48th minute for the Strikers. Teammate Brooke Schutter doubled the lead with a goal in the 50th minute.  The win gives the Region I Champs three points to start the tournament.
Tophat 18 Gold (GA) and Albion SC White (CA-S) played to a 1-1 draw in their early morning Under-15 Girls matchup. National League qualifier Tophat Gold got the lead in the 19th minute after forward Rachel Jones found the back of the net. The advantage held on for almost the entire match, but just two minutes before the final whistle, Albion midfielder Malia Kaleiohi found the equalizer giving both teams a point each after their first match in Group A play.
Under-15 Girls Legends FC 99 (CA-S) kicked off Group B play with a fury of goals in their 5-0 shutout win against Futura Pink Panthers Elite (MO). Legends notched two goals within the first five minutes of play by Nia Harris and Denae Antoine. In the second half, Legends continued to dominate with a Bryanna Duckett tally in the 52nd minute. Forward Kaylee Ramirez added her name to the score sheet with a brace scoring in the 48th and 59th minutes.
Under-15 Girls La Roca Premier (UT) earned its first Nationals victory by defeating Solar Chelsea Elite 00 (TX-N) 6-1. La Roca forward Anna Escobedo shined with a hat trick, with goals in the 8th, 44th and 55th minutes.  Olivia Wade and Macy Martinez scored first half goals in the 17th and 40th minutes to put La Roca up 3-0 at the half. Wade added her second goal for La Roca in the 50th minute. Messiah Bright put Solar Chelsea on the board with a late goal in the 75th minute, but La Roca walked away with the three points in Group B.
In a match with an explosive second half, KC Metro Dynamos (KS) defeated Under-18 Girls VSA Heat 96 Blue (VA) 3-1. Madison Holmes and Brooke Prondzinski put KC Metro up 2-0 with goals in the 48th and 61st minutes respectively. Madeline Watson found the back of the net for VSA in the 73rd minute, but Prondzinski found her second goal of the match late in stoppage time for the KC Metro win.
Boys
A quick start coupled with a strong finish helped Sporting KC Academy (KS) pull away for a 5-2 win over South Carolina United FC 99 Elite (SC) in Under-15 Boys Group A. Sporting received a pair of goals from Max Rugova to go up, 2-0, after a half-hour of play. Abdu Kikhia extended the lead to 3-0 before Grayson Barber and Thomas McLean pulled two goals back for South Carolina to bring their side within one. However, Kikhia added another tally and Roman Knox added a late goal to cap the 5-2 win for Sporting KC.
Elsewhere in Under-15 Group A, defending National Champion United FA 00 Premier (GA) used a stoppage time goal to slip past Surf Aguilar (CA-S) with a 2-1 win. Auston Rodriguez put United up with a 10th-minute goal, and the Georgia side maintained that advantage for much of the contest. That changed in the 66th minute when Joseph DaLuz netted an equalizer for Surf. But Nyger Hunter put United on top for good with a header at the back post to give the defending champions a win to start the tournament.
Baltimore Celtic (MD) began its week with a 2-0 win over SDFC Rangers (NJ) in Under-16 Boys Group A action. The Maryland side looked dangerous early in the game, and it broke through just before halftime when Nicolas Brown found the back of the net. Dominic Duncan doubled the lead with a 52nd minute strike, as Baltimore continued to apply pressure at the attacking end — evident by its 8-to-1 advantages in corner kicks. Celtic kept SDFC off the scoreboard to wrap up the 2-0 victory.
In Under-16 Group B, Penn Fusion 98 (PA-E) used a pair of second-half goals to pull away for a 2-0 win against Sporting St. Croix (MN). The first half ended with the teams in a scoreless tie, but a red card left sporting down a player. The Eastern Pennsylvania side took advantage in the second half, as Ryan Sholes gave Fusion a 60th-minute lead. Sporting's 10 men pushed for an equalizer, but Jamison Dove added a late insurance goal for Penn Fusion to seal his team's Day 1 win.
In Under-18 Boys action, 2014 National semifinalist CUP Gold 96/97 (OH-S) began its week with a decisive win against NASA 15 Elite (GA) in Group A. The Ohio side fell behind in the 28th minute after an own goal put NASA in front. However, CUP quickly responded with goals from William Cohen and Mohammed Elmardi to take a 2-1 lead into halftime. Cohen extended the advantage to 3-1 in the 63rd minute before Bryce Curran and Daniel Bundschuh each added insurance goals to cap CUP's 5-1 win.
In a rematch of the 2014 National Championship final, FC Dallas 97 Premier (TX-N) used a stoppage time header to earn a 2-2 draw with defending champion Manhattan SC PSG 96 (NY-E). Despite early pressure from FC Dallas, Manhattan grabbed an 18th-minute lead on an Ousmane Dia strike. The New York side doubled its lead when Admir Nezaj struck his half-volley inside the right post, but Kevin Rodas immediately responded with a crucial goal for FC Dallas just before halftime. Manhattan nearly held on for the 2-1 win, but Dallas defender Matthew Rochowski connected on a late header to force the 2-2 draw.
2015 US Youth Soccer National Championships
Day 1 Results: Group Play Matches
| | | | | | |
| --- | --- | --- | --- | --- | --- |
| Under-13 Girls | | | | | |
| FC Frederick 01 | MD | 0 | So Cal Blues Baker | CA-S | 4 |
| PSG MI Gators 02 Orange | MI | 4 | Albion Hurricanes 02 | TX-S | 0 |
| Under-13 Boys | | | | | |
| Baltimore Celtic Darby 01/02 | MD | 5 | Sporting J. B. Marine – Mann | MO | 1 |
| SCUFC 01 Elite | SC | 0 | EC Real Galaxy FC 01 | CA-N | 6 |
| Under-14 Girls | | | | | |
| Dallas Kicks SC 01 | TX-N | 2 | Campton United Navy | IL | 0 |
| CUP Gold 00/01 | OH-S | 0 | Tophat 19 Gold | GA | 1 |
| South Shore Select Elite | MA | 0 | Legends FC Gold  | CA-S | 1 |
| FC Pride 01 Elite  | IN | 3 | HBC Impact 00 | NY-E | 1 |
| Under-14 Boys | | | | | |
| Baltimore Celtic Dynasty | MD | 1 | Cincinnati United CUP Gold | OH-S | 1 |
| GSA 01 Premier | GA | 1 | Houstonians 2001 | TX-S | 1 |
| McLean 00 Green | VA | 0 | San Diego SC 00 Academy Navy | CA-S | 2 |
| SJ Earthquakes PDA 01 | CA-N | 2 | LFSC Geerling White | MO | 2 |
| Under-15 Girls | | | | | |
| Tophat 18 Gold | GA | 1 | Albion SC White | CA-S | 1 |
| Penn Strikers | PA-E | 2 | Carlsbad Elite 99 | CA-S | 0 |
| Legends FC 99 | CA-S | 5 | Futura Pink Panthers Elite | MO | 0 |
| La Roca Premier PO | UT | 6 | Solar Chelsea Elite 00 | TX-N | 1 |
| Under-15 Boys | | | | | |
| South Carolina United FC 99 Elite | SC | 2 | Sporting KC Academy | KS | 5 |
| Surf Aguilar | CA-S | 1 | United FA 00 Premier | GA | 2 |
| Fullerton Rangers White | CA-S | 1 | Fewster FC | MD | 1 |
| Arlington Eagles Red | VA | 1 | Dallas Texans 00 Red | TX-N | 2 |
| Under-16 Girls | | | | | |
| La Roca FD | UT | 2 | Kings Hammer Academy Red | OH-S | 0 |
| Tophat 17 Gold | GA | 1 | Futura Academy Forte Elite | MO | 2 |
| YMS Premier Xplosion 98 | PA-E | 2 | 99 Lady Lobos Rush Premier | TN | 0 |
| JFC Storm 98/99 | FL | 4 | Beadling Bulldogs | PA-W | 0 |
| Under-16 Boys | | | | | |
| Albion SC White | CA-S | 1 | Seattle United 98 Copa | WA | 3 |
| SDFC Rangers | NJ | 0 | Baltimore Celtic | MD | 2 |
| Loudoun 98 Red | VA | 1 | CESA 98 Premier | SC | 0 |
| Penn Fusion 98 | PA-E | 2 | Sporting St. Croix | MN | 0 |
| Under-17 Girls | | | | | |
| Beach FC Academy 97 | CA-S | 1 | NJ Stallions Dynamite | NJ | 1 |
| Tampa Bay United 97 Premier | FL | 2 | La Roca Premier | UT | 0 |
| Carlsbad Elite 97/98 | CA-S | 2 | KHA Red | OH-S | 0 |
| Michigan Jaguars 98 Green | MI | 2 | Tophat 16 Gold | GA | 1 |
| Under-17 Boys | | | | | |
| Lehigh Valley United 97 | PA-E | 0 | Santa Barbara SC White | CA-S | 0 |
| Baltimore Celtic 97/98 | MD | 3 | South San Jose PAC Indios | CA-N | 2 |
| Arlington Impact Red | VA | 1 | FC Dallas 98 Premier | TX-N | 1 |
| Sunrise Elite 97/98 | FL | 0 | Chicago Magic PSG Preacademy  | IL | 5 |
| Under-18 Girls | | | | | |
| Beach FC Academy | CA-S | 0 | La Roca PO | UT | 2 |
| VSA Heat 96 Blue | VA | 1 | KC Metro Dynamos | KS | 3 |
| Carlsbad Elite  | CA-S | 1 | 97 Louisiana Fire Navy | LA | 0 |
| DMCV Sharks Elite | CA-S | 4 | Beadling Gunners | PA-W | 0 |
| Under-18 Boys | | | | | |
| NASA 15 Elite | GA | 1 | CUP Gold 96/97 | OH-S | 5 |
| Fullerton Rangers 96 White | CA-S | 1 | KS Rush Academy Blue 96/97 | KS | 0 |
| FC Dallas 97 Premier | TX-N | 2 | Manhattan SC PSG 96 | NY-E | 2 |
| LVSA 97 Red | NV | 2 | FC Golden State White | CA-S | 1 |
| Under-19 Girls | | | | | |
| FC Nova Nationals | ID | 0 | Beadling SC Thunder | PA-W | 0 |
| Gretna Prima 95/96 Green | NE | 2 | Tampa Bay United Premier | FL | 0 |
| Under-19 Boys | | | | | |
| Massapequa Arsenal | NY-E | 0 | St. Louis Scott Gallagher | MO | 1 |
| GSA 96 Premier | GA | 0 | Scottsdale 96 Blackhawks Burke | AZ | 2 |