Perseverance fueling Chicago Fire U-15/16s' USSDA Playoff run
As the Chicago Fire Academy U-15/16s waited for extra time to begin after a scoreless 80 minutes with Weston FC on Wednesday night, coach Gonzalo Segares delivered a momentum-changing message to his team.
With the Fire playing in the U.S. Soccer Development Academy quarterfinals — one win away from the final four and three away from claiming the title — Segares ensured his bunch it would be able to score. It was only a matter of time, he said, before someone would put the ball in the back of the net.
[player_box id=72011 leftright=right]
That someone was Andrew Akindele, who scored the first of two goals in the opening overtime period. Vitalis Takawira Jr. capped the offensive onslaught in the final 10-minute frame, helping the Chicago Fire earn a convincing victory after not scoring for the majority of the match.
"I just kept telling them that we got to keep fighting, keep working hard, nobody is going to give us anything," Segares said. "We have to earn it, so they've got to dig deep."
+Read: U.S. Soccer Development Academy U-17/18 Quarterfinals Recap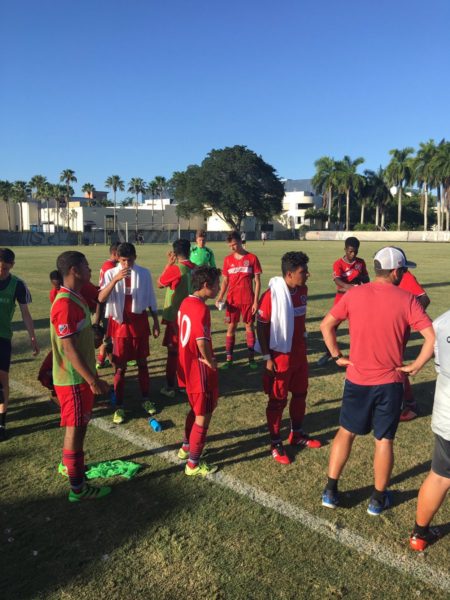 With temperatures at FIU Soccer Stadium in Miami, Fla. in the 90s, Segares noticed exhaustion starting to set in for his players as the match wore on.
The heat and humidity affected the team dynamic, but individual efforts brought on game-changing results.
Akindele began his scoring run by receiving a pass down the right sideline. He beat the defender with a touch to his right, took another few touches to set himself up in the box and rocketed a right-footed shot into the bottom-left corner of the net.
Celebration ensued, both on the field and in the crowd. Chicago Fire had broken through with just over a minute gone by in extra time.
"We were all relieved that we finally got a goal," Takawira Jr. said. "But then we were all like 'OK, now we got to be able to think more, be smart and at the same time, let's try to get another in the back of the net."
Off a corner kick about three minutes later, Carlos Cepeda controlled the ball near the left side of the box and made a nifty right-footed touch to get around his defender. Moments later, he curled the ball past the goalkeeper toward the far post.
After entering as a reserve in the 81st minute, Cepeda gave his team a 2-0 advantage.
+Read: U.S. Soccer Development Academy U-15/16 Quarterfinals Recap
Segares said his team's style of play started to change, though not intentionally, to begin the final overtime period. Since Weston FC put more numbers forward to cut into its deficit, Segares said his group dropped back and focused more on creating scoring chances through counter attacks.
Still, Weston FC had opportunities. With the score 2-0, Segares said goalkeeper Kyle Orciuch came up "very, very big" in blocking one of the opponent's best looks. Takawira Jr. said Orciuch's save reminded the team that despite the two-goal lead, it had yet to secure the victory.
"Kyle made a silly great save," Takawira Jr. said. "Kyle really saved us on that last shot that they had."
Minutes later, though, Chicago Fire could celebrate as Takawira Jr. scored the team's third goal with a chip from just inside the 18-yard box.
"It was a lot of relief," Segares said. "The team was able to, and I was able to calm down a little bit more."
+Read: U.S. Soccer announces 28 more Girls' Development Academy clubs
Segares said the match was pretty even during regular time. Both teams had some chances but couldn't covert.
Toward the end of the match, though, Weston FC was in position to all but close out the game after Segares said "We fell asleep a little bit on a cross." The result was a Weston FC player taking his first touch near the penalty spot.
He missed, and the game would eventually go into extra time. An evenly-matched game quickly became lopsided, as Chicago Fire converted its scoring chances, earning a trip to Los Angeles for the semifinals in the process.
"We were really hungry to go to the final four," Takawira Jr. said. "And even more hungry to get that trophy in our hands."