Penn Fusion 98, Sunrise Elite 97/98 clinch National Championship berths in US Youth Soccer National League play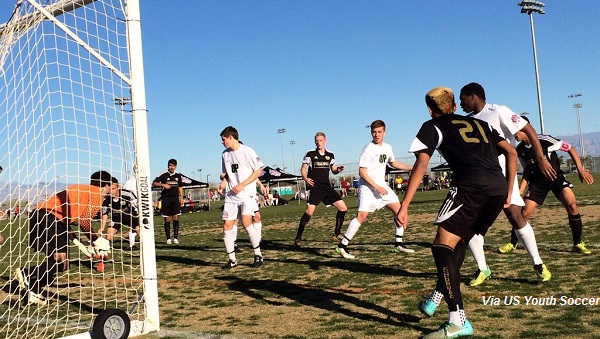 Day 1 of 3 complete: Scores and Standings 
Age Group Previews: U-18 | U-17 | U-16 | U-15 | U-14
LAS VEGAS, Nev. (Via US Youth Soccer) — The US Youth Soccer National League Under-14, Under-15, Under-16, Under-17 and Under-18 Boys resumed league play Friday at Heritage Park in Henderson, Nev., alongside the 2015 Players College Showcase. All Under-14 squads are competing this weekend, while half of the field is represented in the Under-15 through Under-18 age groups.
When the National League Boys' standings are finalized on Sunday, March 15, the top two finishers from each age group division will earn a spot in the 2015 US Youth Soccer National Championships, and the top two finishers in the Under-14, Under-15, Under-16 and Under-17 age groups will secure their place in the league next season. All teams were focused when they kicked off their weekend in Las Vegas on Friday, as many entered play with division titles and berths to the National Championships on the line.
Under-16 Penn Fusion 98 (PA-E) was the lone team playing on Friday to punch its ticket to the National Championships thanks to a thrilling 4-2 victory that secured a top-two finish in the Under-16 Red Division. Penn Fusion coach Mark Thomas said a renewed mindset entering the season helped his team improve on its sixth-place finish from a year ago.
"We feel good about our progression to the next level," Thomas said of the improvement from last season. "We play a good style, we possess the ball, but also, we've got that Philly tough mentality. We've got a lot of talent, but also a lot of determination and a lot of focus. I think the combination of all those things makes it very hard for teams to break us down."
In addition to Penn Fusion, Under-17 Sunrise Elite 97/98 (FL) — which finished its season in December, going 5-1-1 — clinched at least a second place finish in the Under-17 Red Division.
As for the teams still competing in Las Vegas, nine division titles and 13 total berths to the National Championships are still on the line. Several teams are on the verge of punching their tickets, but the depth of the National League field and competitiveness of each group has made it difficult for any team to pull ahead this season.
Thomas said there have been no easy games in the National League, and every matchup presents an opponent with a different style of play to which teams and coaches must adjust. And even with a berth to Nationals secured, Thomas said his Penn Fusion side isn't relaxing because there's more to accomplish.
"After the first round of games, we set the goal of finishing at the top of the division," Thomas said. "We're not going to sit back or take it easy the next two games. We're going to try and continue to play the right way."
2015 US Youth Soccer National Championship Qualifiers via the National League
*qualified Friday
Under-15 Boys
Red: South Carolina United FC 99 Elite (SC)
Under-16 Boys
Blue: SDFC Rangers (NJ)
Red: Penn Fusion 98 (PA-E)*
Under-17 Boys
Blue: Arlington Impact Red (VA)
Red: Sunrise Elite 97/98 (FL)*
Under-18 Boys
Blue: CUP Gold 96/97 (OH-S)
Red Champion: FC Dallas 97 Premier (TX-N)
National League Boys action continues Saturday, March 14 at Heritage Park with games at 8 a.m., 10 a.m. and 12 p.m. PT.
Some highlights from Friday's matches…
Under-14
It appeared San Diego SC 00 Academy Navy (CA-S) had three points locked up in its Under-14 Blue Division clash with GSA 01 Premier (GA), but the Georgia side scored a stoppage-time equalizer to salvage a point from the contest. San Diego, which entered in a first-place tie, gained an early lead when Matthew D. Miller found the back of the net. Despite GSA pressure, the Cal South side held on to its advantage for more than an hour of play. However, GSA's Kendall Edwards made a strong, weaving run through the San Diego defense and slid his shot past the keeper to force a 1-1 tie. Both sides are still in the race for the division title, but the tie allowed Downtown LVSC 01 Academy (NV) to jump into first place.
United FA 01 Premier (GA) kept a hold of second place in the Under-14 Red Division with a 1-0 win Friday against SCU/MP 00 Elite (SC). United FA's Ethan Rose provided the game's lone goal when he found the back of the net in the 60th minute. The Georgia side held off some intense late pressure from SCU/MP, including a dangerous corner kick in the final minutes, as United FA earned the hard fought 1-0 win.
Under-15
Fullerton Rangers White (CA-S) overcame an early deficit to post a 2-1 win over Sporting KC Academy (KS) in their Under-15 Blue Division matchup. Sporting struck first in the sixth minute on a Jackson Wood strike, but Fullerton equalized just before halftime when Oliver Meza beat the keeper. After some back-and-forth action, the Cal South created a 70th-minute equalizer, as Eduardo Chaires scored what proved to be the game-winner. The win helped Fullerton remain in contention for the division title, but it needs two victories in the next two days.
Real Colorado National 99/00 (CO) got off to the start it needed in Las Vegas, as it opened its weekend with a 3-0 victory. The Colorado side is the only team in its group playing this week with a shot at a top-two finish, and it still has aspirations of the Under-15 Red Division title.
Under-16
Penn Fusion 98 (PA-E) became the first boys team in Las Vegas to punch its ticket to the National Championships thanks to a 4-2 win Friday over United FC Gold 98 (CA-S) in Under-16 Red Division action. Quinn Dudek put Penn Fusion up in the 34th minute, and Samuel Brown found the back of the net shortly after halftime to double the advantage. Nicholas Marculo pushed the Pennsylvania side's advantage to 3-0 before United FC's Bryan Calderon pulled his team back within two. Penn Fusion's Aiden McFadden and United FC's Jacob Montes exchanged late goals, and Penn Fusion held on for the 4-2 win, which guaranteed at least a second-place finish.
Michigan Jaguars 99 (MI) remain in striking distance of second place in the Under-16 Blue Division after a scoreless draw against Scottsdale Blackhawks 99 Davidson (AZ). The Michigan side controls its own destiny moving forward, and it could potential secure a second-place finish with a win and some help in the other group game on Saturday.
Under-17
The Under-17 Blue Division featured a thrilling contest between Ohio Premier Green (OH-S) and FC Golden State Platinum (CA-S) that ended in a 4-4 draw. Golden State received goals from Eduardo Sanchez and Manuel Chavez, and two from Jesus Granados. The Cal South side was able to grab a late second-half lead despite OP gaining three separate first-half advantages on strikes from Brenan Lawrence, Khalid Hunter and Brian Woo. An 89th-minute goal by OP's Cameron Campbell spoiled Golden State's chance at three points and forced the teams to settle for the tie.
Defending National Champion Baltimore Celtic 97/98 (MD) is close to securing a return trip to Nationals after a 2-1 win on Friday. Baltimore is currently in second place in the Under-17 Red Division, and it can punch its ticket to Tulsa with a win or draw on Saturday.
Under-18
Local side LVSA 97 Red (NV) made good use of its home field advantage as it pulled away for a decisive win against Michigan Jaguars FC 97 (MI) in Under-18 Blue Division play. Nolan Sherwood put LVSA up early, but Michigan's Benie Galvez responded just two minutes after to equalize the score. The Nevada said regained its lead in the 25th minute when Daniel Nunez beat the keeper. The score remained tight until LVSA's Jackson Dietrich broke the game open with an amazing hat trick that featured three goals in consecutive minutes — helping his side to a 5-1 victory.
In the Under-18 Red Division, Classics Eagles 96/97 Red (OH-S) dropped some valuable points as it settled for a 1-1 draw against Albion SC White (CA-S). After a scoreless first-half, the Ohio side jumped ahead on a Jared Pressley strike in the 47th minute. Albion's Sergio Chavez replied with a tally of his own to level the score at 1-1, and that's how the match ended. The draw sets up Classics with a must-win game when it faces two-time National Champion Fullerton Rangers 96 White (CA-S) on Saturday.