Over 450 teams compete at CASL Girls Showcase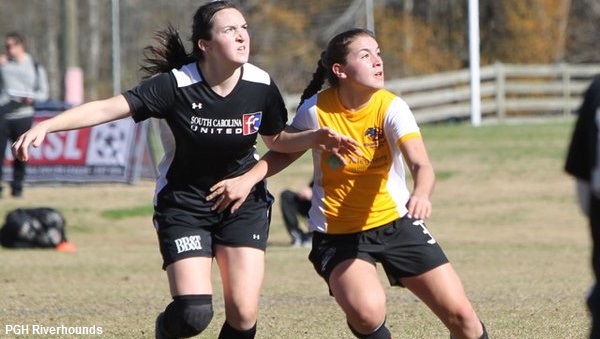 The CASL Girls Showcase was played over the weekend on field locations throughout the Raleigh, North Carolina area with more than 450 of the nation's top U-15 to U-19 teams playing in front of a collection of 629 college coaches.
It was the last of four 2015 CASL Showcase weekends, preceded by the Boys College Showcase and two Junior Showcase events for U-10 through U-14 teams held throughout November. Over the course of the four tournament weekends, a total of 1,367 teams from 34 states competed at CASL with over 900 college coaches in attendance for the U-15 to U-19 levels.
This year's field of teams for the Girls Weekend was one of the strongest to date, featuring nearly triple the number of ECNL squads from 2014 and over reigning 50 State Cup champion sides throughout the brackets. ECNL teams representing Concorde Fire (Georgia), McLean Youth Soccer (Virginia), Maryland United FC (Maryland), FC Stars (Massachusetts), Continental FC Delco (Pennsylvania), Jacksonville FC (Florida), Tophat SC (Georgia), PDA (New Jersey) and host club CASL (North Carolina) finished at the top of 12 total brackets, along with a wide range of other teams from top US Club Soccer and US Youth Soccer regional leagues.
Thirteen clubs had multiple teams win their respective brackets, including: PDA (6), FC Stars (4), Ohio Galaxies FC (3), New England FC (3), Riverhounds Development Academy (3), Maryland United FC (3), Arlington Soccer Association (3), Beadling SC (2) Concorde Fire (2), P.S.G. Michigan Gators FC (2), Libertyville FC (2), Chicago Inter Soccer (2) and host club CASL (2).
Held in unison with the NCAA Women's College Cup, the CASL Girls Showcase helped provide a record-setting weekend for attendance at the Division I Women's Soccer semifinals and final. On Friday for the semifinals, the crowd set a WakeMed Soccer Park attendance record with 11,676 fans, also the second-most in Women's College Cup history. Sunday's attendance count of 10,676 for the NCAA title match between Penn State and in-state side Duke was the largest crowd to see a College Cup Final at WakeMed, topping a mark of 10,042 set back in 2003.
"The College Cup is always a huge draw, it brings in a great group of college coaches and a great field of teams for the tournament," said CASL Tournament Director Bill Hanckel. "There's always an exciting buzz here with both events going on at once, it's a terrific time and a destination for women's soccer."
For the thousands of future college players on hand at the CASL Girls Showcase, the event provided an additional outlet to put their names and faces in front of coaches looking for recruits. In addition to the player profile books available on-site, the tournament uses Soccer In College's sincsports.com recruiting database to feature player profiles sortable by name, state and graduation year for the class of 2016, 2017, 2018 and 2019.
Soccer in College also hosts the schedules and other administrative features for CASL Tournaments, in lieu of the more commonly used GotSoccer platform for youth soccer tournaments around the country. However, when it comes to accepting teams and ranking the brackets within each age group, Hanckel said there is no single platform that he and his staff rely on to make their decisions.
"A lot of people look at GotSoccer as the main ranking system, but we don't use them as our sole ranking system," Hanckel said, noting that they use a more comprehensive approach, looking at a number of different factors including records from previous tournaments, GotSoccer rankings, Soccer in College rankings, and most importantly, league competition.
"We want to know how teams do in their leagues, not just tournaments," Hanckel said. "Having been a soccer coach for 20 years and knowing what league play is all about, we really value teams that are able to finish first or second in their league."
Once again, the tournament featured a Goalkeeper Showcase as well, giving keepers an extra opportunity to perform in front of college coaches. With volume of game action often limited for goalkeepers, players do not need to rely on the 'hit and miss' aspect of save chances during the run of play. During the four GK Showcase sessions, over 30 coaches were observing the keepers at any given time.
See below for a full list of champions from the CASL Girls Showcase.
CASL Girls Showcase Champions
U-15
Elite Red Division
Group A: CASL ECNL | Group B: NEFC Elite
Elite Black Division
Group A: Concorde Fire ECNL | Group B: Tophat 19 ECNL
Elite White Division
Group A: PDA Splash ECNL | Group B: Jacksonville FC ECNL
Elite Grey Division
Group A: SSA Chelsea 01 Elite | Group B: ISA Mia 00 NPL
Premier Red Division
Group A: FC Stars NPL | Group B: LMSC Storm
Premier Black Division
Group A: CSA North Elite | Group B: Libertyville FC 1974
Premier White Division
Group A: GPS NPL Girls 00/01 | Group B: Arlington Comets Red
Premier Grey Division
Group A: PDA Hornets NPL | Group B: SCUFC 00 Girls Elite
United Red Division
Group A: Tennessee SC 19 | Group B: Sting Dallas 01
United Black Division
Group A: CASL Ladies Black | Group B: PSG MI Gators 01 Blue
United White Division
Group A: Ohio Galaxies FC 00 Premier Black | Group B: LNSC Eclipse
United Grey Division
Group A: TUSA Wakefc Blue | Group B: CCSC 00 Sol Black
Select Red Division
Group A: HFC Red | Group B: NCUSA Purple
U-16
Elite Red Division
Group A: FC Stars ECNL | Group B: Quickstrike FC 00 Elite NPL
Elite Black Division
Group A: Maryland United 99 ECNL | Group B: McLean 99 ECNL
Elite White Division
Group A: FC United Select | Group B: Sunrise Sting 99/00 Black
Elite Grey Division
Group A: Kings Hammer Academy Red | Group B: Riverhounds Development Academy
Premier Red Division
Group A: East Meadow NPL Smithtown Hotspur | Group B: Campton United SC Navy
Premier Black Division
Group A: Burlington Bayhawks | Group B: DMCV Sharks Girls 99 Elite
Premier White Division
Group A: Pacesetter Premier Villa Red | Group B: Michigan Rush Northville 00
Premier Grey Division
Group A: PSG Michigan Gators 00 Orange | Group B: Beach FC 99 Red
United Red Division
Group A: LDC Hurricanes 99-00 | Group B: Beadling Bombers
United Black Division
Group A: PDA Shore Breakers | Group B: Houston Express SC 00 Navy
United White Division
Group A: Massapequa Strikers NPL 99 | Group B: Libertyville FC 1974
United Grey Division
Group A: FC Dallas 00 Premier | Group B: Michigan Hawks 00 Black
Select Red Division
Group A: Chicago Inter Soccer MRL Red | Group B: Storm SA 99 Black
Select Black Division
Group A: Maryland United 99 Red | Group B: Ohio Galaxies FC 99 Elite
Select White Division
Group A: Davie United Sharks 99/00 Blue | Group B: West Florida Flames Elite Pinellas
Select Grey Division
Group A: Challenge 00 | Group B: Team Boca 99/00 Girls White
Copa Red Division
Group A: ZYSA 00 Girls Select | Group B: Lyons Township Union Showcase 99/00
Copa Black Division
Group A: FSC Force Premier
U-17
Elite Red Division
Group A: FC Stars ECNL | Group B: NEFC Elite
Elite Black Division
Group A: FC Copa Celeste | Group B: Fredericksburg FC 98 GOLD
Elite White Division
Group A: Continental FC Delco ECNL | Group B: Concorde Fire ECNL
Elite Grey Division
Group A: PGSA Stars | Group B: CR S. Burgundy Rapids
Premier Red Division
Group A: Slammers FC G98 Maroon | Group B: Alliance Academy 99 Black
Premier Black Division
Group A: Waza FC East 99 Black | Group B: Delaware Rush 98
Premier White Division
Group A: Ambassadors FC 98 Blue | Group B: FC Pride 99 Elite
Premier Grey Division
Group A: Riverhounds Development Academy | Group B: Classics Eagles FC Red 98/99
United Red Division
Group A: Lou Fusz SC – Brinker (Red) | Group B: PDA Impact NPL 98/99
United Black Division
Group A: CCSA Cyclones Black 98/99 | Group B: HMMS Eagle FC 98 United
United White Division
Group A: ISA 98 NPL (HBC Impact 98) | Group B: TBAA Fire
United Grey Division
Group A: Barcelona United Academy | Group B: Clay County SC 98 Sol Black
Select Red Division
Group A: PDA Shore Magic | Group B: Cleveland Inferno
Select Black Division
Group A: Arlington Forza Red | Group B: Space Coast United Storm 98/99
Select White Division
Group A: CESA CE 99 (TX-S) | Group B: Ohio Galaxies FC 98 Elite
Select Grey Division
Group A: Cleveland United White | Group B: Chicago Inter Soccer Red Homer Glen
Copa Red Division
Group A: CVYSA Blast Blue | Group B: FC Westchester Elite 99
Copa Black Division
Group A: Warren County United 98 Elite | Group B: Liverpool FCA 98 Neal
U-19
Elite Red Division
Group A: Oklahoma FC 98 | Group B: Carolina Rapids Burgundy
Elite Black Division
Group A: JFC Storm ECNL | Group B: Riverhounds Development Academy
Elite White Division
Group A: Beadling Wolfpack | Group B: TE FC Europa Sol 97
Elite Grey Division
Group A: NEFC Elite | Group B: PWSI Courage 97 Red
Premier Red Division
Group A: BRYC 97/98 Elite | Group B: Maryland United FC 97 Red
Premier Black Division
Group A: FC Stars of Mass NPL 97/98 | Group B: Team Boca 97/98 White
Premier Black Division
Group A: PA Crew | Group B: CUP Gold 97
Premier Grey Division
Group A: PDA Spurs | Group B: Arlington Rowdies Red
United Red Division
Group A: NSA Showcase Lasers | Group B: NASA 16 Elite
United Black Division
Group A: Florida Elite 97-98 | Group B: GTFC Impact Premier White