Over 340 teams to compete in Disney Girls Soccer Showcase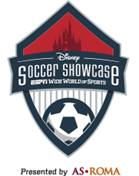 Schedule | College Coaches | Attending Teams
A total of 346 girls teams from throughout the United States and around the world will compete in the Disney Girls Soccer Showcase from December 31 to January 3 at the ESPN Wide World of Sports Complex in Orlando, Florida.
Along with some elite level international sides traveling in from Australia, the United Kingdom and Canada, this year's girls event will feature domestic teams from 36 states, including several Elite Clubs National League (ECNL) squads and more than 140 reigning State Cup champions.
Age groups will range from U-15 to U-19, with 40 total divisions. The US Youth Soccer National League will also continue the 2016-2017 season playing alongside the Disney Showcase, providing the more than 200 college coaches that have registered to attended the event with an expansive sample of the top leagues around the country.
+Read: US Youth Soccer National League to resume play in Orlando, Fla.
Reigning US Youth Soccer National Champion sides Nationals Union 01 Black (U-16 National League Division) and Midwest United FC 00 Royal (U-17 National League Division) are set to compete in the event, along with reigning US Club Soccer NPL Finals champion Princeton SA/IGFA 00/01 (U-17 Showcase Red Division).
US Youth Soccer national finalists BRYC Elite 01/02 Academy (U-16 National League Division), Cincinnati United Premier Gold 00-01 (U-17 Showcase Gray Division) and 18 regional champion squads will also be among the top attending teams.
+Read: Disney Soccer Showcase set to kick off with Boys Weekend
Attending college programs represent all levels of collegiate soccer, including a host of NCAA Division I squads from all of the major conferences such as the American Athletic Conference (AAC), Atlantic Coast Conference (ACC), Big East, Big Ten, Big 12, PAC 12 and Southeastern Conference (SEC).
Coaches from 28 teams that qualified for the 2016 NCAA Women's Soccer Tournament – including two of the Final Four sides at the College Cup – have registered to attend, including: Houston Baptist, NC State, Monmouth, Bucknell, Penn State, Rutgers, Harvard, Texas Christian (TCU), Florida State, Auburn, South Alabama, Wisconsin, Marquette, Florida Gulf Coast, South Carolina, Southern Methodist (SMU), Clemson, Memphis, Arkansas, Missouri, Liberty,  Michigan, Illinois State, Northern Kentucky, Duke and UCLA, as well as College Cup semifinalist North Carolina and finalist West Virginia.