Over 100 players complete in US Club Soccer National PDP Competition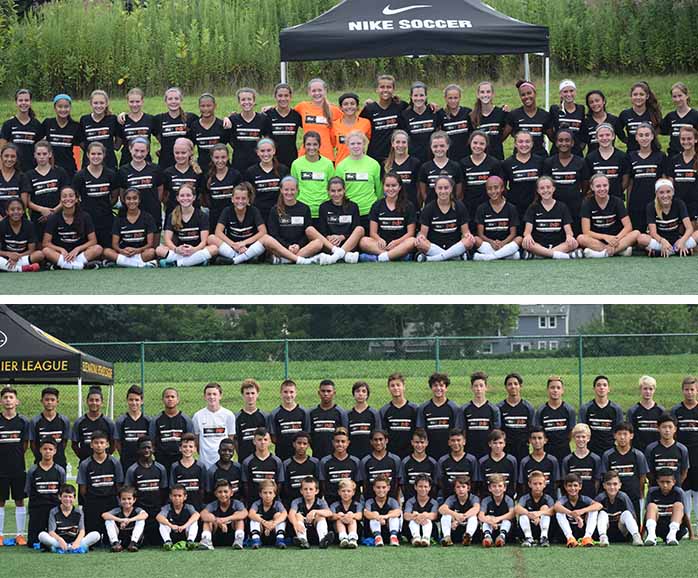 Rosters – Boys | Girls | About PDPs | Photos
WESTAMPTON, N.J. (Via US Club Soccer) – A total of 101 boys and girls players from three strong NPLs were identified and further developed in US Club Soccer's first-ever National PDP Competition, held Aug. 10-12 at Westampton Sports Complex. Top players from NorCal Premier, NYCSL and Virginia NPL were selected to attend the competitive three-day training camp based on standout performances in their respective league Player Development Programs (PDPs).
After arriving to Westampton, the teams got their first taste of the competition on Friday, playing games against the two other teams before Saturday's full day. Saturday saw the players participate in two sessions – another round of matches and an evening training session; the latter of which saw the PDP teams scrambled and divided into smaller teams where they rotated between brief games and drills.
Eric Dutt, Virginia NPL PDP Director was on-site to direct the Virginia PDP team. "US Club Soccer and the PDP program continually provide players the opportunity to play, train and be evaluated with players from across the Virginia Premier League," Dutt said. "This new National PDP Competition provides another platform for our players to challenge themselves; to learn, to grow and ultimately compete against players from different regions of the United States. This event not only showcases the high standards set from US Club Soccer, but also represents their commitment to providing unique player development opportunities within the youth soccer landscape."
David Robertson, PDP and Coach Education Executive Administrator of NorCal Premier added: "We believe that the high standard of competition with the healthy training environment that the event encompassed will help our players prepare for the next level. We're looking forward to US Club Soccer's next PDP competitions."
While Friday and much of Saturday saw each leagues PDP's competing against one another, Sunday's action allowed the players to train amongst each other, as the teams were re-shuffled into four new squads, which each played 40-minute matches before the camp's conclusion Sunday afternoon.
John Curtis, Technical Director of New York Club Soccer League commented: "The National PDP Competition was a fantastic experience for the players from NYCSL. The chance to complete against programs from across the country provided strong competition and a great opportunity to be identified for id2. We look forward to next year's event and hope more PDPs from leagues across the U.S. will join NorCal, Virginia and ourselves to make the 2019 event even better."
In US Club Soccer's most comprehensive PDP to date, the players were also treated to presentations from id2 Boys and Girls Program Directors, Gerry McKeown and Tricia Taliaferro, respectively, who were on-site to evaluate talent for potential selections to id2 Training Camps. Those selected will receive invitations to upcoming id2 Training Camps to be held Sept. 27-30 in Kansas City and Dec. 6-9 in Casa Grande, Ariz.
When addressing scouting the talent at the event, Gerry McKeown stated: "This kind of competition was a valuable experience for these players to see different playing styles and abilities among their peers. I was able to find plenty of talented players that we'll be seeing again soon in the id2 program."
Tricia Taliaferro also played an instrumental role in facilitating the girls PDP selection teams' training. "It was a beneficial weekend for me to have the opportunity to scout top players in their respective PDP programs," she commented. "The platform was positive in many aspects and an invaluable experience for the selected players to compete against each other. The ability to bring high quality players and coaches together benefits everyone involved."
Leo Garcia, US Club Soccer Vice President of Competitions and NPL General Manager, was on-site to oversee the event and the facilitation of PDP into the id2 Program.
US Club Soccer's next PDP will be held Aug. 25 in Washington, hosted by Puget Sound Premier League, targeting 2004-05 girls and 2005 boys. NorCal Premier and NYCSL also frequently hosts PDPs in their respective areas, as well as other robust organizations, including New England Premiership, Northern Illinois Soccer League and Elite Clubs National League.