NYCFC Academy U-18/19 team captures club's first USSDA title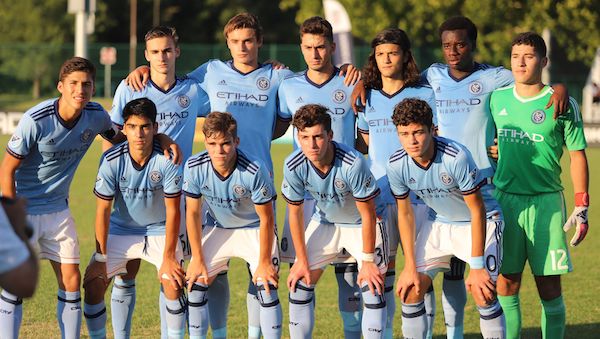 (Via NYCFC) – New York City FC's U-19 U.S. Soccer Development Academy team defeated the Los Angeles Galaxy on penalty kicks on Tuesday night to give the Club it's second-ever piece of silverware.
Following a goalless 120 minutes, goalkeeper Johan Peñaranda saved LA Galaxy's fourth spot-kick to give James Sands the opportunity to win it for the Boys in Blue. City's first-ever Homegrown Player converted the final kick to win the shootout 5-4.
Reaching the final of the U.S. Soccer Development Academy Playoffs for the first time, NYCFC had already achieved so much to outlast more than 75 teams from across the nation.
The man of the hour. ?

Post-game reaction from @NYCFC GK Johan Peñaranda, fresh off saving the PK that secured the ?! pic.twitter.com/ht8ABynHIA

— Development Academy (@ussoccer_da) July 11, 2018
To lift the trophy, they had to overcome a tough LA Galaxy side who had defeated the Vancouver Whitecaps in the semifinals.
City defeated Columbus Crew SC for the right to take on their bicoastal rivals, following a hugely successful 2017/18 season in the Northeastern Division.
NYCFC dominated the first half and came closest to taking the lead inside the opening 10' when Gio Reyna found the crossbar with a dipping free-kick.
Good chances were at a premium thereafter until the halftime interval.
+READ: U.S. Soccer Development Academy announces 2017-2018 awards
It was from City's seventh corner of the night when they finally forced the ball into the net through the head of Justin Haak but the celebrations were brought to an abrupt end by the referee who disallowed the goal for a perceived infringement.
The game grew more fragmented and tense after the break with regular stoppages following tough challenges, with chances drying up after that disallowed goals.
Peñaranda was required to make a huge double save in extra-time, while Sands brought out the best of the Galaxy goalkeeper on 112' but the teams just would not be separated.
Following four successful NYCFC penalty kicks, Peñaranda made the crucial save, giving Sands the chance to win it, which he took with both hands.
+READ: Seattle Sounders, NYCFC win Boys Development Academy titles
This victory gives the Academy the second piece of silverware lifted in as many years, following the Generation adidas Cup win in Frisco last year, with a squad comprised of many of the heroes of this latest title.
The Club will celebrate this achievement on July 14th at Yankee Stadium when NYCFC hosts Columbus Crew SC. More details to follow.