NY Cup Gold Division champs move on to US Club Soccer National Cup XVI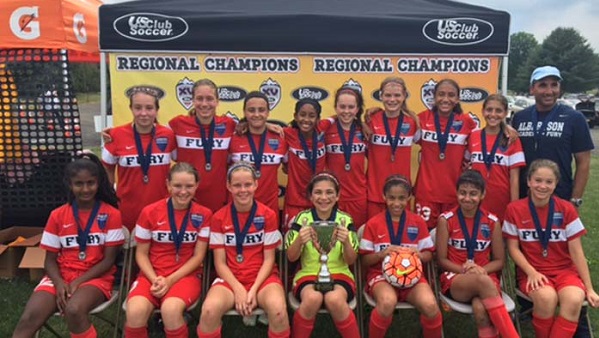 HUNTINGTON STATION, N.Y. (Via US Club Soccer) – Sixteen teams from 10 clubs won 2017 NY Cup Gold Division championships, June 10-11 at HBC Complex in Huntington Station, N.Y.
The 2017 NY State Cup featured 9-U through 18/19-U boys and girls teams, with competition in three divisions: Gold (most competitive), Silver and Bronze.
State title-winning teams in the 11-U and 12-U Gold Division qualified to the National Cup XVI Mid-Atlantic Regional, June 26-29 in Somerset, N.J., while champions of the 13-U through 19-U Gold Divisions have advanced to the National Cup XVI Finals, July 21-24 in Westfield, Ind.
Five clubs won multiple brackets: Manhattan SC (14-U boys, 16-U boys, 17-U boys), Albertson SC (11-U girls, 12-U boys), New York SC (12-U girls, 14-U girls), Massapequa SC (15-U girls, 16-U girls) and SUSA FC (11-U boys, 17-U girls).
Here are the Gold Division champions of the 2017 NY State Cup:
11-U boys: SUSA FC '06 Elite East
11-U girls: Albertson SC Fury '06 Red Attack
12-U boys: Albertson SC Academy '05 Red
12-U girls: New York SC '05 Sky
13-U boys: NY Stars Premier Galaxy
13-U girls: Atletico FC '04
14-U boys: Manhattan SC Fury
14-U girls: New York SC '03 Sky
15-U boys: Levittown SC FC USA Gunners '02
15-U girls: Massapequa SC Lil' Rowdies
16-U boys: Manhattan SC Emelec
16-U girls: Massapequa SC Cosmos
17-U boys: Manhattan SC Villa
17-U girls: SUSA FC NPL '00
18/19-U boys: Central Brooklyn SC Five Boro Warriors
18/19-U girls: Lake Grove-Newfield SC Tsunami
Complete results from 2017 NY State Cup Finals can be found on the New York Club Soccer League website.
Last year, Albertson SC won the 12-U girls Gold Division, and then went on to win the 12-U girls Super Group(pictured above) at the National Cup XV Mid-Atlantic Regional. Three years ago, New York Rush Patriots '97 used a 17-U girls Gold Division state title to propel themselves to a National Cup XIII Finals national championship.