NC Courage joins U.S. Soccer Girls' Development Academy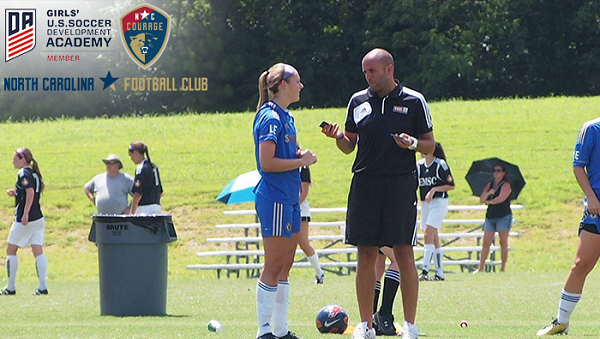 Cary, NC (April 6, 2017) – The North Carolina Football Club has announced the launch of the NC Courage Girls U.S. Soccer Development Academy program.
The program will create a clear path for the identification and development of young female players and facilitate the development of homegrown professional players for the North Carolina Courage pro team. Beginning July 1, veteran youth coach Sean Nahas will direct the Girls' DA teams as they prepare to take the field this fall wearing the same crest and colors as the NWSL team.
The Girls' DA will maximize player development with a 10-month training program, professionalized coaching, and the opportunity for youth players to train with the pro team. NC Courage Academy is one of 69 clubs that will be competing in the inaugural Girls' DA season this fall. Player trials are currently underway to field U-14, U-15, U-16/17, and U-18/19 teams, which will compete in the southeast division featuring teams including IMG Academy, Charlotte Soccer Academy, Boca United FC, Concorde Fire, and NTH Tophat among others.
+READ: Seattle Reign Academy expands with Seattle United FC, Eastside FC
Nahas is no stranger to U.S. Soccer. Currently, he serves as an assistant coach with the U-20 U.S. Women's National Team – a team that that won the U20 Women's CONCACAF Championship (2015) and was a semi-finalist at the 2016 U20 Women's World Cup in Papua New Guinea. He was also a staff coach for the U-14 U.S. Youth National Team (2011-2013) and served as a U.S. National Team youth scout during that same time. Nahas knows the ins and outs of the U.S. Soccer development model, player pathways, and the expertise to create the best training environment for NC Courage Girls' DA players.
"Sean is a very successful coach and has proven himself in every position he has held," said North Carolina Football Club President and GM Curt Johnson. "His experience with the U.S. National Teams, paired with his knowledge of the Triangle area and North Carolina youth soccer, is an added benefit to our goal of developing young female players in our community. The NC Courage DA teams will be able to identify and develop top local talent for years to come. In addition, we look forward to collaborating with NWSL to develop the league's first homegrown player rules."
In addition to his U.S. Soccer coaching responsibilities, he has dedicated the past 13 years developing players across all ages and levels of play at the Capital Area Soccer League (CASL). He helped more than 20 CASL female players make their way to U.S. youth and full national teams and more than 100 players sign on to play in college. In addition, he developed a club wide curriculum and player development pathway for players ages 8-19.
"I am very excited about this new opportunity for the growth of the female game in our area and across the country," said Nahas. "I am honored to have been asked to oversee the Girls' Development Academy and continue the development pathway for female players in our area."