North Carolina Courage defender Jaelene Daniels retires from pro soccer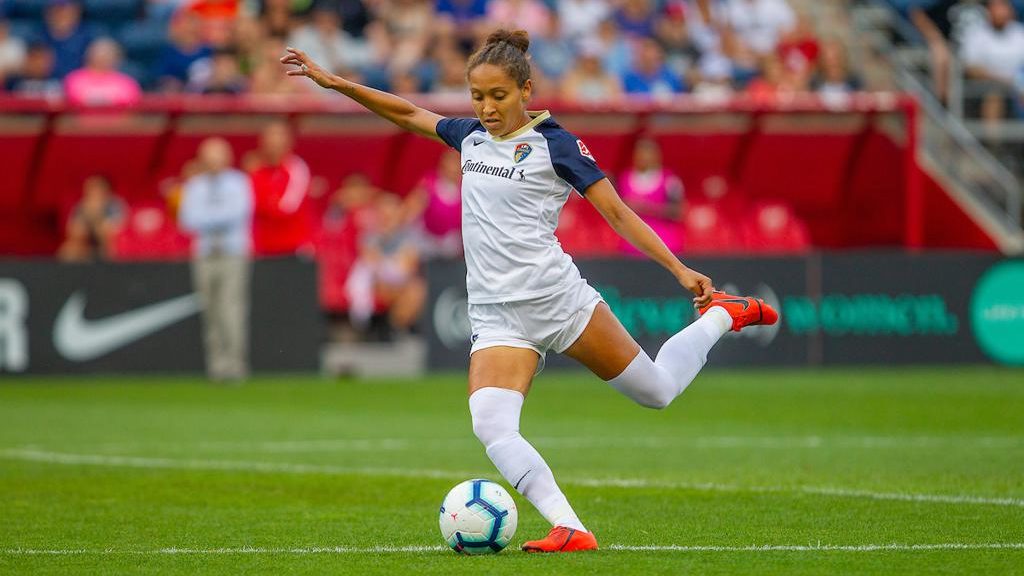 Cary, N.C. – North Carolina Courage defender Jaelene Daniels (formerly Hinkle) has announced her retirement from professional soccer following her sixth season in the NWSL.
Daniels played two seasons with the Western New York Flash before the team was relocated to Cary as the NC Courage, where she played all four seasons with the team.
"Playing for the North Carolina Courage for the past four years has truly been a gift and an honor," said Daniels. "North Carolina is a special, special place, and I'll always hold it near and dear to my heart."
"Jaelene is unquestionably the best left-back in the world," said NC Courage head coach Paul Riley. "The complete modern fullback; tremendous engine, speed, delivery, brilliant going forward and tough to beat one on one. It's been amazing to see her growth and development into a fabulous player. She has won three of the last four NWSL Championships and the last three NWSL Shields. She knows how to win and I'm sure she will continue to do that in the next step of her life. She is a courageous, strong, and brave woman that I am privileged to have coached. You can't replace Jae, but you can look back and know that she had a marvelously successful career."
Daniels was drafted seventh overall out of Texas Tech in the 2015 NWSL Draft to the Western New York Flash where she started all 20 games as a rookie defender. Daniels was also prominent in the Flash's NWSL Championship season in 2016, starting 15 matches including the NWSL Semifinal and Final. She converted her penalty kick in the championship match to help secure her first of three NWSL Championships.
As a defender for the NC Courage, Daniels consistently made an impact on the field with 22 starts during both the 2017 and 2018 seasons. In 2018, Daniels was part of the backline that broke the record for the fewest goals conceded in an NWSL season as the team only lost one match and clinched the NWSL Championship.
In 2019, Daniels played every minute of all 24 Courage regular-season matches as the team won their second-consecutive NWSL Championship and third-consecutive NWSL Shield. She was voted by her teammates as the team's Defender of the Year. She had six assists during the year, which put her tied for third-most assists in the league.
Daniels participated in the NWSL Challenge Cup in June and July, playing all but 10 minutes in the Courage's five matches. Daniels assisted Abby Erceg's game-winning goal against the Chicago Red Stars on July 5.
In her six-year professional career, Daniels won three NWSL Championships, a Women's International Champions Cup Championship, and three NWSL Shields. She was on the field for 50 of the NC Courage's wins over the past four seasons. She ends her career having started and played in 99 regular-season games, five Challenge Cup matches, and eight playoff matches. Daniels scored three career goals and had 18 assists in the NWSL. She also ends her soccer career with eight caps with the United States Women's National Team with her first call up to the team coming in 2015.
Daniels stated the following:
"I'm so thankful to Steve Malik and Curt Johnson for allowing me to be a part of such an incredible organization, and Charlie Naimo for giving me my start in Western New York. To the fans, thank you for always supporting me and this team. You guys made showing up every day worth it. You made my time in North Carolina truly unforgettable. You'll never know how grateful I am to have played for such a welcoming, accepting, and supportive community. To Paul, there's no coach like you, and there never will be. You are the most passionate, supportive, dedicated coach I've ever played for, and there are no words to express my sincere gratitude for everything you did for me, both in my development as a player and as a person. To my teammates, you guys are the most incredible group of women I've ever met. I'll never be able to repay you for all the love and support you've shown me over these past six years. You guys are world changers, not just because of what you do on the field every single day, but because of the change you seek to make off the field every single day. I love you guys more than you'll ever know. Thank you for making my career one that I'll look back on with sincere humility because I was beyond blessed to be your teammate. To my husband and family, there's no way I could have done any of this without you. I'm so grateful and humbled by all the sacrifices you made to see me live out my dreams. Thank you for being my biggest fans and my loudest cheerleaders. I love you guys. And finally, to my Lord and Savior Jesus Christ. Thank you for always being with me, for giving me the opportunity to live out the dream you planted in my heart years ago as a little girl, and for leading me into this next season of life that I know You're in complete control over. You are good and faithful, I know this fully well."