NorCal PDP Girls State Team draws Japanese side JFA Academy 2-2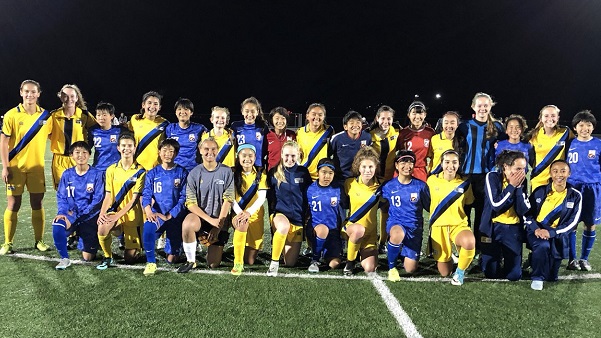 (Via US Club Soccer) – For the third time in four years, the 03/04 NorCal PDP State Team received an excellent opportunity to test itself against international competition as it hosted an elite squad from Japan on Sunday in San Ramon.
The two squads engaged in a quality night of football, drawing 2-2 in three 30 minute periods, with Ariel Thongkam of MVLA and Peja Balanon of Davis Legacy scoring the goals for the hosts.
"Both coaching staffs agreed that this was probably the best game we have played to date. There was some excellent creativity, good build up and an overall high intensity from both groups," said PDP's David Robertson. "I think our players really grew from the experience and left feeling motivated, inspired, and reflective."
+READ: Jefferson Cup 2018 Championship Division Preview | U-16 Girls
The series of exhibitions — the Japan side also faced teams from San Ramon FC and Santa Rosa United — has become something of the norm as Japan sent teams over in 2014 and 2015.
In 2016, NorCal sent its own team over to Japan in the summer for an 11-day trip that included matches as well as an exploration of the local culture.
This match was no different as the NorCal players got to mingle with their Japanese counterparts before and after the game, and some players even played with the Japan team after injuries left the visitors shorthanded.
"It was really cool to see how much we were exposed to — the different culture, the different language, and the different style of play," said Ashleigh Garcia of Pleasanton Rage. "It was great that I could experience that."
Added club teammate Lulanie Jolie Cauchie-Chop: "They have a different style of play. They play the ball really fast and cut behind us, so it's really cool to see how differently they play compared to us. [When we play them], we have to play faster. It's nice to play against teams that move the ball around really quickly."
After the match, a joint dinner was scheduled and staff and players from both teams sat together to learn about each other off the field, just as they had done on the field a few minutes previously.
"The meeting/dinner after the game is something we always enjoy, and while there is a clear language barrier it's amazing to see how well the girls are able to converse in the universal language called 'football,' Robertson said.