No. 11 Duke women's soccer defeats No. 3 Clemson 1-0 behind goal from Olivia Migli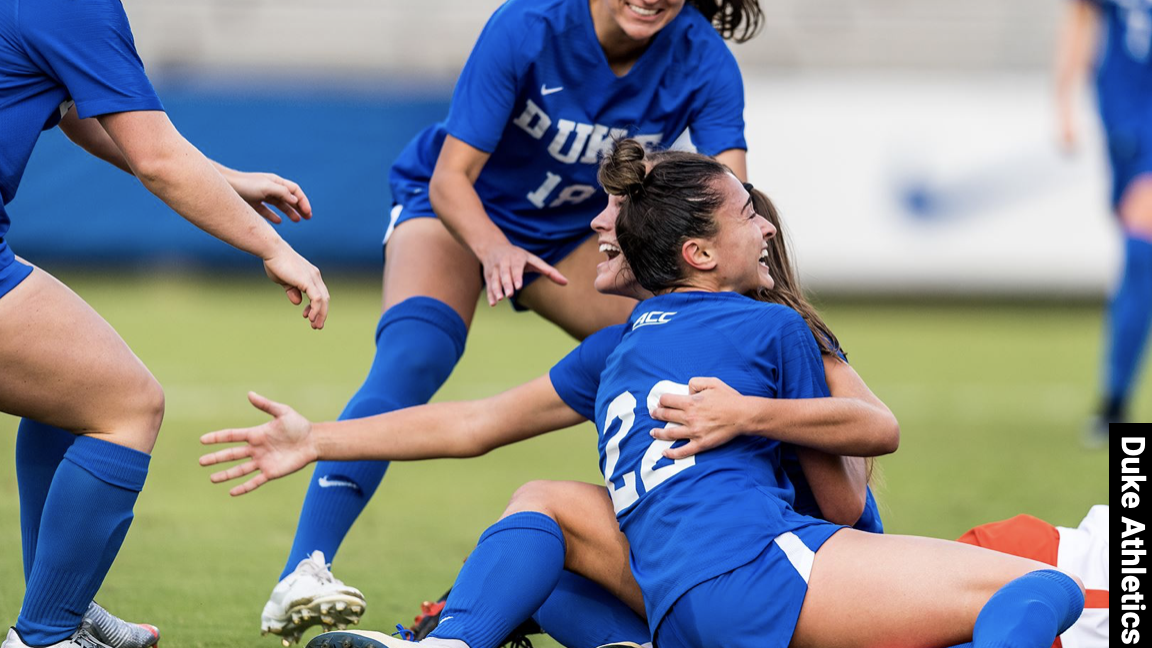 DURHAM, N.C.— The Duke University women's soccer team collected a huge ACC victory Sunday evening in Durham, N.C., as the 11th-ranked Blue Devils took down third-ranked Clemson, 1-0, at Koskinen Stadium, snapping a three-match winless streak.
The Blue Devils received a first half goal from freshman Olivia Migli, which proved to be the game-winner for Duke as its defense held strong in the second half.  With the win, the Blue Devils moved to 2-1-2 overall and 1-1-2 in the ACC, while the Tigers dropped to 3-2-0, 2-2-0.
"I thought we just gutted it out," said Duke head coach Robbie Church. "They had a lot of chances. You've got to give Clemson a lot of credit. My god, they played Carolina on Thursday, they played us here today. They had chances; they had a plenty of chances. We're fortunate, but it was a huge win for us."
The match didn't feature a shot over the first 16 minutes, but the action would start heating up in the 17th minute as senior Lily Nabet, who was making her first start of 2020, was taken down just outside the box.  Sophomore Sophie Jones stepped up and sent a shot in that was blocked by the Tigers.
Clemson came back down the pitch and featured a couple of great chances in the box, but two outstanding defensive plays by senior defenders Caitlin Cosme and Taylor Mitchell kept the score knotted at 0-0.
After going 278:20 minutes without scoring a goal dating back to the second half against Virginia on Sept. 17, the Blue Devils were able to push through and take a 1-0 lead at the 30:20 mark.
Mitchell sent a pass into the box to a streaking senior Karlie Paschall.  A product of Brentwood, Tenn., Paschall played a ball to the six-yard box where Migli was heading towards.  Migli was able to slide in-between two Clemson defenders and get a foot on the ball.  It went just to the left of Tiger goalkeeper Halle Mackiewicz to get Duke on the board.
"I saw Karlie get the ball and she's an amazing player with the ball at her feet," said Migli.  "She can slip a really nice ball in. I saw her slip it; I just came across and tried to get my body down and just get my foot on it. It worked out in the end."
A native of Haymarket, Va., Migli's tally was the first goal of her collegiate career, while Mitchell and Paschall each notched their second assists of the season.
"It's my first goal in a college game, so I think it just helps with confidence and just giving you that feeling that you can play well and do well here in the ACC," added Migli.  "It's obviously a great league so I think it just helped with confidence a lot."
At the end of the first 45 minutes, Duke led 1-0, while both teams attempted two shots each.
"The key thing really happened is when we made subs," said Church.  "Maggie Graham came on and she settled the ball.  Karlie came on and she got the assist to Olivia.  Olivia came on and scored the goal.  Our subs felt pretty bad from last game because two goals got scored on them versus Carolina.  It wasn't their fault, but I think they felt bad.  So, they came in and made a huge impact when they got in there.  I was excited for that group."
In the second half, Clemson outshot the Blue Devils, 8-3, and had numerous chances in the box, but Duke's defense proved to be too strong.  The backline of Mitchell, Cosme, Delaney Graham, Emily Royson and Mia Gyau continued to stop the Tiger offense as they tried to get on the board.
Early in the second half, Cosme sent away a ball that was on the goal line, while Blue Devil sophomore Ruthie Jones finished the night with three saves over 90 minutes in goal for her second collegiate shutout and the first win of the season.
"Ruthie Jones, I thought was big time getting in this type of game because they're a big team," said Church.  "They play an aerial game. They put a lot of balls and a lot of bodies around you and she came out and made really good saves a couple of times. I thought Ruthie was great.  Caitlin [Cosme], Taylor [Mitchell], Delaney [Graham], Mia [Gyau], Emily Royson and the whole backline [was tremendous]"
Clemson outshot Duke, 10-5, for the match.  The five shots were the second lowest of the season as the Blue Devils attempted three versus Virginia.
The win for the Blue Devils was the first over a top five ACC team since Oct. 15, 2016 when Duke registered a 1-0 victory at home versus fifth-ranked Virginia at Koskinen Stadium. The most recent non-conference win over a top five team was against third-ranked West Virginia on Sept. 8, 2017.
Duke will close its home slate for 2020 by hosting Virginia Tech Friday, Oct. 9 with a 7 p.m., start live on ACC Network Extra.