NJ Youth Soccer crowns Spring 2018 State Cup champions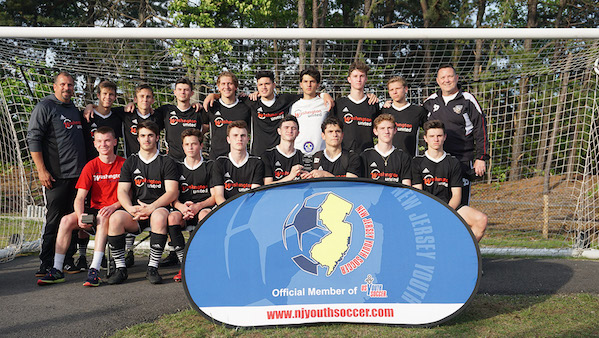 East Windsor, N.J. (Via NJ Youth Soccer) – New Jersey Youth Soccer crowned its 15U-18U National Championship Series, 15U-18U Presidents Cup and 15U-16U Commissioners Cup champions over the weekend, with championship matches being played at locations throughout New Jersey.
"We are so proud of the effort from each and every one of the teams that competed in these state-wide tournaments," said Evan Dabby, NJ Youth Soccer Executive Director. "New Jersey is one of the most talent rich states in the country, and these competitions demonstrated a very high skill-level from both the girls and boys teams that participated."
The U.S. Youth Soccer National Championship Series is the country's most prestigious national youth soccer tournament, providing winners from each state the opportunity to showcase their soccer skills against the best competition in the nation while emphasizing teamwork, discipline and fair play.
The Presidents Cup is a national tournament that is designed to create a high-level competition for teams that are looking to play against teams of similar abilities, where those teams that advance will play for a regional or possibly a national title.
The Commissioners Cup is a tournament that was successfully introduced in 2017 and hosts travel teams in the 11U to 14U age groups in the fall, with the 15U and 16U age groups participating in the spring/summer. This state-only tournament is designed to create a challenging and enjoyable event for teams that do not play in the National Championship Series or Presidents Cup.
National Championship Series Winners:
15U Boys: MUSC STA 2003
15U Girls: PSA Wildcats 2003
16U Boys: SJEB Rush
16U Girls: SJEB Rush 2002 Academy Blue
17U Boys: Wall Soccer Club Cosmos
17U Girls: SJEB Rush Academy
18U Boys: Washington United Real Arsenal
18U Girls: Princeton SA
NJ Youth Soccer Presidents Cup Champions:
15U Boys: Den of Lions Gunners
15U Girls: NJ Rush 2003 Grey
16U Boys: MUSC STA-MUSC 2002
16U Girls: Princeton FC Napoli
17U Boys: Mainland United SA SJ Futbol Club
17U Girls: Edison United SA 17UG Reign, East Coast Premier
18U Boys: Ocean United Spartans
18U Girls: East Coast Premier
NJ Youth Soccer Commissioners Cup Champions:
15U Boys: Ironbound 2003 Blue Rapids
15U Girls: PASCO Red Devils
16U Girls: Old Bridge Fusion