NJ Rush '02 Blue Girls gunning for US Youth Soccer national title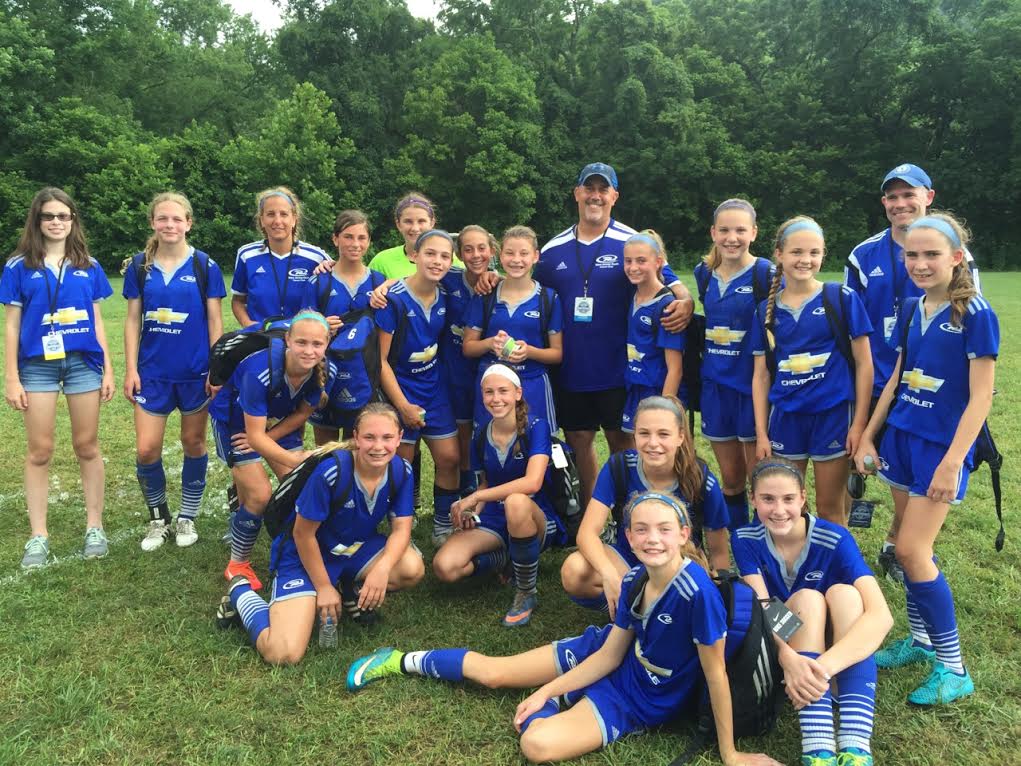 (Via New Jersey Rush) – The New Jersey Rush '02 Blue girls' soccer team, based out of the Sicklerville section of Gloucester Township, is one of four U13 sides that will begin its pursuit of a title when the U.S. Youth Soccer National Championships kick off on Tuesday, July 26 at the Toyota Soccer Center in Frisco, Texas.
The team is one of just two New Jersey-based teams to reach the national finals in the 14 US Youth Soccer divisions (7 boys divisions and 7 girls divisions). The other team is based out of Clifton, NJ in the U18 division.
+Read: Broadcast schedule released for US Youth Soccer National Championships
The schedule for the NJ Rush '02 Blue girls in the U13 round robin is:
*Tues., July 26, 9:30 AM (CDT) v So. Cal Blues '02 Baker (San Juan Capistrano, Calif.)
*Wed., July 27, 1:30 PM (CDT) v Solar Chelsea Red (Dallas, Tex.)
*Thurs., July 28, 9:30 AM (CDT) v Cincinnati United Premier Gold (Cincinnati, Ohio)
The national final is slated for Sat. July 30 and will be played between the two teams with the two best records after round-robin play. The winner will capture the James P. McGuire Cup, the oldest trophy in youth sports, dating back to 1935 with the inaugural youth championships.
The NJ Rush '02 Blue girls, coached by Harrison Township resident Bill Shute, are ranked No. 1 in the country as well as the region (Region 1) and the state in their age bracket according to the national ranking system on GotSoccer.com. Over the past year, the NJ Rush '02 Blue girls have compiled a record of 46 wins, 6 losses and 6 draws.
The team qualified for the nationals by winning Region I tournament in W. Va. July 1-5 and did so in commanding style by winning all five of its games and outscoring its opponents 21-1 while not allowing a goal over the last 318 minutes played. The team recorded four straight shutouts behind goalkeeper Maddie Hardiman (Egg Harbor City) en route to the regional title, including a 3-0 title game victory behind goals from MacKenzie Clement (Mantua), Amanda Attanasi (Washington Twp.) and Jillian Drumm (Cherry Hill).
Attanasi led Rush with five goals during the regionals. Clement added four and Drumm had three. Overall, 10 different players scored during Region 1 play for NJ Rush.
The team reached regional play by virtue of capturing what was their fifth consecutive New Jersey State Cup title back in Nov. 2015, when it won its third N.J. Youth Soccer State Cup. Since then, however, the girls collected their sixth straight State Cup, winning the girls' U13 U.S. Club Soccer-NJ State Cup Championship for the third time back on May 2. This spring, the team also won the PDA Spring Kick-Off tournament in April and the EDP Open Cup tournament in May.
Many of the players agree that a prime reason for the team's success has been the close relationships and bonds they've forged over the past four years.
"We've always been a family and we've been together for a while," said Brianna Wons, of Cherry Hill, who scored two goals in regional play. "We always work together and talk to one another to make sure we all know what's going on."
"Our team has been successful because we're all determined to be the best we can be and our coach has always been there for us," said Rebecca Casper of Mullica Hill. "It's just like a family atmosphere. We all support one another and we're all just one big happy family."
Added Meghan Guarente of Washington Twp., "We all work really all togther. We all know each other's strengths and weaknesses and we have really close friendships — nothing can tear us apart." Guarente connected for two goals during the Region 1 Tournament.
Shute, the team's head coach, was named New Jersey Youth Soccer's Bob McNulty Coach of the Year for 2013 and was recognized at the NJYS Annual Awards Dinner in January 2014.
"I think the team has been successful over the years because the team operates as a family," said Shute. "They have been together since the summer of U-9. No child from this team has ever been replaced or cut from this team. They're very close-knit and they play with a lot of heart. They're  a great technically skilled team and they play for each other and that makes them very special."
The New Jersey Rush 02 Blue Girls team was previously known as the RAGE FC Premier Renegades. In the spring of 2015, RAGE FC Premier and N.J. Rush decided on a merger which brought all of the RAGE FC Premier teams to New Jersey Rush.  Rush is a soccer powerhouse and is the largest youth soccer club in the country.  The merger was made between then RAGE FC president, Dave Debricini, and NJ Rush president Greg Wiesmore, in order to provide more exposure and opportunities for the kids of both clubs.
Here's a look at the entire roster:
| | | | |
| --- | --- | --- | --- |
| FIRST NAME | LAST NAME | # | Hometown |
| Mia | Angelucci | 9 | Cherry Hill, NJ |
| Amanda | Attanasi | 26 | Washington Twp, NJ |
| Paulina | Casper | 48 | Mullica Hill, NJ |
| Rebecca | Casper | 20 | Mullica Hill, NJ |
| MacKenzie | Clement | 4 | Mantua, NJ |
| Jillian | Drumm | 1 | Cherry Hill, NJ |
| Emily | Eustace | 13 | Gibbsboro, NJ |
| Julia | Gehring | 16 | Mantua, NJ |
| Meghan | Guarente | 11 | Washington Twp, NJ |
| Madison | Hardiman | 0 | Egg Harbor City, NJ |
| Alyssa | Monti | 6 | Washington Twp, NJ |
| Alexi | Murphy | 8 | Woolwich Twp, NJ |
| Adrianna | Pepe | 3 | Washington Twp, NJ |
| Alyssa | Ruggeri | 18 | Wilmington, DE |
| Mia | Shute | 10 | Mullica Hill, NJ |
| Erin | Sullenberger | 5 | Collingswood, NJ |
| Brianna | Wons | 62 | Cherry Hill, NJ |