New D.C. United Academy director optimistic amid changing DA landscape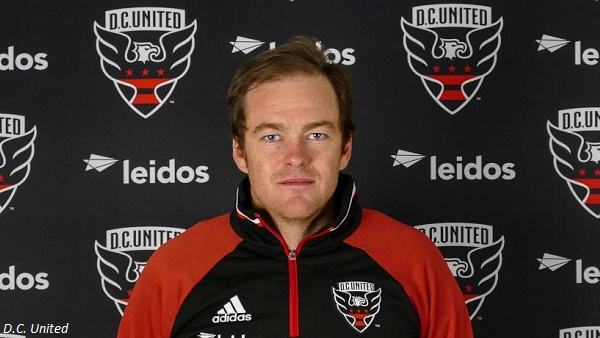 Less than two weeks since the public announcement of his new role as D.C. United's youth academy director, Ryan Martin is finding his footing with the club.
The former FC Cincinnati assistant coach and recruiting coordinator for Wake Forest University has been using his time to meet his co-workers and complete some of his necessary coaching requirements.
"It has been a whirlwind couple of days," said Martin. "I have already met some of the coaches and staff and spent some time down in Bradenton[, Florida] to get my U.S. Soccer A license down there. But it has been a great experience so far."
Having some familiarity with United and their players has helped in the transition.
"I have always had a tremendous respect for the talent level in the D.C.-Baltimore area but also what D.C. United's academy had accomplished under [former D.C. United Youth Academy Director now Assistant Coach] Nolan Sheldon and the current staff here," said Martin. "When I was at Wake Forest we were able to recruit Jalen Robinson, Collin Martin, Rafael Facundo, and more recently Ian Harkes. So the talent level plus what Nolan has been able to do has been pretty impressive."
+READ: U.S. U-20 Men's National Team kicks off January training camp
"When I originally interviewed with [United general manager] Dave Kasper, it was pretty evident to me the culture and environment that he and Ben [Olsen, United manager] have set here is healthy and this is a place where coaches and players can grow," said Martin. "Since then I have had the chance to sit down with all of the different academy coaches as well as the administrators, which has only reaffirmed my initial impression. We have young, ambitious coaches that want to continue to get better and believe in what this club is doing."
Martin enters the position at an interesting time for youth soccer in the Washington D.C. metro area. Over the course of the past year, U.S. Soccer has implemented a major expansion of the Development Academy at the U-12 level and other younger divisions, including local clubs Arlington Soccer Association, Loudoun Soccer, McLean Youth Soccer and the newly-formed Virginia Development Academy each being granted DA teams in one or more age groups.
Virginia, D.C. and Maryland now have eight total clubs participating in the Development Academy at some level, with Richmond United, Bethesda-Olney and Baltimore Armour also in the mix as full members. That, coupled with the Development Academy adding a single U-15 age group, has altered the landscape, as MLS academies around the country have more competition than ever, both on the pitch and in recruiting.
+Read: U.S. Soccer Development Academy introduces U-15 single age group
"I was at Wake Forest when the DA was started and have maintained a close relationship with John Hackworth," said Martin. "It is incredible to see in a short time how much it has raised the level of the players but also the level of competition, not just regionally but also nationally. The big thing with D.C. and where we stand is the professional avenue. The MLS continues to get better and better, and for me, D.C. has always been one of the premier franchises. So I think that is where we might have an advantage."
Scouting and recruiting players from the Central and Latin American community in the area is also a priority for Martin.
"I think it is vital. You are looking at such a diverse group of people in this area and I think for us we have continue to find the future Andy Najars for our long-term success. We have certainly identified this as something that we want to continue to do in the coming years."
Building off of Sheldon's success also seems to be at the top of Martin's objectives in year one.
"In general I really want to continue to branch out to clubs in the local community and to establish different partnerships and relationships with the different clubs," he said. "I want to continue to develop and push the D.C. United brand where we can find the right people and players that fit our mold."