Nearly 350 teams compete in 2019 EDP Cup Spring tournament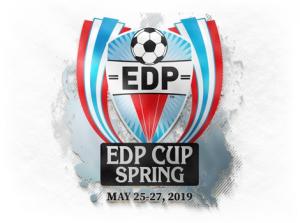 Tournament Website | Full Results
HAMMONTON, NJ (Via EDP Soccer) – EDP's signature tournament, the EDP Cup Spring, was held from May 25-27 at the Tuckahoe Turf Farms. A total of 348 teams participated in the boys' and girls' 11U-14U age groups, with 50 taking home medals as champions of their respective brackets.
Milton Youth SC Magic Blue (CDN: ON) Head Coach Rick Viteritti was elated after his team's 3-2 victory over New York Surf SC G07 Academy Blue (NY-E) in the Girls' 12U Diamond bracket final.
He recalled: "We came here last year and we weren't very successful. We actually lost every game. But we went back home, worked hard for a year, and now here we are.
"The competition here was amazing. We could really challenge the team and see where they're at. That's why we wanted to come back and compete again…and we will be back."
Meanwhile, Ironbound SC 08 United (NJ) defeated Barça Academy Pro NY 2008 Pro (NY-E) 3-2 to win the Boys' 11U Platinum bracket. Last year, this same Ironbound team played up an age group and took first in a lower bracket.
"We won all of our games and went undefeated in the Platinum bracket," Ironbound Assistant Coach Rob Dasler said. "That's where we always want to be. We want to play against the best."
"It's unbelievable," Head Coach Carlos Pernas added. "Winning is a great experience no matter what, and these guys have a lot of heart. They earned it."
Ironbound's 13U and 14U boys' teams also won their brackets, making the club one of eight to have multiple first-place finishers. SUSA Academy (NY-E) boasted a tournament-high six bracket winners.
All teams played three group games, and there were also championship and third-place contests in each bracket. In total, 618 games were played, and the overall goal differential was 2.35. The tournament featured 2,373 goals, an average of nearly four per game.