NCAA women's soccer 2018 tournament bracket revealed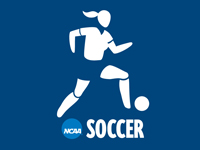 INDIANAPOLIS — The field of 64 teams, which will compete for the 37th NCAA Division I Women's Soccer Championship, was announced this afternoon by the NCAA Division I Women's Soccer Committee.
In the first round, Seattle University, the automatic qualifier from the Western Athletic Conference, will face Stanford. North Carolina will host Howard from the Southwestern Athletic Conference. Florida State will host Loyola Chicago from the Missouri Valley Conference, and Georgetown will host Central Connecticut State, the automatic qualifier from the Northeast Conference.
RELATED: View the 2018 interactive bracket | 2018 Women's College Cup info | Buy champ tickets
Thirty-one conferences were granted automatic bids for the 2018 championship, while the remaining 33 teams were selected at-large. The top 16 teams are seeded and conference teams cannot play each other in the first or second rounds. When pairing teams, the committee follows geographic proximity parameters. The top 16 teams will host, and all other sites were selected for the first round to create the least number of flights.
The four No. 1 seeds include Stanford, the automatic qualifier out of the Pac-12 Conference, and Florida State, the automatic qualifier from the Atlantic Coast Conference. Georgetown and North Carolina also earned No. 1 seeds.
Additionally, the No. 2 seeds include West Virginia, Baylor, UCLA and Tennessee. Followed by Texas A&M, Santa Clara, Virginia and South Carolina earning the No. 3 seed. Lastly, Southern California, Duke, Texas and Boston College each earned a No. 4 seed completing the top 16-seeded teams.
The Atlantic Coast Conference led all conferences with 10 teams in the tournament. The SEC followed with nine teams, and the Big Ten Conference and Big 12 Conference each will have six representatives in this year's tournament.
All preliminary-round competition will take place at campus sites. First-round games will be played Nov. 9, 10 and 11. Second- and third-round games will be played Friday, Nov. 16 and Sunday, Nov. 18, and Quarterfinal games will be played Nov. 23 or 24.
The 37th annual NCAA Women's College Cup will be played Nov. 30 and Dec. 2 at WakeMed Soccer Park in Cary, North Carolina with Campbell University and the Town of Cary serving as co-hosts. The first national semifinal will be played and broadcast live on ESPNU at 5 p.m. Eastern time Friday, Nov. 30, followed by the second semifinal beginning at approximately 7:30 p.m. Eastern time live on ESPNU. The national championship match will take place at 1 p.m. Eastern time Sunday, Dec. 2 and will also broadcast live on ESPNU.
| | |
| --- | --- |
| American East Conference | Albany (New York) |
| American Athletic Conference | Memphis |
| Atlantic 10 Conference | Saint Louis |
| Atlantic Coast Conference | Florida State |
| ASUN Conference | Lipscomb |
| Big 12 Conference | West Virginia |
| Big East Conference | Georgetown |
| Big Sky Conference | Montana |
| Big South Conference | Radford |
| Big Ten Conference | Minnesota |
| Big West Conference | Long Beach State |
| Colonial Athletic Association | Hofstra |
| Conference USA | North Texas |
| Horizon League | Milwaukee |
| The Ivy League | Princeton |
| Metro Atlantic Athletic Conference | Monmouth |
| Mid-American Conference | Bowling Green |
| Missouri Valley Conference | Loyola Chicago |
| Mountain West Conference | San Jose State |
| Northeast Conference | Central Connecticut State |
| Ohio Valley Conference | Murray State |
| Pac-12 Conference | Stanford |
| Patriot League | Boston U. |
| Southeastern Conference | LSU |
| Southern Conference | UNC Greensboro |
| Southland Conference | Abilene Christian |
| Southwestern Athletic Conference | Howard |
| The Summit League | Denver |
| Sun Belt Conference | University of Arkansas at Little Rock |
| West Coast Conference | Brigham Young |
| Western Athletic Conference | Seattle University |
To find the complete 2018 NCAA Division I Women's Soccer Championship bracket visit ncaa.com.