Natural, or AstroTurf? How Abby Wambach gave Scotts Lawn Care publicity both paid and priceless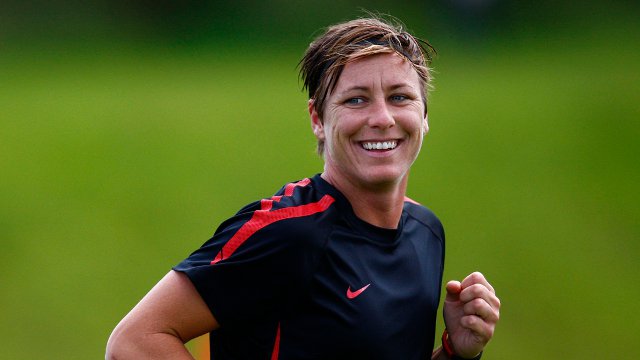 It was another jab at FIFA's bullheaded refusal to allow even a single blade of natural grass at the 2015 Women's World Cup, and it looked well-aimed – albeit too late.
In an interview released May 6, Abby Wambach revealed to ESPN's Julie Foudy that a grass-care company had offered to install grass fields at all six of Canada's venues this summer, free of charge, only to be rebuffed by the famously autocratic global governing body as it fought off a legal action by Wambach and other players to force the issue.
"It just made me realize it wasn't about the grass or no grass, it was about FIFA … wanting to do what they wanted to do," said the U.S. Women's National Team star in the exclusive interview, released on May 6.
+READ: TurfGate Reader: Women's World Cup players take 2015 pitch fight to human rights tribunal
It was a something of a bombshell in a fight Wambach had publicly led for much of last year: the attempt to force FIFA to lay down natural-grass pitches on at least a few of the WWC venues, in order to provide optimal playing conditions for women's soccer's biggest showcase.
The problem was, Wambach and her fellow litigants had surrendered that fight months prior, their gender-equity complaint in the Human Rights Tribunal of Ontario stalled and outmaneuvered by FIFA's lawyers.
FIFA and the Canadian Soccer Association won. The World Cup, which kicks off on June 6, will take place entirely on synthetic turf, a first for a major FIFA championship tournament. So Wambach's contention that Sepp Blatter & Co. had rejected a free solution, while compelling, seemed largely academic. Why reveal it now?
Except that she took care to name the grass-care company by name. And two days later, Wambach praised the company on her Twitter feed as she announced a new marketing partnership with it, launching a social-media campaign dubbed "Keep It Real" to "educate consumers on the benefits of real grass turf for athletes and the importance of green spaces," in the words of Chris Strunk, Scotts' marketing, promotions and communications director.
I'm proud to stand with @scottslawncare and support playing on real grass. RT if you agree! #keepitreal http://t.co/z41nx07ZfN

— Abby Wambach (@AbbyWambach) May 8, 2015
Described as "a contrarian approach … [to] naturally engaging consumers" by brandchannel.com, the campaign has proved popular among the USWNT's legions of devoted supporters and soccer fans in general.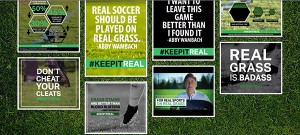 And it's further erased the already-blurry lines between news making, activism and advertising in a manner that is – depending on your perspective – cunning, crass or both.
Scotts officials tell SoccerWire.com that the company conceived of the plan during last year's discussions with FIFA, but "didn't find it necessary to proactively publicize our intent" during the players' legal action last year. In subsequent months they would design, then roll out the public push which kicked off with Wambach's interview. 
While only Wambach has signed a formal promotional deal with Scotts, the campaign was soon publicly endorsed by the likes of her USWNT teammates Sydney Leroux and Ashlyn Harris and men's soccer stars like Tim Howard, Maurice Edu and Mike Magee on their own Twitter accounts.
Happy to support Abby & @scottslawncare's efforts to #keepitreal & refurbish fields. Join us: http://t.co/qI23P58RBC https://t.co/FYvG3WjKh7

— tim howard (@TimHowardGK) May 10, 2015
That valuable exposure was further amplified by Scotts' careful linking of the campaign to the altruistic mission of "support[ing] our efforts to refurbish green spaces for sport on real grass all over the country," wherein greater numbers of tweets and other posts using the official hashtags led to more refurbishment projects being "unlocked."
It's actually just a new angle on an existing Scotts campaign called "GRO1000," which "aims to create 1,000 community gardens and green spaces by 2018," when Scotts marks its 150th anniversary.
Even if the total cost of "Keep It Real" does run into the millions of dollars, the resulting publicity looks like a steal for the lawn care specialists – who actually stopped selling commercial sports turf products two years ago.
"We saw an unfortunate situation in [FIFA's] WWC decision to play on turf and realized this was an opportunity to share our continued message of educating the consumer on the topic of natural grass," said Strunk via email, "and in turn take action to refurbish green spaces across the country as part of the Keep It Real program."
Scotts has capped the maximum number of possible field refurbishments at six, a nod to the WWC's six venues across Canada, and while the details are yet to be finalized, Scotts confirms that one of the remodeled fields will be located in Wambach's hometown of Rochester, New York.
+READ: Turf Woes: Wambach, others not thrilled about 2015 Women's World Cup being played on turf
It seems unlikely that these refurbishments will cost as much per field as Scotts was ready to spend on laying grass at all six Canadian WWC stadiums, which was estimated to have a $3 million overall price tag. But even if the total cost of "Keep It Real" (which is being assisted by multiple major public-relations firms) does run into that price range, the resulting publicity looks like a steal for the lawn care specialists – who actually stopped selling commercial sports turf products two years ago.
Scotts focuses their business on homeowners hoping to grow lush lawns in their front and back yards, even as they broker major sponsorships like the one that makes them "the official lawn care company of Major League Baseball."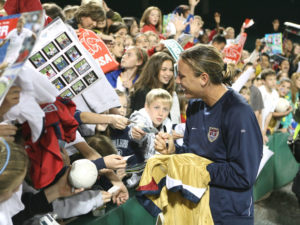 It's easy to see how consumers might conflate that promotional tag with the products that actually make their teams' fields thick, lush and resilient. But Scotts insists that it was "fully prepared" to get to work in Canada had FIFA accepted their offer.
"We are direct to consumer with our products, but also have the knowledge and expertise to handle commercial programs," writes Strunk. "As for FIFA and the real grass installations, more discussions on the specifics would have been had if that direction was taken.
"As a company we did have the internal conversations about the varying techniques that could be used to complete the fields and were comfortable that we would have been able to complete the program.  The reports that were presented in the public eye detailing the process of field refurbishments for the WWC were solutions that we were comfortable executing."
+READ: USWNT: We should treat Abby Wambach as a player, not an icon
Fans can expect to see more of Scotts' campaign throughout the Women's World Cup, and beyond.
"Green spaces are, and will continue to be a priority for Scotts," said Strunk. "We plan to update the #KeepItReal page with new consumer resources throughout the WWC and then execute our field refurbishments as a result of this program later in the year.
"[Scotts] sees this as a potential campaign element to extend the life of this program to another audience as we see it fit … All outdoor sports – soccer and baseball alike – and their athletes should have access to the benefits of playing real grass."
As for Wambach, it seems she's made the best of a bad outcome in the fight against artificial turf at the WWC. Her leadership of the players' effort has translated into a promotional arrangement with Scotts that may well last beyond the close of her active playing career, and further aligns her with a cause that is popular among passionate soccer fans, if only vaguely assisted by this particular marketing campaign.
https://www.youtube.com/watch?v=Wq4xIuVUilw
Her Scotts promotions also provide additional exposure to another commercial partner, Nike, whose gear is prominently featured in the action scenes. And her hometown – where her former pro team, the Western New York Flash, play home matches on turf, just like the majority of the National Women's Soccer League's member clubs – will apparently gain a new grass field.
"I am excited to join Scotts in their efforts to remind people how terrific it is for us to play in real grass. There is nothing like playing the game I love on real grass," Wambach told SoccerWire.com in a brief statement provided by her representation, Wasserman Media Group, this week.
Has she nobly and cleverly made lemonade out of the lemons doled out by FIFA and the CSA? Or is this all a pursuit of a few more paydays before she calls time on arguably the greatest playing career in women's soccer history?
As is so often the case with the outspoken striker, your answers most likely hinge on your existing opinion of Wambach herself.