Nation's top clubs shine at 2017 Jefferson Cup Girls Showcase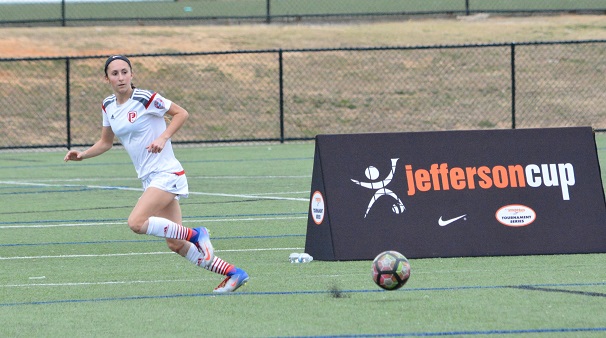 Follow the Jefferson Cup
Twitter | Instagram | Facebook
Division standings were solidified on Sunday at the Jefferson Cup Girls Showcase, bringing to a close the third of four weekends for the 2017 event.
A total of 37 teams representing 32 different clubs emerged as Jefferson Cup champions, winning the Finals in the U-15 age group or finishing at the top of the table in the U-16 through U-19 divisions.
New Jersey club Players Development Academy led the way with four division titles. PDA sides representing the ECNL and NPL claimed the U-15 Elite Black Division, U-17 Championship Division, U-17 Superior Orange Division and the U-19 Elite Black Division.
Meanwhile, Penn Fusion Soccer Academy and FC Stars of Mass had two teams each earn first place finishes at the Jeff Cup Girls Showcase.
The 2017 Jefferson Cup will conclude March 31 – April 2 with the Boys Showcase Weekend (2001 – 1998/99).
See below for summaries of the top two flights from each age group, as well as a full listing of champions and finalists from the weekend.
U-15 Championship Division
Penn Fusion ECNL 02 earned four straight wins to capture the U-15 Championship Division title, culminating with a 2-0 shutout of Maryland United FC ECNL 02 in the title match.
Goalkeepers Elizabeth Altomare and Mia Reed combined for the clean sheet in net, while the depth of the back line was demonstrated throughout the match as well, with multiple starters and subs making a major impact defensively.
Fusion outscored its opponents by a combined margin of 14-4 on the weekend, defeating all four opponents by at least two goals. The road to the division title included wins over reigning US Youth Soccer Region I champion SJEB Rush 02 Academy Blue, Maryland State Cup champion Pipeline SC Black, Cleveland FC 02 and fellow ECNL side Maryland United.
U-15 Elite Orange Division
Connecticut side Oakwood SC continued its goal-scoring onslaught in the U-15 Elite Orange Division Final on Sunday afternoon at Stratton Park, emerging with a 6-4 victory over US Youth Soccer Pennsylvania West State Cup champion North United FC Rush.
Oakwood racked up nine goals while allowing only five during group play, compiling an unbeaten 2-0-1 record against FC Virginia ECNL 02, Albertson Fury 02 ECNL and NJ Wildcats Averbuch-NPL to advance through Group A.
In the Final on Sunday, the game appeared to be a runaway in the first half as Oakwood built a comfortable 4-0 lead over Group B representative North United FC.
Natalie Tavana netted both of the first two goals for Oakwood, on assists from Allison Raynor and Lumi Kostmyer. Both of Tavana's goals were on similar attacking plays, as she and her teammates linked up on runs into the box, threading the defense with in-stride passes that she was able to receive and take the shots without slowing down.
Following Tavana's back-to-back goals, Kostmyer and Autumn Skowrenski each found the net in rapid succession for Oakwood as the lead ballooned to 4-0. Kostmyer's strike came from a challenging angle, deep into the left side of the box and approaching the inline, but her shot was placed perfectly and with enough power to get past the keeper. Skowrenski scored her goal from long range, blasting an arching shot from well outside the box along the sideline, tucking the ball under the crossbar and into the net, allowing the keeper to only get her fingertips on the ball.
North United FC got back into the game just before halftime, cutting the lead to 4-1 on a goal by Megan Donnelly. Early in the second half, an invigorated North United FC side battled back to cut the lead to one, with a goal from Taylor Hamlett and another score by Donnelly, making it 4-3.
However, moments later, Jessica Hinton put the match out of reach by scoring what proved to be the game-winner for Oakwood on a quick-strike attack down the center of the pitch. The teams traded goals again down the stretch, combining for 10 total in a high-flying championship match.
U-16 Championship Division
McLean Youth Soccer 01 ECNL, Penn Fusion ECNL 01 and Richmond United 01 ECNL all finished with unblemished 3-0-0 records in the highly competitive 16-team division. Playing in a showcase format, each team played one game per day, with bonus standings points awarded for goals scored (up to three per game) and shutouts. McLean placed first in the division standings with 28 points, followed by Penn Fusion and Richmond United with 26 points each.
McLean outscored its opponents by a 13-4 margin, earning wins over Massachusetts State Cup champion South Shore Select U16 AP, Ohio South State Cup champion Cincinnati United Premier Gold and another tough Ohio side in Total Futbol Academy Elite 01. The event was in tune with McLean's overall play this season, as the Northern Virginia side leads the ECNL Mid-Atlantic Conference with a remarkable 56 goals scored through 16 conference matches.
Meanwhile, Penn Fusion ECNL 01 notched two clean sheets over the course of its three wins, blanking Georgia's United Futbol Academy '01 Premier by a 1-0 scoreline and shutting out SJEB Rush '01 Academy 2-0. Fusion opened the event with a 3-1 victory over reigning US Youth Soccer Region I and Virginia State Cup champion BRYC Elite Academy 01/02.
Richmond United shut down CASL 01 ECNL by a 1-0 margin on Friday, before going on to defeat Total Futbol Academy Elite 3-2 and NJ Stallions Academy Freedom NPL 5-3.
U-16 Elite Orange Division
Florida Krush 01 Black was the only team to finish with a perfect record in the U-16 Elite Orange Division, a 12-team group which proved to be very evenly-matched. Representing a club which has had perennial success at the Jeff Cup, Krush opened with a 4-1 win over Maryland side FC Frederick, before going on to defeat Arlington '01 Red and Oakwood SC NPL Attack by 1-0 and 4-2 scorelines.
Five other teams in the division – Connecticut FC ECNL, NorCal NPL side Marin FC 01 Blue, Connecticut's Oakwood SC NPL Attack, Virginia's Beach FC 01 Red and Maryland's Premier SC Navy 01 – each finished with two wins over the course of their three matches.
U-17 Championship Division
ECNL sides PDA Gunners and McLean Youth Soccer '00 both compiled perfect records at the Jefferson Cup, racking up three straight victories in Richmond.
PDA outscored opponents 8-2 and recorded two shutouts, finishing at the top of the 12-team table with 28 standings points. The New Jersey powerhouse and ECNL National Champion squad held its first two opponents off the scoreboard, defeating North Carolina State Cup champion Triangle FC Alliance 3-0 on Friday, before defeating US Youth Soccer Region I and New York State Cup champion HBC Impact by a 2-0 score on Saturday. PDA edged out Florida State Cup finalist Sunrise Sting by a narrow 3-2 score on Sunday to seal the top spot in the division.
McLean was close behind with 25 standings points, scoring five goals and giving up just one at the event. The only goal scored against McLean came in a 2-1 win over reigning New Jersey State Cup champion Princeton SA 00 NPL on Friday. McLean earned two clean sheet wins as well, shutting down Triangle FC Alliance 1-0 and NJ Stallions NPL Stampede 2-0.
U-17 Elite Orange Division
FC Virginia '00 ECNL and Pennsylvania West State Cup finalist Century V Gold came away with perfect 3-0-0 records at the Jeff Cup, finishing No. 1 and No. 2 respectively in the 12-team U-17 Championship Division. FC Virginia had a 10-1 goal differential, earning two shutouts to claim a slight edge in the standings over Century V, with 28 points to Century's 26.
FC Virginia overpowered GPS Massachusetts by a 2-0 score on Friday, behind goals from Renee Kohler and Victoria Powell, along with a clean sheet by goalkeeper Darrian Burnett and the back line. FCV went on to defeat SJEB Rush Academy 4-1 on Saturday, and stormed past Massapequa SC Strikers NPL 4-0 on Sunday morning.
Century V had a dominant 9-2 goal differential, with a 5-1 win over SUSA ISA NPL, a 2-0 shutout of Maryland United FC ECNL and a 2-1 win over Pennsylvania East State Cup champion Lower Merion SC Storm.
U-18 Championship Division
South Carolina United FC '99 and Florida Elite '99 both swept their opponents in the U-18 Championship Division, finishing 3-0-0. The reigning South Carolina State Cup champs placed first in the group with 27 standings points, earning a shutout and racking up eight goals over the course of three wins. SCUFC opened with a 3-0 blowout of FC Europa 99 Elite, before edging out PA East State Cup champion FC Pennsylvania Strikers 3-2, then closing out the weekend by defeating US Youth Soccer Region I and New York West State Cup champion Syracuse Development Academy 2-1.
Florida Elite stifled its first two opponents, shutting out PDA Breakers by a 2-0 score on Friday and earning a 1-0 clean sheet win over New Jersey State Cup finalist Toms River Futbol Everton on Saturday. On Sunday, Florida Elite secured a narrow 2-1 win over East Meadow SC 99 ECNL Hotspur to cap off a perfect run at the Jeff Cup.
Despite having a draw on their record, reigning Florida State Cup champion Sunrise Sting '99 Black actually placed second in the standings, thanks in large part to a pair of lopsided shutout victories. Sunrise's wins came 2-0 over FC Pennsylvania Strikers and 5-0 over FC Europa Elite. The team also played Syracuse Development Academy to a 3-3 draw, and would finish the weekend unbeaten.
U-18 Elite Division
Virginia State Cup champion Arlington 99 Red and Maryland's Oni Premier Soccer Academy Magic had unblemished runs through the U-18 Elite Division, taking the top two spots in the 12-team group.
Arlington did not allow a single goal over the course of the team's three wins, which came 2-0 against Ohio's Team Challenger FC '99 Black, 1-0 over Pennsylvania's Vincent United F.C. '99 Sirens and 4-0 over Jersey United Spartans '99 NPL. The Club Champions League side outscored opponents 7-0 on the weekend, racking up a division-high 27 standings points.
OPSA Magic finished close behind with 25 points and a goal margin of 7-3 at the tournament. Coach Albert Oni's squad earned a 1-0 shutout win over Florida's Cape Coral '99 Cyclones Black, a 2-1 win over New York's East Islip SC Red Storm and a 4-2 victory against Pennsylvania East State Cup finalist LDC United Hurricanes.
U-19 Championship Division
Ohio Elite ECNL and McLean Youth Soccer 98/99 ECNL were the top two finishers in the U-19 Women's Championship Division, each reeling off three consecutive wins.
A dominant Ohio Elite ECNL side nearly maxed out in racking up potential standings points, but finally conceded a goal in its third and final match to prevent the team from recording a third straight shutout. Regardless, Ohio Elite ECNL posted 5-0 wins over LDC United Galaxy and Virginia State Cup champion Annandale United FC to open the event, and won 3-2 over New York East State Cup champion Lake Grove Newfield SC Tsunami, to place first in the division with 29 points and a lopsided 13-2 goal differential.
One of several McLean teams to go undefeated on the weekend, the 98/99 ECNL side matched Ohio Elite's shutout total with two, blanking PDA Blues NPL 3-0 and LDC United Galaxy 2-0. McLean also narrowly defeated New Jersey State Cup champion FC Copa Academy Black on Friday in the tournament opener, and went on to finish second in the division with 27 standings points.
U-19 Elite Orange Division
Southern California side Pateadores Academy 98/99 and Pennsylvania's Council Rock United FC Bucks '99 ECNL secured the top two spots in the U-19 Elite Orange Divisions, each running the table in their three matches.
Pateadores placed first with 27 standings points and a 10-2 goal differential. Their run at the event was highlighted by a 4-0 rout of Arlington '98 Red in their opening match, followed by a 2-1 win over Fredericksburg FC '98 Black and a 4-1 defeat of New York's HBC Impact 98.
Council Rock United FC Bucks '99 ECNL enjoyed a strong tune-up heading into the heart of the 2017 ECNL spring slate, with a 2-0 win over Lake Norman '98 Eclipse, a 2-1 victory against NJ Wildcats Lady Strikers NPL and a 4-1 rout of Loudoun Soccer 98 Red.
Champions and Finalists
U-15
Championship Division
Champions: Penn Fusion ECNL 02 (PA)
Finalists: Maryland United FC 02 ECNL (MD)
Elite Orange Division
Champions: Oakwood SC (CT)
Finalists: North United FC Rush (PA)
Elite Black Division
Champions: PDA Ajax (NJ)
Finalists: HMMS Eagle FC 02 Impact (PA)
Superior Orange Division
Champions: World Class FC 02 ECNL (NY)
Finalists: Arsenal Premier FC Maximus Red (NJ)
Superior Black Division
Champions: STA 02 NPL (NJ)
Finalists: CYSA FC Tammany Tigers 02/03 (LA)
Superior White Division
Champions: Concorde Fire Central Elite (GA)
Finalists: Council Rock FC Bucks Red ECNL (PA)
Platinum Orange Division
Champions: Lake Norman SC 02 Eclipse Blue (NC)
Finalists: FCUSA Coastal 02 Impact (MA)
Platinum Black Division
Champions: Soccer Domain FC 02 Yellow (NJ)
Finalists: Lee Mt. Vernon SC Patriots Red 02 (VA)
Classic Orange Division
Champions: Wilmington Hammerheads Ladies White (NC)
Finalists: FC Alliance 02 NPL (TN)
Classic Black Division
Champions: Penn Fusion NPL 02 (PA)
Finalists: Triangle FC Alliance 02 (NC)
Classic White Division
Champions: CFC United NPL (CT)
Finalists: Baltimore Bays Lightning (MD)
Premier Division
Champions: FC Copa Academy 02 Black (NJ)
Finalists: Richmond Strikers 02 Elite (VA)
U-16
Championship Division
Champions: McLean Youth Soccer ECNL 01 (VA)
Runner-up: Penn Fusion ECNL 01 (PA)
Elite Orange Division
Champions: Florida Krush 01 Black (FL)
Runner-up: Connecticut FC ECNL (CT)
Elite Black Division
Champions: Greater Binghamton FC 01 Select (NY)
Runner-up: Discoveries SC 01 Gold (SC)
Superior Orange Division
Champions: Watchung Hills NJ Elite 00 (NJ)
Runner-up: SUSA Elite 01 (NY)
Superior Black Division
Champions: Seacoast United NPL 01 (NH)
Runner-up: Lehigh Valley United 01 (PA)
Platinum Orange Division
Champions: Carolina Rapids Academy (NC)
Runner-up: Bethesda SC Storm 01 (MD)
Platinum Black Division
Champions: FC Stars Central United 01 (MA)
Runner-up: Severna Park Black Thunder (MD)
Classic Division
Champions: CYA Cougars 01 (VA)
Runner-up: Lake Norman SC Eclipse 01 (NC)
U-17
Championship Division
Champions: PDA Gunners ECNL (NJ)
Runner-up: McLean Youth Soccer 00 ECNL (VA)
Elite Orange Division
Champions: FC Virginia ECNL 00 (VA)
Runner-up: Century V Gold (PA)
Elite Black Division
Champions: Beach FC 00 Red (VA)
Runner-up: PDA South Pride NPL 00 (NJ)
Superior Orange Division
Champions: PDA Atletica (NJ)
Runner-up: BRYC Elite Academy 00/01 (VA)
Superior Black Division
Champions: NEFC Breakers 00 NPL (MA)
Runner-up: Pipeline SC Black (MD)
Platinum Orange Division
Champions: Quickstrike FC 00 NPL (NY)
Runner-up: Rochester Rhinos Elite 00 (NY)
Platinum Black Division
Champions: Charlotte SA Predator (NC)
Runner-up: Premier SC Navy 00 (MD)
Classic Division
Champions: Lexington FC White 00 (KY)
Runner-up: Penn Fusion NPL 00 (PA)
U-18
Championship Division
Champions: South Carolina United FC 99 (SC)
Runner-up: Sunrise Sting 99 Black (FL)
Elite Division
Champions: Arlington SA 99 Red (VA)
Runner-up: OPSA Magic (MD)
Superior Division
Champions: Pittsburgh Riverhounds Academy (PA)
Runner-up: Beadling SC 99 (PA)
Platinum Division
Champions: CASL 99 Ladies Red (NC)
Runner-up: BRYC 99/00 Elite Academy (VA)
Classic Division
Champions: North Union United 99 Lady Cannons (PA)
Runner-up: Soccer Vision Academy 98/99 (OH)
U-19
Championship Division
Champions: Ohio Elite ECNL (OH)
Runner-up: McLean Youth Soccer 98/99 ECNL (VA)
Elite Orange Division
Champions: Pateadores Academy (CA)
Runner-up: Council Rock United FC Bucks 99 ECNL (PA)
Elite Black Division
Champions: PDA ECNL Composite 98/99 Vipers (NJ)
Runner-up: Boston Breakers Academy ECNL  Composite 98/99 (MA)
Superior Division
Champions: FC Stars of Mass NPL 98/99 (MA)
Runner-up: TSF Academy 98/99 (NJ)