National League EDP Conferences Boys Showcase Day 2 Recap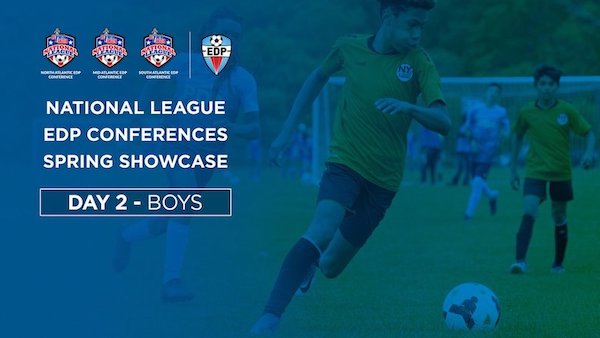 HAMMONTON, NJ (Via EDP Soccer) – After weather and field conditions pushed back Saturday's start time, the weather held up on Sunday for day two of the boys' US Youth Soccer National League EDP Conferences Spring Showcase at the Tuckahoe Turf Farms. A high standard of play was once again on display, as 190 total games in the 15U-19U age groups were decided by an average of 1.747 goals.
An early highlight of the day was the 18U showdown between Wall Elite Cosmos (NJ) and OBGC Rangers Blue (MD), a rematch of last year's US Youth Soccer Eastern Regional Final. This time, Wall Elite got the better of OBGC, notching a 1-0 win on an 8th minute penalty kick by Wall Elite #10 Matt Penkethman.
There was another rematch in the 17U division, as 2018 NJYS State Cup Champion SJEB Rush 02B Academy (NJ) took on the team it beat in last year's final, Ironbound SC Red Fever (NJ). It was another tough battle between the sides, with SJEB Rush earning a 3-0 victory. A first half goal by SJEB Rush #2 Aidan Burns and a goal on both sides of the half by SJEB Rush #13 Charlie McCormick propelled SJEB Rush to the win.
In one of the final games of the weekend, Arlington SA 2002 Boys Red (VA), the 2018 US Youth Soccer National Champion, squared off with Lehigh Valley United 2002B Black (MD), EPYSA State Cup Champion last year, at the 16U level, Lehigh Valley United concluded its tournament on a winning note, defeating Arlington SA by a 4-1 count. After Arlington SA went into the half with a 1-0 lead, Lehigh Valley battled back in the second half. Starting the half with Lehigh Valley United #20 Issac Hernandez getting in behind and chipping the keeper for the first goal, #20 Kresstoph Whittock scored a hat trick, including two direct free kicks, to finish off the scoring for Lehigh Valley United.
College programs from all three NCAA divisions were well-represented again for a second day, including top programs from all over the region.