National League EDP Conferences Boys Showcase – Event Recap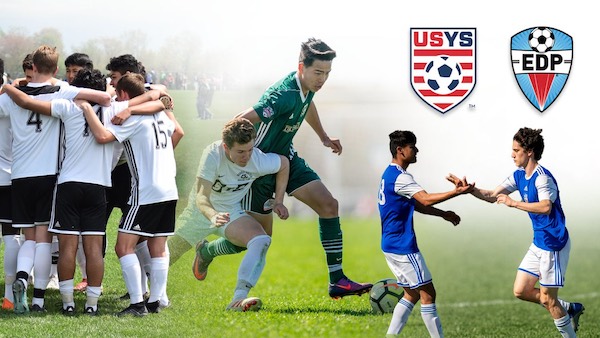 Results | College Coaches
Day 1 Recap | Day 2 Recap
EAST BRUNSWICK, NJ (Via EDP Soccer) – The inaugural US Youth Soccer National League EDP Conferences Spring Showcase for boys' 15U-19U teams was held on Saturday and Sunday, April 27-28, at the Tuckahoe Turf Farms in Hammonton, NJ. Over 200 college coaches from all three NCAA divisions registered for this prime recruiting event that brought together 255 of the very best teams from across the US Youth Soccer National League Mid Atlantic EDP, North Atlantic EDP and South Atlantic EDP Conferences, as well as several Canadian squads.
A high standard of play was on display throughout the entire weekend.  Across 350 total games, the overall goal differential was 1.462. Eighty-three percent of the matches were decided by two goals or fewer, including 121 one-goal contests, 86 two-goal games and 84 draws.
"From a competitive standpoint to an exposure standpoint, this event checked all the boxes," Philadelphia Ukrainian Nationals 02B Black (PA-E) Head Coach Armante' Marshall said.  "This was a great environment for the players to get more exposure, get in front of some coaches that haven't seen them before, and ultimately make the best case for themselves making it to the next level."
"We enjoy EDP because where we are (in the Albany area), coming south is a more beneficial situation," Director of Programming and Head Coach at Black Watch Premier Boys 2002 (NY-E) Steve Freeman added.  "Some of these young players need to play with quality consistently, and events like this create that good, competitive environment."
That competitive atmosphere was something the players noticed, as well.
Aiden Louden, a forward for Baltimore Celtic Premier (MD) remarked: "We're playing some of the best teams in the nation and it's good, quality soccer.  Everybody wants to play their best, and that brings out the best in everyone. Everyone's going all-out."
This showcase also provided increased exposure for the participants, many of whom are early in the recruiting process.
"I definitely noticed a few more coaches around," Baltimore Armour Preacademy 02 (MD) goalkeeper Matthew Thurnes recalled.  "It's really important to get that exposure. The more chances coaches get to see you, the better."
For the college coaches, meanwhile, the event gave them an opportunity to evaluate multiple prospects at once in the same setting.
"It's an efficient use of time to come to one place and see so many players at the same time," Penn State University Assistant Coach Ayotunde Ogunbiyi noted.  "We'll see some of these teams in league play, but events like this make it easier. It's great when you can see the same player multiple times in the same weekend."
"Especially coming from Virginia, it's important to come here," Eduardo de Souza, Assistant Coach/Recruiting Coordinator at George Mason University explained.  "When I go out to recruit, I'm looking for individuals, and those individuals come from all different teams. And there are a lot of clubs here from different locations that you can see when it would otherwise take a lot of time to look at them."
View full list of results here.
Full list of National League EDP Conferences Spring Showcase 2019 College Coaches contact info: Registered Men's College Coaches
Final Brackets
BOYS 15U
Important Note: There were no 15U 'winners' because of shortened play due to weather.
2004 Boys Red
BRACKET-LEADER: BRAUSA UNITED FUTEBOL BUFC BLUE 04 (MD)
RUNNER-UP: REAL JERSEY FC 2004 (NJ)
2004 Boys White
BRACKET-LEADER: FC SOMERS ARSENAL (NYE)
RUNNER-UP: PDA HIBERNIAN FIRE EDP (NJ)
2004 Boys Blue
BRACKET-LEADER: DORADUS SDOR 04 ELITE (VA)
RUNNER-UP: STA-MUSC 2004B (NJ)
2004 Boys Yellow
BRACKET-LEADER: BETHESDA SC BLUE 04 (MD)
RUNNER-UP: CALVERTON SC CERRITOS SOCCCER ACADEMY (MD)
2004 Boys Green
BRACKET-LEADER: CT RUSH ELITE 04B (CT)
RUNNER-UP: PDA SHORE 2004 THIAGO (NJ)
2004 Boys Orange
BRACKET-LEADER: ARUNDEL PGSA REAL BARZA 04-05 (MD)
RUNNER-UP: GPS NEW YORK REGIONAL TEAM B04 (NYW)
2004 Boys Purple
BRACKET-LEADER: TSF ACADEMY 2004B USYS NL BLUE (NJ)
RUNNER-UP: FC SESA STRIKERS 04 (NYE)
2004 Boys Black
BRACKET-LEADER: PARKLAND AREA PASC UNITED (PAE)
RUNNER-UP: BURKE ATHLETIC PREDATORS (VA)
2004 Boys Teal
BRACKET-LEADER: LAUREL SC LIONS 2004 (MD)
RUNNER-UP: LEHIGH VALLEY UNITED LVU 2004B BLACK (PAE)
BOYS 16U
2003 Boys Red
BRACKET-WINNER: STA-MUSC 2003B NPL (NJ)
RUNNER-UP: BALTIMORE CELTIC SC (MD)
2003 Boys White
BRACKET-WINNER: MASSAPEQUA SC WARRIORS B03 (NYE)
RUNNER-UP: MILTON YOUTH SC (CND:ON)
2003 Boys Blue
BRACKET-WINNER: BW GOTTSCHEE PREACADEMY (NYE)
RUNNER-UP: PHILADELPHIA UNION ACADEMY U16 UNION (PAE)
2003 Boys Yellow
BRACKET-WINNER: SYRACUSE DEVELOPMENT ACADEMY 03 NIKE (NYW)
RUNNER-UP: BLACK WATCH BOYS 03 (NYE)
2003 Boys Green
BRACKET-WINNER: BALTIMORE BAYS 03 (MD)
RUNNER-UP: FUTURE MONARCHS (MD)
2003 Boys Orange
BRACKET-WINNER: CEDAR STARS MONMOUTH 2003B PA (NJ)
RUNNER-UP: NEW YORK SC 03 (NYE)
2003 Boys Purple
BRACKET-WINNER: SHORELINE FC PORTO (CT)
RUNNER-UP: BRAUSA UNITED BLUE (MD)
2003 Boys Black
BRACKET-WINNER: FC SOMERS BENFICA (NYE)
RUNNER-UP: WEST-MONT UNITED SA PREMIER BLUE '03 (PAE)
2003 Boys Teal
BRACKET-WINNER: ALLEYCATS SC LEICESTER 2003B ELITE (NYE)
RUNNER-UP: OBGC RANGERS BLUE (MD)
2003 Boys Indigo
BRACKET-WINNER: COMMACK SC (NYE)
RUNNER-UP: STA-MUSC 2003B EDP (NJ)
2003 Boys Grey
BRACKET-WINNER: RUSA FC B03 GOLD (NJ)
RUNNER-UP: MYS SPORTING CT 03B (CT)
2003 Boys Violet
BRACKET-WINNER: ROMA FC ACADEMY 2003 PREMIER CHICHO CUEVAS (IL)
RUNNER-UP: AMERICAS UNITED MANCHESTER (NJ)
BOYS 17U
2002 Boys Red
BRACKET-WINNER: NJ STALLIONS ACADEMY 02 JUVE EDP-NL (NJ)
RUNNER-UP: SJEB RUSH 02B ACADEMY (NJ)
2002 Boys White
BRACKET-WINNER: PHILADELPHIA UKRAINIAN NATIONALS 02B BLACK (PAE)
RUNNER-UP: BRAUSA UNITED FC 02 BLUE (MD)
2002 Boys Blue
BRACKET-WINNER: HOLMDEL FC NJX NAPOLI (NJ)
RUNNER-UP: LIGHTHOUSE SC 2002'S (PAE)
2002 Boys Yellow
BRACKET-WINNER: LEE-MT. VERNON LMVSC PATRIOTS 2002B RED (VA)
RUNNER-UP: LEVITTOWN SC GUNNERS 2002 (NYE)
2002 Boys Green
BRACKET-WINNER: GPS NEW YORK REGIONAL TEAM B02 (NYW)
RUNNER-UP: FC WESTCHESTER 2002 PREMIER (NYE)
2002 Boys Orange
BRACKET-WINNER: BALTIMORE CELTIC SC 2002 (MD)
RUNNER-UP: ACHILLES FC 02B (MD)
2002 Boys Purple
BRACKET-WINNER: CHERRY HILL FC PREMIER SCORPIONS 02 (NJ)
RUNNER-UP: PDA HIBERNIAN VARDAR EDP NPL (NJ)
2002 Boys Black
BRACKET-WINNER: PRINCETON FC 02B BOCA (NJ)
RUNNER-UP: LAKE GROVE NEWFIELD SC 02 COSMOS UNITED (NYE)
2002 Boys Teal
BRACKET-WINNER: PSA SDFC ELITE '02 (NJ)
RUNNER-UP: CEDAR STARS MONMOUTH 2002B GREEN (NJ)
2002 Boys Indigo
BRACKET-WINNER: LAKE GROVE NEWFIELD SC UNITED 2002 (NYE)
RUNNER-UP: FC EUROPA '02 ELITE (PAE)
MENS 18U
2001 Mens Red
BRACKET-WINNER: WALL ELITE COSMOS (NJ)
RUNNER-UP: ERIN MILLS SC EAGLES BLUE (CND:ON)
2001 Mens White
BRACKET-WINNER: MCLEAN YOUTH SOCCER 01B GREEN (VA)
RUNNER-UP: PIPELINE SC PRE-ACADEMY (MD)
2001 Mens Blue
BRACKET-WINNER: BALTIMORE CELTIC SC 2001 (MD)
RUNNER-UP: SMITHTOWN KICKERS CHELSEA (NYE)
2001 Mens Yellow
BRACKET-WINNER: NORTH UNION UNITED NUU 01 CANNONS (PAE)
RUNNER-UP: UNITED PHILLY SOCCER 2001 BOYS WHITE (PAE)
2001 Mens Green
BRACKET-WINNER: FC VIRGINIA ACADEMY UNITED 01B (VA)
RUNNER-UP: PDB '01 (NYE)
2001 Mens Orange
BRACKET-WINNER: DELRAN FUTURE (NJ)
RUNNER-UP: FC FREDERICK '01 (MD)
2001 Mens Purple
BRACKET-WINNER: GPS NEW YORK REGIONAL TEAM B01 (NYW)
RUNNER-UP: BALTIMORE BAYS COLTS (MD)
MENS 19U
2000 Mens Red
BRACKET-WINNER: BALTIMORE CELTIC SC 2000 (MD)
RUNNER-UP: STA-MUSC 2000B (NJ)
2000 Mens White
BRACKET-WINNER: BLACK WATCH PREMIER BOYS 2000/2001 (NYE)
RUNNER-UP: LEHIGH VALLEY UNITED LVU 2000B BLACK (PAE)
2000 Mens Blue
BRACKET-WINNER: FC COPA ACADEMY 2001/00B USYS NL (NJ)
RUNNER-UP: LAUREL SC LIONS 00 (MD)
2000 Mens Yellow
BRACKET-WINNER: WEST-MONT UNITED SA PREMIER '00 (PAE)
RUNNER-UP: ALLEYCATS SC ARSENAL 00/01B ELITE (NYE)
2000 Mens Green
BRACKET-WINNER: FC SOMERS WOLVES (NYE)
RUNNER-UP: NEXT LEVEL SOCCER NLS JUVENTUS 00 (MD)