Michael Bradley voted 2015 U.S. Soccer Male Player of the Year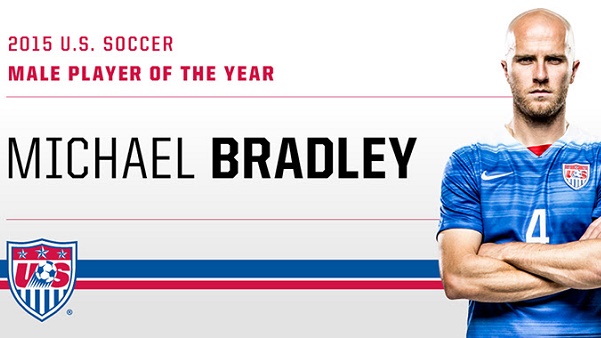 CHICAGO (Via U.S. Soccer) – U.S. captain Michael Bradley has been voted the 2015 U.S. Soccer Male Player of the Year, with the announcement taking place earlier today live on ESPN's SportsCenter. This is Bradley's first time winning the award, having previously been honored as the Young Male Player of the Year in 2007.
The two-time FIFA World Cup veteran also captain's Toronto FC, which reached the MLS playoffs for the first time in club history.
"It's an honor to be selected amongst this group of players," said Bradley. "This has been a challenging year for our team, yet we continue to understand the opportunity we have to represent the United States and know how important it is that we give everything we have every time we step on the field. That's what means the most to me, and at the same time I certainly appreciate this recognition."
A new voting process took place this year, with votes collected from Men's National Team players earned a cap in 2015, Men's National Team and Youth Men's National Team coaches, Major League Soccer and North American Soccer League head coaches and select former players, administrators and media members.
Bradley received 43 percent of the tabulated votes, followed by Fabian Johnson (33 percent) and Clint Dempsey (20 percent).
The U.S. captain earned his 100th cap in 2015, making him the fourth youngest MNT player to do so. Racking up a team-leading 1668 minutes, the Princeton, N.J.-native topped the team with a career-high six assists while also scoring three goals. He was on point against the Netherlands and Germany, earning Man of the Match honors in the road victories against the No. 6-ranked team and the reigning World Cup champion. Bradley also earned the armband for Toronto FC in 2015, where he appeared 28 times and added five goals as they reached the playoffs for the first time in team history.
The U.S. Soccer Male Player of the Year has been awarded since 1984, when midfielder Rick Davis earned the inaugural honor.