McLean, Potomac claim CCL PRO23 Championships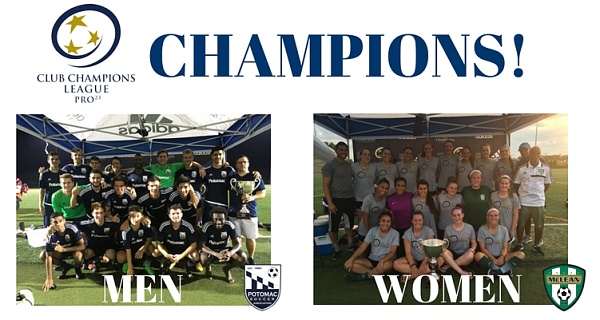 Charlottesville, VA (Via CCL) – On Saturday, July 23rd the Club Champions League held its inaugural CCL PRO23 Championships hosted at Loudoun Soccer Park in Leesburg, Virginia.
In two highly competitive matches, both the PRO23 Women's and Men's finals ended in dramatic fashion with penalty kicks.
The CCL PRO23 Women's Championship featured an extremely talented McLean Youth Soccer team versus a very disciplined Potomac Soccer Association team. McLean entered the match with five wins, no losses and two ties while Potomac touted five wins, one loss and one tie. Over the regular season, Potomac's stifling defense conceded only four goals while McLean's impressive open, attacking minded soccer scored 31 goals.
The final match-up proved to be a test for both teams. CCL PRO23 Men's Championship matched powerhouses Loudoun Soccer against Potomac Soccer Association. Loudoun won the PRO23 Men's COPA Division while Potomac earned the PRO23 Men's PREDATOR Division title. Loudoun came into the championship match with five wins, no losses and one tie. Potomac had one blemish with four wins, one loss and one tie. The final match-up showcased the region's top talent.
+Read: CCL SELECT Girls advance to Gothia Cup Tipselit Trophy Semifinals
In the Women's Championship, stellar Goalkeeping by Potomac stymied McLean's offensive attempts. Knotted 0-0 in regulation and overtime, McLean showed why it scored 31 goals in regular season. McLean buried all five penalty kicks and one miss by Potomac sealed the Championship for McLean.
"Thank you to the CCL for providing a very professional platform for the U23 girls to participate in this summer. It was very organized and the spirit of cooperation between clubs was ever present. It is always a good thing when we can provide an opportunity for our college Alumni to play and stay fit, as well as incorporate some of our younger kids in this environment, so that they can experience a taste of what it can be like playing with and against college kids", said Clyde Watson, McLean PRO23 Head Coach.
In carbon-copy fashion, the Men's Championship match was similarly dramatic. In a fantastic match of both teams attacking-yet-defending-better, the match remained tied 0-0 after regulation and overtime. However, like McLean in the Women's Championship, Potomac raised the championship trophy after finishing all five penalties to Loudoun's four.
"Potomac Soccer is extremely honored to be a part of the Club Champions League and to field both a Women's and Men's team in the new PRO23 league in its inaugural season this summer. CCL PRO23 provided a great opportunity for collegiate athletes to continue to train and compete at the highest level possible over the summer break. Potomac Soccer's commitment to our alumni as well as the student-athletes that call Maryland home over the summer months, allowed us to field the highest level of competitive teams. Potomac Soccer's CCL PRO23 Women and Men's teams represented us brilliantly by finishing the league as Women's finalist and Men's Champions. Thank you to all of our hard working coaches, staff, players and families that made it such a successful and fulfilling experience", said Laurie Lane, Potomac Soccer Association Executive Director.
"This was a great inaugural season for PRO23. The competition level was high and definitely offers college programs a great destination for their players during the summer. Congratulations goes out to all finalists and especially to our first-ever PRO23 Champions McLean and Potomac. We look forward to opening and expanding PRO23 next summer," commented Brian Kuk, CCL Executive Director.