Maryland SoccerPlex grounds crew's passion, expertise on display at US Youth Soccer National Championships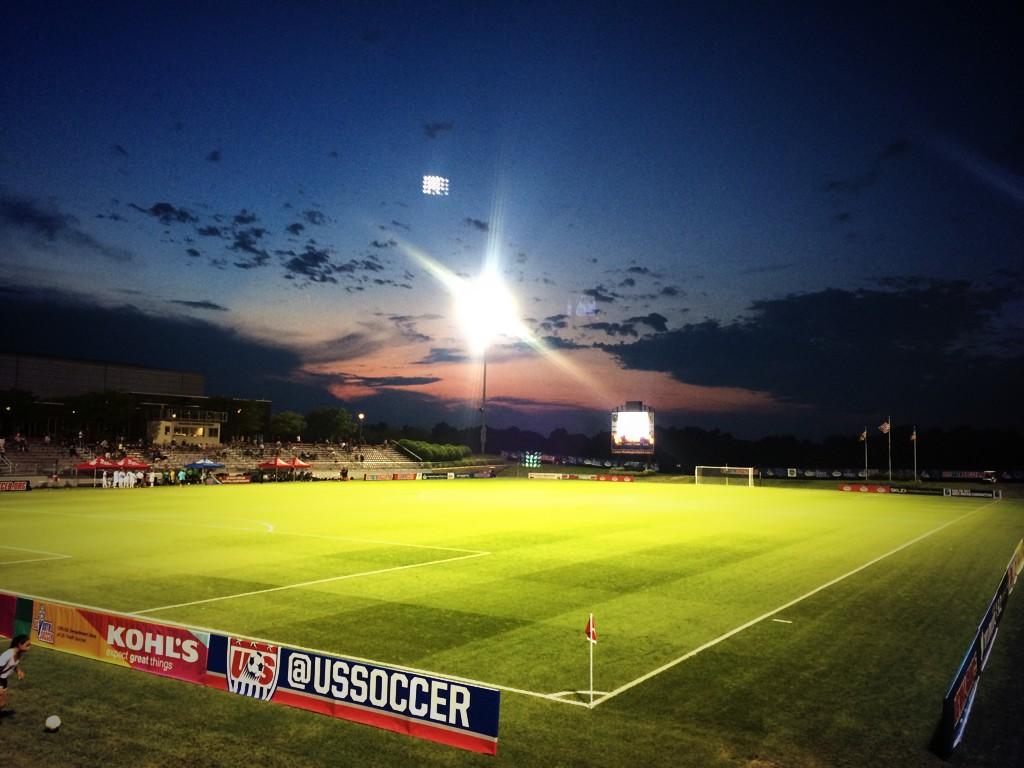 BOYDS, Md. – Maintaining a national championship-caliber sports playing surface on just one field is enough work to require a full-time grounds crew. But try to do the same with 19 fields, and you will need a crew of passionate and tireless professionals who genuinely love what they do.
That is exactly what the Maryland SoccerPlex had on display at the 2014 US Youth Soccer National Championships, a five-day, 96-team tournament played solely on the facility's Kentucky Bluegrass and Bermuda Grass fields from July 22-27.
"I thought the Maryland SoccerPlex grounds crew did a tremendous job maintaining the quality of the fields throughout the week," said Dominick Bucci, head coach of Under-18 girls semifinalists Match Fit Academy FC. "At this level all you can ask of a venue is that the quality of field be up to the standard of the event, and the fields our team played on were in tremendous shape each day."
+READ: Manhattan PSG emerge as breakout team of US Youth Soccer National Championships
"The Maryland SoccerPlex is one of the premier soccer complexes in the country," added Seth Trembly, head coach of the U13 girls national champion San Diego Surf. "The quality of the surface was a dream for the players to play on. The way the fields were set up and the surrounding landscaping between each field created an intimate stadium like atmosphere on each and every field."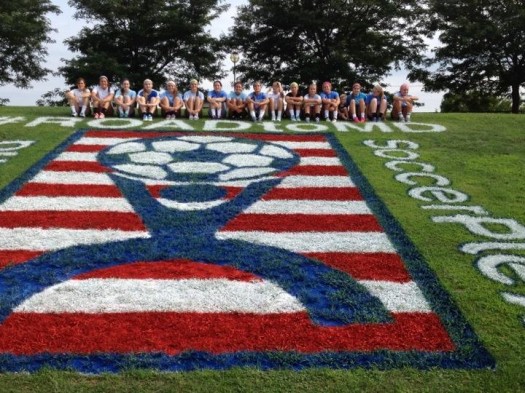 Maryland SoccerPlex Sports Field Director Ryan Bjorn and his team worked day and night to not only keep the fields in top playing shape, but also add additional flair to the complex, giving the tournament a true "national stage" feel for all attendees.
"It was a fantastic week. Couldn't ask for better weather, a wonderful complex – it's been just an incredible experience," said US Youth Soccer president John Sutter. "We try to make it something that's memorable for all the players that are here, and I think that happened."
+READ: Tulsa, Okla., chosen to host 2015 US Youth Soccer National Championships
One particularly successful add-on was the painting of the US Youth Soccer National Championships' social media slogan "#RoadtoMD" around the fields, an idea originally proposed by US Youth Soccer marketing director Todd Roby during an initial visit to the site.
Photos of the hashtags and other logos surrounding the fields in the first few days of the event became such a hit on social media that Bjorn decided to go the extra mile by adding some onto the actual playing surfaces prior to the start of the tournament's semifinal round.
"When you get near the end of a tournament the fruits of your labor really pay off, and you can really get everything done, you can see all the stuff, like on Twitter with teams taking pictures with the logos and being happy with the fields. That's what we're here for," Bjorn said.
"We knew it was going to be a challenge getting things to where they need to be for this tournament," he continued. "Since we really enjoy coming to work every day, it makes it a lot easier."
The SoccerPlex crew is accustomed to early mornings and long hours. But preparations for hosting US Youth Soccer's biggest event of the year required dedication even further above and beyond the norm, both during the tournament itself and in the months leading up to it.
"The amount of hours you have to put into something like this is astronomical," explained Trish Heffelfinger, the Maryland SoccerPlex's Executive Director. "We said to our staff, this is an 'all hands on deck' event, which means you've got to be here every day, all day … In general, most people were working 65-hour weeks for the last three weeks."
"Our staff was remarkable, real troopers. They were asked to go above and beyond, and every day they did."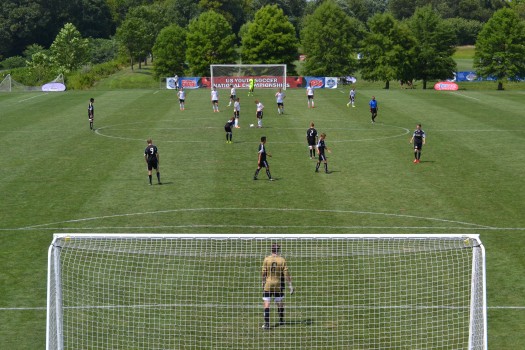 Heffelfinger noted that Bjorn and his staff were thrown an additional curveball when this year's unusually cool, wet spring disrupted the growing cycle of the facility's Bermuda grasses, which are typically their mainstay surface during hot summer weather. That required some significant adaptations shortly before the US Youth Soccer National Championships kicked off, but she praised the the grounds crew's nimble execution of those adjustments.
Bjorn took over his role at Sports Field Director in February after spending three years working under Jerad Minnick, who now serves as the SoccerPlex's Sports Turf Consultant. Bjorn attended turf school at the University of Massachusetts and worked as an intern with the Boston Red Sox before starting at the SoccerPlex, and his education continued through Minnick's guidance.
"Jerad did a really good job of always trying to teach us, not just me but also the other assistants and managers," Bjorn said. "He taught us about how things work, not just here at the SoccerPlex but in our entire industry. You never know how many ins and outs are involved in something until you're actually in it."
 +READ: 2014 US Youth Soccer National Champions crowned in Germantown, Md.
The SoccerPlex grounds and environmental staff is made up of full-time and part-time employees. In addition to Bjorn and Minnick, the management staff includes Manager of Grounds Ian Stringer, Assistant Sports Turf Managers Dusty LeVan and Zach Ferguson, and veteran Crew Leaders William Godoy and Joel Cruz, who have both worked at the facility for over a decade.
"We couldn't do anything that we do here without the entire crew," Bjorn said. "They all take a lot of pride in what they do. Nailing it down to one thing, the biggest key is their passion."
There are few venues in the country comparable to the SoccerPlex, which hosts women's and men's professional soccer, regular-season college matches and tournaments, dozens of youth soccer tournaments, adult leagues and even other sports such as cricket and lacrosse.
With a nearly year-round flow of action on every one of the SoccerPlex's natural grass fields amid the Potomac area's always-unpredictable weather, growing and maintaining top-level surfaces is no easy task.
But it's one the SoccerPlex crew continues to achieve with great consistency.