Mark Ryan, Ryan Dortch win US Youth Soccer Coach of the Year awards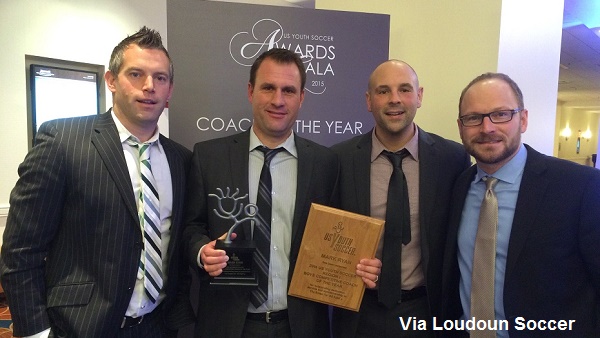 PHILADELPHIA (Via US Youth Soccer/Loudoun Soccer) — The recipients of the 2014 US Youth Soccer Competitive Coach of the Year award for Boys and Girls were announced on Friday, Jan. 16 at the US Youth Soccer Awards Gala, held in conjunction with the 2015 US Youth Soccer Workshop in Philadelphia. The national US Youth Soccer Competitive Coaches of the Year award winners are Ryan Dortch of Bellevue, Wash., (Girls) and Mark Ryan of Ashburn, Va., (Boys).
In nearly 25 years of coaching, Dortch has guided several premier clubs and semi-professional teams. A former Washington Youth Soccer player, Dortch maintains his USSF 'A' License while continuing to act as a mentor and role model within the soccer community. In his eight years at Eastside FC, he has led teams to on-field success while setting clear expectations for players, parents and coaches to follow in regards to showing respect and demonstrating good character to all participants.
Each year Ryan has coached Loudoun 98 Red, the team has continued to see improving results. In 2014, Loudoun claimed a National League division title and advanced to the US Youth Soccer National Championship semifinals — the best finish for a boys' team in club history. A USSF 'A' Licensed coach, Ryan has used his experience, along with dedication, passion and leadership, to help his players continue to achieve new heights.
For Ryan, this announcement comes after he won both the 2014 Virginia Youth Soccer Association Boys Competitive Coach of the Year as well as the 2014 US Youth Soccer Region I Boys Competitive Coach of the Year.
"As a club, we are immensely delighted for Mark", said Darryl Gee, Technical Director of Loudoun Soccer. "For us, it caps off a remarkable year for him, his team, and our club. We are grateful and proud that Mark is a part of our team and offer our highest congratulations and compliments to him. It is an award that we feel he fully deserves with the work he does each day on and off the field."
Recipients of the Competitive Coach of the Year awards are selected by the US Youth Soccer Board of Directors on the basis of sportsmanship, player development, personal coaching development and community involvement (citizenship).