Manhattan PSG emerge as breakout team of US Youth Soccer National Championships
Few teams at the U.S. Youth Soccer National Championships impressed as much as Manhattan SC PSG. The Under-17 boys side played a technical, possession-oriented style that wowed onlookers and overwhelmed opponents.
But one moment of temporary madness nearly ruined everything.
With five minutes left in the overtime period of a semifinal match against Fullerton Rangers 96, Manhattan SC PSG's Ousmane Dia scored what looked like a sure game-winner. But Dia, feeling that his team had been slighted by Ronaldo Pineda's 16th-minute goal celebration, took off his shirt and laid it down in front of Fullerton head coach Jimmy Obleda.
 +READ: 2014 US Youth Soccer National Champions crowned in Germantown, Md.
Dia's youthful exuberance nearly led to a scrum on the pitch. After several minutes spent separating both teams, the referee sent off both Dia and Fullerton defender Andres Lemus, before restarting play. But just a few minutes after the incident, a Fullerton attacker was fouled in the box and Pineda calmly converted the spot kick for a late equalizer.
Dia's actions and Pineda's equalizer could have easily derailed a more emotionally fragile team. But PSG didn't break, converting all five of its penalty kicks to earn itself a place in the final.
The key for PSG was confidence, explained head coach Wilson Egidio. "We practice PKs constantly," Egidio told SoccerWire.
"Everyone on my team can take PKs. I just asked who felt confident enough on that day, in that particular moment, to do it."
+READ: First four champions crowned at the 2014 US Youth Soccer National Championships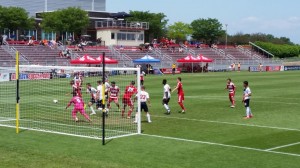 It's a testament to the players' mentality, fitness, and skill that they overcame the Dia incident. It's equally impressive that they recovered well enough to play a hard-fought final against FC Dallas the following day. Sean Fitzgerald's 84th-minute goal was all it took for PSG to win its first national title.
However, the start of PSG's tournament left few believing that the New York club would seriously contend for the national championship. "I think they were a little nervous in their first game. It was like that first game syndrome. We played well but didn't finish well. We created chances, but didn't finish," Egidio said.
PSG drew that match 1-1 with Chicago Fire U17, a club that only managed to get a lone point from its three group games.
The New York City club, which features players from all five boroughs, rebounded with a resounding 6-1 victory over CUP Gold 96/97 (Ohio). It was a game in which PSG finished seemingly every chance in front of net, with Giansebastian Goicochea, Sean Fitzgerald, and Jack Harrison each scoring two goals. PSG played the ball out of the back, switched the point of attack, and circulated the ball so effectively that CUP Gold 96/97 hardly got a single look on goal for the first hour of the match.
When asked about the style of play that so completely overwhelmed PSG's opponents, Egidio was adamant that this was a performance years in the making.
"It's not something new for us. I've had most of these guys since they were 10 years old," he said. "It's my style. I am Brazilian and that's the only game I know how to play. It's the only game I know how to coach. It's the only game I like to watch. What you'd call good soccer. It's not kick and run."
After dismantling both CUP Gold and West Coast FC however, PSG met their match in Fullerton Rangers 96. The two-time champions from California looked as if they were going to make their fourth straight finals appearance. Late in the second half, Fullerton's Pineda appeared to have scored the game-winner, but the referee's assistant ruled that the goal was offside. The decision sent the game to overtime, where PSG eventually won on penalty kicks.
+ READ: Baltimore Celtic gets tactical for PKs, wins U16 boys US Youth Soccer National Championship
Each of PSG's opponents learned that this wasn't just a one-trick pony, a flashy team that would crumble in the face of adversity. PSG's underrated defense held their opponents to just four goals in five matches. Against FC Dallas, PSG stayed tight and composed in the back, bottling up in-form striker Sergio Lara, who had scored seven goals in the lead-up to the final.
When asked about his team's style, it's no surprise that Egidio singled out his defense first.
"We play tight and strong on defense, we mark and communicate, and we try to keep them out as much as we can," he said.
Ironically, for a team lauded for its beautiful combination play, PSG scored its lone goal against FC Dallas from a corner kick. Martin Dadaj sent his cross right to the head of the towering Fitzgerald, who snapped the ball past Dallas's goalkeeper and into the corner of the net.
It was a fitting conclusion to a remarkable tournament. Manhattan SC PSG proved that they had the mental toughness, individual skill, and superior fitness to outlast their opponents, showing they could win pretty, and win ugly as well. They won tight games and wide-open affairs. PSG proved, above all, that they have what it takes to win.
If teams looked past PSG before, they're watching now.