Loudoun Soccer teams show well at Nationals, win first club title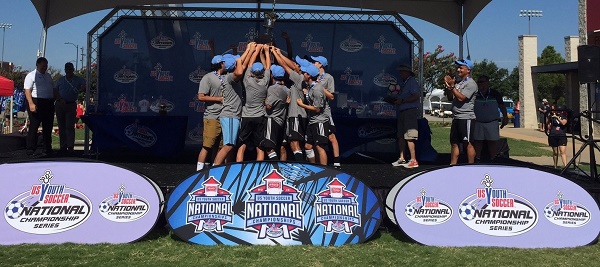 Frisco, TX (Via Loudoun Soccer) – Loudoun Soccer's two boys teams at the US Youth Soccer National Championships both competed for titles on Sunday. The 98 Red team ended a great run of form as runners-up and silver medalists in the Under-17 Boys age group, while 99 Red emerged as national champions, winning the Larry Harmon Cup in the Under-16 Boys age group.
98B Red faced Pipeline from Baltimore, Maryland in a rematch of the Region I U17B Championship game in early July. Loudoun 98B Red broke the scoreline in the 56rd minute when Emin Karic scored a penalty after Michael Scully was brought down in the box. Pipeline would go on to score in the 69th and 85th minutes to win the match 2-1.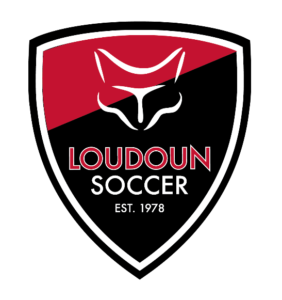 99B Red faced Dix Hills from New York in the Under-16 Boys Final. Both teams were also competing for their first National Title. Loudoun 99B Red broke the deadlock in the 25th minute when a pinpoint cross from Gabe Splett found Evans Moyo in the Dix Hills box for a near-post header. That goal would prove to be the winner, giving Loudoun Soccer its first National Title.
"I'm very proud of both teams and how hard they worked throughout the year, and obviously how they performed at each and every game at Nationals", said Mark Ryan, Loudoun Soccer Travel Director and Coach for both teams. "It was a heartbreaker for the 98's. They worked incredibly hard and came very close again. They've shown wonderful consistency to be here for the last three years."
+Read: US Youth Soccer National Champions crowned in Frisco, Texas
"It's a wonderful achievement to come and win a National Championship on your first go", continued Ryan. "As a club we're very proud of all the players, parents, coaches and everyone at the club who helped us get here. We would like to especially thank them – the players, the club, the parents, our sponsors – everyone who helped make this possible. Congratulations to both teams on a wonderful achievement and to the 99s on their title."
Both teams return to Virginia for a few weeks off before the club season – as well as State Cup and National Title defenses – get underway in the Fall.
+Read: First four champions crowned at US Youth Soccer National Championships