Loudoun 98 Red Boys take useful lessons from Dallas Cup: "There's a different level of play out there"
Loudoun 98 Red Boys coach Mark Ryan came away from his club's trip to the Dallas Cup convinced the experience will prepare his club for the spring season as they gear up for a run at the US Youth Soccer National Championships.
Loudoun had a strong showing in Texas, going 2-1 in Under-16 group play to win Bracket E of the storied event, billed as the largest youth tournament in the world, before falling to a strong side from the academy program of MLS club FC Dallas in the quarterfinals.
The Club Champions League side began the tournament with a 3-0 win over Simi Valley FC from Southern California and a 4-1 win over the academy team from Mexican pro side Jaguares Nuevo Leon.
+READ: Dallas Cup XXXVI champions crowned on Sunday
"It was a great experience for the boys," Ryan told SoccerWire.com. "The big thing at the Dallas tournament is the quality of opposition and the different styles of play with more of a Latin influence.
"We [usually] play so many teams up and down the East Coast and they tend to have similar styles of play. [In Dallas] we were lucky to get to play a Mexican team, who we beat, and teams from California and Texas that have a different style of play."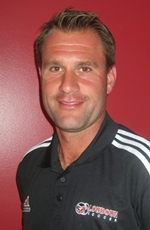 Ryan's team only allowed two goals from the run of play in the tournament, but were called for four fouls in the box, two of which proved costly. While goalkeeper Colin Shutler made a penalty-kick save in the first two wins, Loudoun concluded group play with a 1-0 loss to Liverpool Academy of Texas after giving up a first-half PK.
And against FC Dallas, Loudoun conceded a penalty kick that proved to be the difference in a 2-1 loss. The Virginians took an early lead against the MLS-affiliated side, but Ryan said his team was outplayed on balance in the first half, leaving the teams deadlocked at the break.
"I thought we adjusted well at halftime, changed our style a little, played harder, defended better and were better on the ball," he said. "And then we gave up a late PK and that cost us. But I was proud of how we responded to that first half against a very good team."
While he didn't use it as an excuse, Ryan said fatigue from not being acclimated to the heat could have worn down his team.
"We played four games in 85 degrees when we we're used to training when it's in the 30s. That may have caught up to us."
+READ: Loudoun 98 Red win Dallas Cup bracket, FCV/SYC Strikers Blue and Bethesda 01 place second
Jacob Labovitz led Loudoun with four goals, and Giovanni Vasquez and Dorion Dixon each had a goal and an assist, while Stephen Foss notched two assists. While he didn't get on the score sheet, Ryan singled out midfielder Nicolas Short for his contributions: "He played very well throughout the tournament."
Ryan's squad qualified for the USYSA's national tournament this July in Tulsa, Oklahoma by winning the National League's Blue Division. Ryan thinks the team's experience in Big D will pay off for them there.
"We go to Oklahoma for nationals in July, and we're going to see West Coast teams and Texas teams again and be better prepared to handle them," said Ryan. "And we'll be used to the environment. We're going to go to Tulsa, which is not too far from Dallas, so we've dealt with those travel conditions and it'll make us better prepared for that event.
"And on the field, the takeaway is there's a different level of play out there. As good as we are, there's a different level to strive for – and we reached that in the second half against FC Dallas. We have to bring that every game in nationals."