Los Angeles FC becomes last MLS team standing in Concacaf Champions League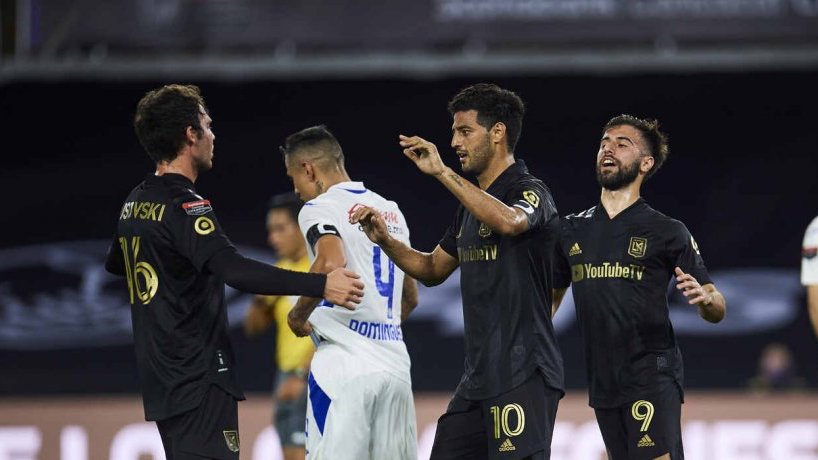 It took 293 days, but Los Angeles FC officially has an international winning streak.
The Black & Gold stormed past Mexico's Cruz Azul on Wednesday night to advance to the semifinals of the Concacaf Champions League, becoming the last MLS team remaining in the competition and picking up right where they left off in the tournament that was suspended due to COVID-19 on March 12 after LAFC defeated eventual Liga MX Champion Club León in the first round.
Despite falling behind 1-0 in the 15th minute on a penalty kick by Yoshimar Yotun, the Black & Gold responded with an inspired performance and evened the match on a Carlos Vela penalty kick in the 38th minute after he was brought down in the box by Cruz Azul goalkeeper Sebastian Jurado.
It was Vela's third goal in Champions League this year, and set the stage for the dramatic game-winner from 19-year-old substitute Mahala Opoku, who made just his fifth career LAFC appearance in the 58th minute.
Thirteen minutes later, he took advantage of the ninth LAFC corner kick of the match, squaring up on a Vela kick that skittered to the top of the 18-yard box and launching a rocket into the left corner of the net for the historic game-winner.
"I'm proud of our group tonight," LAFC head coach Bob Bradley said. "The mentality of the team was really good. After going down, there was a real resolve to get back in the game."
After a disappointing loss to Seattle in the first round of the MLS Cup Playoffs on Nov. 24, LAFC spent three weeks focused on getting healthy and back to the form that they showed versus León in February, and for the most part they were able to control the game for their second straight victory against a Mexican giant.
LAFC now faces one of the historic Mexican squads, Club América in the semifinals on Saturday at 7:30 p.m. PT, with a chance to advance to the Club's first international final on the line. LAFC is now just two wins away from qualifying for the FIFA Club World Cup.
"I am proud of the mentality and the way the guys are growing and competing," Bradley said. "We always set out to play the best football we can, and to be a really good team you need to take lessons and grow from tough experiences. You could see that late in the game, the concentration, the way guys were talking to each other – that is part of becoming a better team and it is something we can keep building on."
MAHALA COMES FULL CIRCLE
Exactly a year ago, Bob Bradley was in Ghana. LAFC's season had ended in a loss in the Western Conference Finals, and before the holidays LAFC's head coach was in Africa on a scouting mission. He spent five days at the Attram De Visser Soccer Academy in Accra, visiting with the Academy's founders, former Ghanaian international Godwin Attram and former head coach Piet De Visser, and working with young African players.
"It is a small academy," Bradley said of the Godwin Attram Academy that LAFC has formed an official partnership with. "I had an incredible time there seeing what they were doing, all of their boys and the smiles when they stop on the field."
It was during that trip that Bradley spotted the 19-year-old Kwadwo "Mahala" Opuku, and began the work to get him into an LAFC jersey, and he officially signed with the Club on Oct. 6.
The partnership and the Ghanaian connection have paid immediate dividends, as Mahala, in just his fifth LAFC appearance, came on as a substitute in the 58th minute and smashed home the game-winner in the 71st minute.
"I am so happy for Mahala," Bradley said. "He has earned the respect of the group. He's got a great personality. He is really well-liked for what he brings every single day. He loves the game and wants to get better every day at training. Everybody inside the locker room was excited for him to get that first goal and get us into the semifinals."
Mahala joins Christian Torres as the second teenager to score a goal for LAFC in 2020.
"Mahala gave us good minutes," Bradley said. "He has been training really well and had scored some really good goals in training. He has shown that he is a guy that we can bring on and he is capable of helping our team."
CARLOS COMES BACK FROM THE SPOT
While Mahala was a new name on the scoresheet, LAFC's first goal was scored by a familiar face.
In the last three seasons in Major League Soccer, Carlos Vela has been the most explosive scorer the league has seen – scoring 52 goals in 61 games. He has continued that goalscoring run in the 2020 Concacaf Champions League, and netted his third goal in three career Champions League matches Wednesday versus Cruz Azul.
It was fitting that Vela returned to the scoresheet by converting a penalty kick in the 38th minute to tie the score, because against the Sounders in the playoffs Vela missed a penalty that would have tied that match early in the first half, and helped turn the momentum against the Black & Gold that day.
"Carlos is getting closer to his form after a crazy year," Bradley said.
It was a 2020 that brought LAFC and Vela down to earth a bit from the lofty heights of 2019. After a great start to the season in February and March, Vela was forced to miss the MLS Is Back Tournament in July to be with his pregnant wife, and when he returned to the field in August he suffered an MCL kneed injury that sidelined him for 11 weeks.
Now, the superstar is close to hitting his stride and excited again to face off against some of the top teams from his home country.
"From the beginning, Carlos was so excited to play against León and Cruz Azul," Bradley said. "Now he is already talking about playing América."
Discovered as a top young prospect growing up in Cancún, Vela left Mexico when he was just 15 years old to play for Arsenal in London. His career has kept him in Europe and now Los Angeles, and he has never squared off against Mexico's historic clubs – until now.
"He is proud of what we are doing at LAFC, proud of being a leader here and showing what we are building," Bradley said. "He is getting into his rhythm and obviously is such an important player for us."
WHIRLWIND TRIP FOR CHIQUI TO HELP THE D
It appeared that LAFC defender Diego Palacios was going to miss the Black & Gold's return to Concacaf Champions League. The Ecuadorian international, who had started 17 games in 2020, did not travel with the Club on Monday to Orlando, staying in Los Angeles to be with his expectant wife who it was believed was entering labor.
However, after a trip to the hospital it was determined that it was a false alarm, and Palacios felt comfortable enough to join the team Tuesday evening.
He was promptly placed in the starting lineup and played 90 solid minutes in defense for the Black & Gold, limiting Cruz Azul to just one shot on goal.
"I'm happy for Chiqui," Bradley said. "He arrived after everyone else, but he had been training really well since he has returned from Ecuador. He had a strong match."
The entire LAFC backline was tough, with Eddie Segura and Jesús Murillo forming a formidable partnership in central defense in front of goalkeeper Kenneth Vermeer, who was seldom tested.
"A lot of guys stepped up in a big way," Bradley said. "Eddie and Jesús played really well. Similar to our game against Leon, we didn't give up too much."
LOOKING TO AMÉRICA
After beating the 2020 Liga MX Champion Club León in the first round, and taking down perennial powerhouse Cruz Azul in the quarterfinals – LAFC now takes the stage in the semifinals of the Concacaf Champions League against a true giant of Mexican football – Mexico City's Club América.
Las Aguilas defeated Atlanta United 3-1 on aggregate to advance to play LAFC. Coached by Miguel Herrera, Club América was founded in 1916 and has become an institution in Mexico, winning a record 13 Liga MX titles. They have also enjoyed success in the Concacaf Champions League, winning the tournament a record seven times.
"We have respect for the institution of Club América," Bradley said. "We have respect for [Miguel] Herrera. A semifinal against Club América is special. We are in our third season and we are still growing. But we are proud of our football, proud of our fanbase and we have talked often about how we started the season so excited to be in Champions League."