Long Island Junior Soccer League select team that played in Brazil holds reunion 27 years later
(Via Eastern New York Youth Soccer Association) – Friendships forged on soccer fields can last a lifetime.
Just one example is the Long Island Junior Soccer League's (LIJSL) Boys-Under-16 Select Team, who won the championship of the 1987 Pocono Cup in Pennsylvania plus played in the 1987 Dallas Cup in Texas and the 1987 Pelé Cup in Brazil. The New York media dubbed them "the Boys to Brazil" as the squad toured South America's largest country and wound up going to Rio de Janeiro, São Paulo, Santos, Brasilia, Manaus and Petropolis while playing some pretty good soccer and meeting the legendary Pelé along the way.
The former teammates, now in their early 40s, have been in touch with one another for the past 27 years and with the World Cup currently being played in Brazil, they came from across the East Coast to hold a reunion that was organized by team captain Michael Blackton on June 14 at Lily Flanagan's in Babylon. The reunion wound up lasting much longer than the allotted time that they had the room booked for.
When they played in South America in 1987, the United States was toward the end of a four-decade drought in not qualifying for the World Cup and there was not a professional league. How times have changed as soccer is now cool, Major League Soccer is thriving and the United States has played in every World Cup since 1990.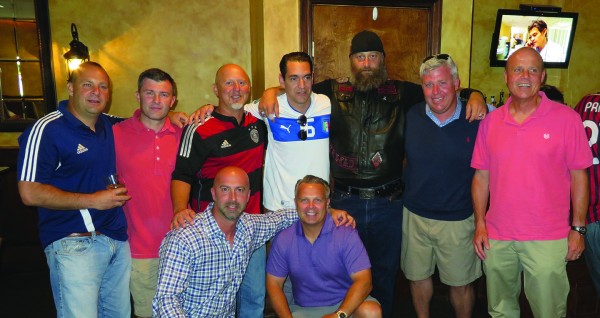 "Although very few of us make a living from soccer today, we all took what we learned on soccer fields as kids and applied it to become successful in the business world," commented midfielder Brain Anselmo.
The LIJSL Select Team from 1987:
Kevin Anderson, midfielder, played at Southern Connecticut State University. Kevin played professionally for the Long Island Rough Riders, then five years in MLS for both the Colorado Rapids and Tampa Bay Mutiny. He is now the head coach of the Columbia University men's soccer team.
Brian Anselmo, midfielder, was studying and playing for Chaminade High School when he was on the LIJSL Select Team. Played for Providence College. He is now a Social Studies teacher and guidance counselor at Chaminade plus coaches the freshman team there as well as being a coach in the LIJSL's Massapequa Soccer Club, where he formerly played as well.
Michael Blackton, stopper and captain of the LIJSL Select Team, played at New York Institute of Technology (NYIT), served on the West Islip Soccer Club Board of Directors and now coaches in the LIJSL clubs in West Islip, North Babylon and Center Moriches
Jason Cortes, goalkeeper, All-American at Morrisville State College
Chris Evans, defender, converted to midfielder at the University of Buffalo where he became one of the college's all-time assist leaders, coached a top youth team, the Germania Storm from Buffalo
Jack Fabrizio, midfielder, played at UMass, head coach at Hicksville High School, coaches teams in the LIJSL's Hicksville Americans Soccer Club
Joe Ferrante, defender, played at Rutgers, his busy life as an attorney prohibits him from volunteering in youth soccer but he's a big fan of the Azzurri
Greg Franzke, defender, played at George Mason and has been inducted into the college's Hall of Fame. He holds a US Soccer "A" Coaching License and coaches the girls varsity at his alma mater, Bethpage High School.
Kevin Johnson, goalkeeper, All-American at Stetson University, now the technical adviser to Carolina Rapids Soccer Club in North Carolina
Derek Lachman, forward, played at Duke University
Richard Lawlor, sweeper, did not play soccer in college. He was a Mason Union worker who was killed in a car accident in Babylon on February 8, 2008 at the age of 36. No drugs or alcohol were involved in the tragic crash.
Bryan Lillis, midfielder, played at Cortland State, now coaching in the LIJSL's Bayport Soccer Club
Chris Lowe, goalkeeper, All-American at Adelphi, currently trains goalies and runs soccer camps
Michael Luongo, forward and captain, played at NYIT and LIU Southampton, currently President of the LIJSL's Center Moriches Soccer Club, coaches four teams in Center Moriches
Brian Murphy, defender, played at Pepperdine University
John Quirk, midfielder, played at Albertus Magnus College, coaching youth teams in Florida
Mark Stollsteimer, defender, played at the University of Richmond where he became the all-time assist leader, formerly head coach at Davis & Elkins College and Millikin University, Assistant Technical Director to the Richmond Kickers in USL Pro, also coaches youth teams in Virginia
Irad Young, forward, All-American at George Mason and has been inducted into the college's Hall of Fame. Played soccer professionally in Israel and the MISL, now coaches youth teams in Virginia
Peter Zaratin, goalkeeper, made it to the NCAA finals at Santa Clara University in 1992 and has been the majority shareholder and CEO of the Long Island Rough Riders for the past decade
Coach Bill Easteadt coached for 13 seasons at NYIT where he was inducted into the college's Hall of Fame in 2006. He has been coaching for over a decade in the LIJSL's Syosset Soccer Club.
"Along with my 1985 NYIT team that went to the Final Four, these players were the best team I ever coached and personally meant so much to me," explained Coach Easteadt. "It was awesome seeing them again and for them continuing to be a big part of my life!"
Three adults on that trip––current LIJSL President Addie Mattei-Iaia, the Select Team's manager Carol Quirk (who became an elected official in Babylon) and ENYYSA Public Relations Director Randy Vogt––were all inducted into the LIJSL Hall of Fame during the past two decades.