LMVSC U-14 Patriots earn Jeff Cup berth at Capital Fall Classic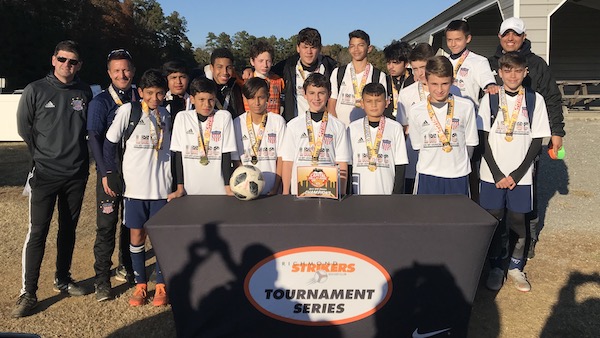 Henrico, Va. – The LMVSC Patriots edged out a five-goal thriller with Waldorf SC to claim the Capital Fall Classic U-14 Premier Division title and gain direct qualification to the Jefferson Cup.
The Northern Virginia side jumped out to a two-goal lead within the first ten minutes. Waldorf conjured up the perfect response, however, pulling a goal back less than a minute after conceding the second to let LMVSC know that it wasn't going to be a cake-walk.
What ensued was a back and forth affair in which both teams took turns attacking. Yet, for all their enterprise going forward, the final came down to corner-kicks.
Waldorf equalized mid-way through the second-half with an olympico (a goal scored directly from a corner) to complete its come-back in stunning fashion.
+READ: Capital Fall Classic champs crowned at 2nd Annual Rec Weekend
From there, it was impossible to tell who was more likely to grab a winner, but LMVSC retook the lead late-on. Left-back Tony Chavez swept home the tournament-clincher through a mass of bodies following a goal-mouth scramble that resulted from a corner-kick.
At the final whistle, however, there were no scenes of jubilation from the Patriot players. Throughout the match, LMVSC's conviction to build out of the back was as inspiring as it was refreshing. Yet, Waldorf SC deserves huge credit for its high-pressure. The southern Maryland side forced its possession-based opponents into a more direct, up and down match, leaving them as exhausted as they may have been frustrated.
But good teams find ways to win and Pepe Maldonado was ecstatic that his side claimed the trophy that carries with it the coveted prize of automatic qualification to Richmond's prestigious showcase tournament.
"We're excited!" Maldonado exclaimed with a big smile on his face after the final whistle. "The boys worked really hard and I was very happy for them to be able to pull it off. We're excited about the Jefferson Cup, as we know it's a prestigious tournament."
+READ: FC Richmond Magic U-15 Boys qualify for 2019 Jefferson Cup
Maldonado, a former professional player with Real Maryland in the old USL-2 (United Soccer Leagues second division) knows about the grind of playing on little rest. He was proud of the character his team showed, justifying their subdued celebrations at the final whistle.
"It's not easy to play four games in two days," Maldonado said of the obstacles his team faced on the way to the winners-circle. "Thankfully we had quality fields and we just had to dig in deep and we pulled it off."
Perhaps LMVFC didn't win playing its desired brand of soccer, but Maldonado wasn't going to let it spoil the victory, its massive implications and an overall enjoyable weekend.
"I love the facilities. That's the first thing I noticed," the former mid-fielder marveled. "We come from Northern Virginia. We don't have a lot of quality natural grass fields, so I know the boys were excited to play on natural grass."
"The tournament is well run," Maldonado concluded. "[We like] the quality of the competition and we look forward to doing it [the Capital Fall Classic] again next year."