Lisa Carnoy unanimously elected to U.S. Soccer Board of Directors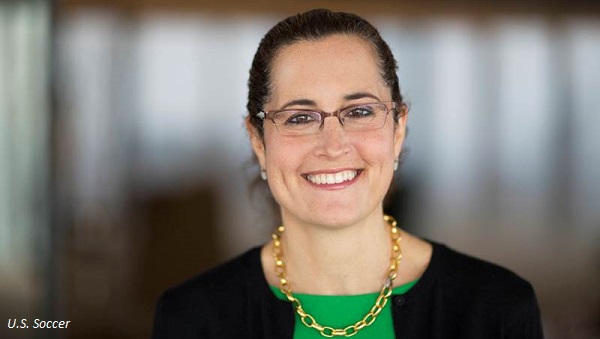 CHICAGO (Via U.S. Soccer) – Financial executive Lisa Carnoy has been unanimously endorsed and elected to the U.S. Soccer Board of Directors. Carnoy will serve as an Independent Director on the Board, the governing body of the U.S. Soccer Federation.
Currently, Carnoy is the Division Executive for the Northeast at U.S. Trust and Bank of America's Market President for New York City. With U.S. Trust, a private bank within Bank of America that specializes in wealth management for high net-worth clients, she works to drive new business opportunities and enhance collaboration across the firm. At Bank of America, Carnoy helps meet all clients' needs by connecting them with the proper financial resources. In addition to these roles, she serves on the leadership team for U.S. Trust's Global Wealth & Investment Management (GWIM) business and on Bank of America's Operating Committee.
"I am excited and honored to be joining the Board during such a significant period for U.S. Soccer," said Carnoy. "I look forward to helping soccer continue to grow at all levels in the U.S."
+READ: Carli Lloyd named candidate for Best FIFA Women's Player of 2017
Named one of the "Most Powerful Women in Finance" by American Banker in 2012 and 2013, Carnoy is a leader in Diversity and Recruiting Initiatives at Bank of America. She is a co-founder of the Women's Leadership Council in Global Banking & Markets and a member of the GWIM Women's Exchange Advisory Council. Carnoy also heads Bank of America's corporate social responsibility work in New York City.
Previously, Carnoy worked at Bank of America Merrill Lynch as Head of Global Capital Markets and as Global Head of Equity Capital Markets. In addition to her new post with U.S. Soccer, Carnoy also serves as a Trustee and a Co-Chair of the board at Columbia University, her undergraduate alma mater, and is a board member of the Rodeph Sholom School and United Way of New York City.
"Lisa is a leader who sees the potential of soccer in America," said U.S. Soccer President Sunil Gulati. "She will be a great asset to U.S. Soccer as we continue to invest in the success and growth of the game in the United States in the coming years."
The U.S. Soccer Board of Directors represent the Federation's highest level of governance. Led by President Sunil Gulati, the Board is currently composed of seventeen elected members representing all facets of soccer in the United States. Carnoy will serve as an Independent Director, along with Donna E. Shalala and Val Ackerman. Other Board members represent athletes, professional soccer, adult soccer, youth soccer and more.