LAFC Academy product Christian Torres scores first MLS goal at age 16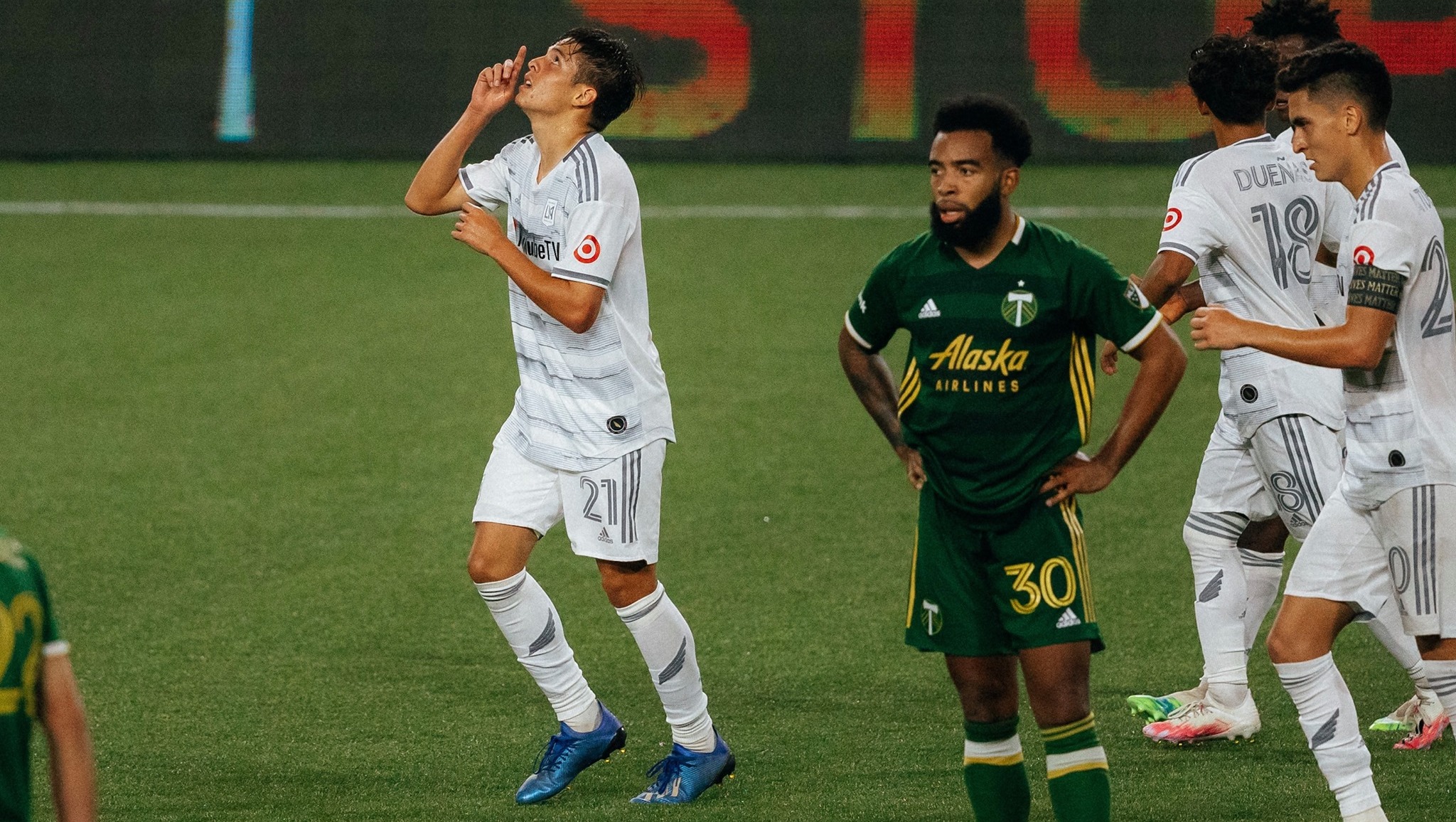 Via Los Angeles FC – On Oct. 11 against the Seattle Sounders, Christian Torres made history as the first LAFC Academy product to play 45+ minutes when he entered as a halftime substitute. His strong play vs. Seattle earned him his first MLS career start on Oct. 14  vs. Vancouver Whitecaps FC, the historic first start of an LAFC Academy product.
At 16 years, 183 days old, Torres became the youngest player to start a game in MLS in 2020, and the youngest since Sounders prospect Danny Leyva started a match in 2019 at 16 years, 31 days old.
But just three days later, Torres was not done making history. The Fontana, CA native smashed the game-tying goal late in Sunday's match against Portland to not only become the first LAFC Academy product to score a goal, but the fifth-youngest player to score a goal in MLS history.
"I felt so many emotions," Torres said about his first goal. "It's a crazy feeling, you know? I'm honored and thrilled to have scored my first MLS goal, and just looking to everything. I don't have much to say – but I'm looking forward to many more in the future."
At 16 years, 186 days, Torres is the youngest player to find the back of the net in an MLS regular season game since Gianluca Busio scored for Kansas City in 2018.
"Every day we speak to Christian in terms of his movement and trying to read situations a little bit quicker," LAFC head coach Bob Bradley said. "I think that he's impressed everybody. He's got a good sense of timing and he's a good finisher."
YOUNGEST PLAYERS TO SCORE IN AN MLS GAME
Player                          Team                Date                 Age At Goal
Freddy Adu                   D.C. United       4/17/2004        14 years, 315 days
Gianluca Buso               Sporting KC       10/18/2018      16 years, 144 days
Jesus Ferreira                Dallas               6/4/2017          16 years, 161 days
Diego Fagundez            New England    8/7/2011          16 years, 174 days
Christian Torres            LAFC                 10/18/2020      16 years, 186 days
"He took his chance really well," Bradley said. "It's a proud moment to see a young player that has come through the Academy score his first goal, and score in a time where we really needed it to get a tough point playing on the road."
In just his third MLS contest, Torres is thriving off the confidence he feels from Bradley and the rest of the coaching staff.
"Knowing that my coach believes in me and has my back at all times, it really motivates me and gives me confidence," Torres said. "It inspires me and just motivates me to just keep going and keep working every day to keep improving"
The LAFC youth movement continues, as his teammate Erik Dueñas is now the third youngest player to ever appear in an MLS match in the 25-year history of the league. He takes his place among some pretty notable players.
YOUNGEST PLAYERS TO APPEAR IN AN MLS GAME
Player                          Team                Age At First Appearance
Freddy Adu                   D.C. United       14 years, 306 days
Alphonso Davies           Vancouver        15 years, 257 days
Erik Dueñas                  LAFC                 15 years, 362 days
"We're going to take it step-by-step with our young players," Bradley said. "We continue to move them along in a smart way when opportunities present themselves. It's always great to see them show confidence, show personality. We've seen good things from all the guys, and it is just that Tony Leone hasn't gotten the opportunity yet, but we remind him every day that like the others – be ready and take advantage when the time comes."