Klimkova names preliminary U.S. U-20 WNT roster for Nike Friendlies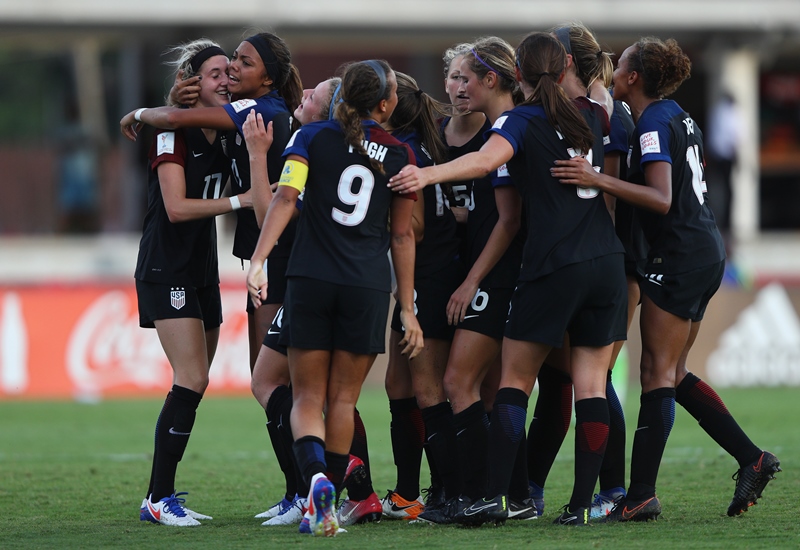 CHICAGO (Via U.S. Soccer) – U.S. Under-20 Women's National Team head coach Jitka Klimkova has named a 24-player preliminary roster for the 2017 Women's Nike International Friendlies taking place at the Premier Sports Campus in Lakewood Ranch, Florida.
The four-team tournament featuring the USA, Brazil, England and Finland will run from Dec. 7-11. Klimkova will name 20 players from the roster to suit up for each of the three matches.
Of the 24 players, 12 recently completed their freshman college seasons, five their sophomore seasons and eight are playing youth club (five for Girls' Development Academy Teams). Three players from UCLA – defender Karina Rodriguez, midfielder Viviana Villacorta and forward Ashley Sanchez – and Stanford striker Civana Kuhlmann will come to the Nike Friendlies fresh from playing in the 2017 NCAA College Cup in Orlando, Fla. Sanchez has scored six goals for the Bruins this season, while Kuhlmann has scored nine for the Cardinal.
+READ: Roster named for U.S. U-23 Women's National Team training camp
"This is an exciting time for us, after the college season, when we can get most of our college players back in the mix, even though we are missing a few due to injuries or academic commitments," Klimkova said. "We know we have a great opportunity in front of us, and I know our staff and all of our players are embracing that. Our roster for this tournament is versatile, and we have players from three different birth years, so it's great that the young players are coming in and really competing well in this environment. Every position group has a young player, from the goalkeepers up to the forwards, so that's good for the future."
U.S. U-20 WNT 2017 Nike International Friendlies Preliminary Roster by Position

GOALKEEPERS (3): Claudia Dickey (Charlotte Soccer Academy; Charlotte, N.C.), Laurel Ivory (Virginia; Surfside, Fla.), Amanda McGlynn (Virginia Tech; Jacksonville, Fla.)
DEFENDERS (8): Nicole Albrecht (Minnesota; Cedarburg, Wisc.), Julia Bingham (USC; Ontario, Calif.), Sydney Dawson (Internationals SC; North Canton, Ohio), Naomi Girma (California Thorns FC; San Jose, Calif.), Tara McKeown (USC; Newbury Park, Calif.), Isabel Rodriguez (Ohio State; Canton, Mich.), Karina Rodriguez (UCLA; Torrance, Calif.), Jordan Brewster (Internationals SC; North Canton, Ohio)
MIDFIELDERS (7): Samantha Coffey (Boston College; Sleepy Hollow, NY), Savannah DeMelo (USC; Bellflower, Calif.), Jaelin Howell (Real Colorado; Windsor, Colo.), Taylor Kornieck (Colorado; Henderson, Nev.), Zoe Morse (Virginia; East Lansing; Mich.), Brianna Pinto (NTH Tophat; Durham, NC), Viviana Villacorta (UCLA; Lawndale, Calif.)
FORWARDS (6): Sophia Smith (Real Colorado; Windsor, Colo.), Jordan Harr (Texas Tech; Sachse, Texas), Abigail Kim (California; Vashon, Wash.), Civana Kuhlmann (Stanford; Littleton. Colo.), Ashley Sanchez (UCLA; Monrovia, Calif.), Taryn Torres (Virginia; Frisco, Texas)
There are 10 players on the roster with experience playing in a FIFA Women's World Cup at the youth level and four – midfielders Jaelin Howell and Brianna Pinto and forwards Sophia Smith and Sanchez – who have experience training with the full Women's National Team, although none have been capped.
In this inaugural Women's Nike International Friendlies, held in conjunction with the U.S. Soccer Development Academy Winter Showcase, the U.S. U-20 WNT will face England (Dec. 7), Finland (Dec. 9) and Brazil (Dec. 11). The USA, Brazil and England will bring players born in 1998 or later while Finland will feature players born in 1997 and later. The USA and Brazil will use the tournament to further preparations for qualifying for the 2018 FIFA U-20 Women's World Cup in France. England has already qualified, while Finland did not earn a berth.
"These games will be great preparation for our qualifying tournament in Trinidad & Tobago and to see where we are in our development," Klimkova said. "When we played England in the summer, we put in good performances and played a variety of lineups. Now, England has achieved their goal of qualifying for the World Cup so they will come with a prepared and experienced team. Finland is coming with an older age group team, which will make the tournament more competitive, and it's always fun to play against Brazil. They are very physical and technical and are a team that can deal with our physicality. It will be a nice test to see how inventive we can be against such a creative and athletic team."
The Women's Nike International Friendlies will feature three doubleheaders, with the USA playing in the evening games on each match day. All three match days will see 3:30 p.m. and 6:30 p.m. ETkickoff times. All matches will be broadcast on U.S. Soccer's Facebook and YouTube pages as well as on ussoccer.com.
The Nike International Friendlies will be the final international matches for the USA before entering qualifying for the 2018 FIFA U-20 Women's World Cup in France. The USA will attempt to earn one of three berths to World Cup at the 2018 CONCACAF Women's U-20 Championship being held January 18-28 in Trinidad & Tobago. The USA was drawn into Group B with Mexico, Nicaragua and Jamaica, which finished first at the recently completed Caribbean pre-qualifying event in St. Kitts & Nevis.
2017 Women's Nike International Friendlies Schedule
Thursday, Dec. 7
Brazil vs. Finland, 3 p.m. ET
USA vs. England, 6:30 p.m. ET
Saturday, Dec. 9
England vs. Brazil, 3 p.m. ET
USA vs. Finland, 6:30 p.m. ET
Monday, Dec. 11
Finland vs. England, 3 p.m. ET
USA vs. Brazil, 6:30 p.m. ET
Additional Notes:
The U.S. U-20 WNT has used 35 players in nine international matches this year in preparation for World Cup qualifying, taking on Norway, Germany, France, Japan and England while compiling a record of 5-3-1.
The age cutoff to be eligible for the 2018 FIFA U-20 Women's World Cup is players born on or after January 1, 1998. For this roster, U.S. WNT head coach Jitka Klimkova called up nine players born in 1998, 11 born in 1999 and four born in 2000 (who will also age-eligible for the 2020 FIFA U-20 Women's World Cup).
Sophia Smith of Real Colorado leads the team with six international goals in 2017, while Stanford freshman Civana Kuhlmann has four, and UC Berkeley freshman Abigail Kim has three.
Ashley Sanchez and Smith are the top scorers on the roster with six international goals each at the U-20 level.
The USA and England met twice in July at England's National Team training center with the USA coming away with 2-1 and 2-0 wins. The USA goals were scored by Kuhlmann (2), Sanchez, and 6-foot-1 midfielder Taylor Kornieck.
Three players on the roster were involved in the previous U-20 WNT cycle: Jordan Harr and Savannah DeMelo and Sanchez, with the latter two representing the USA at the 2016 FIFA U-20 Women's World Cup in Papua New Guinea.
Nine players on the roster were a part of the USA's 2016 FIFA U-17 Women's World Cup Team in Jordan: goalkeeper Laurel Ivory, defenders Naomi Girma, Isabel Rodriguez and Karina Rodriguez, midfielders Jaelin Howell, Brianna Pinto, and forwards Smith, Kuhlmann and Sanchez.
Kuhlmann scored a hat trick in the USA's opening game win against Paraguay, while Sanchez scored twice in the tournament.
Sanchez, who captained the U-17 Women's World Cup team, was also a starter as the youngest player on the 2016 U-20 Women's World Cup team and scored against New Zealand in group play to become the first player to score in a U-17 and U-20 Women's World Cup in the same cycle.
Smith had the rare distinction of scoring for three different age-group National Teams this year. In February, she scored for the U-18 WNT against England and Norway. For the U-20 WNT, she scored against Norway (twice), Germany (twice), France and Japan. For the U-23 WNT, she scored against Norway as well as the game-winner against the Portland Thorns.
For defenders Julia Bingham and forward Taryn Torres, these are their first call-ups to a U-20 WNT roster. The rest of the roster has been in with the U-20s in the past.
Twenty of the 24 players on the roster have U-20 caps, led by Savannah DeMelo and Ashley Sanchez, both members of the 2016 U-20 WWC Team, who have 20 caps each.