Carranza leaves D.C. United academy to train with Carolina RailHawks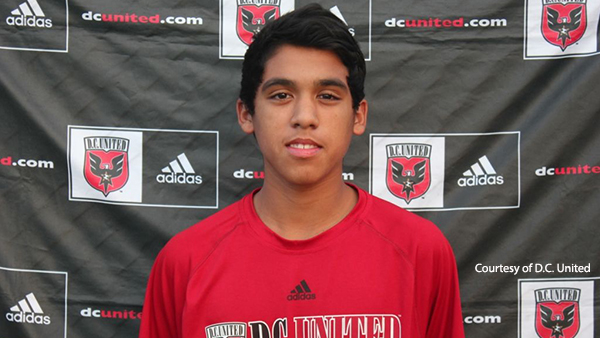 *Update: Our original timeline of Carranza's plans was incorrect; his training stint with Carolina concludes this week and he will travel to Europe this month.
WASHINGTON – Another D.C. United academy prospect is pursuing a professional career away from the Black-and-Red.
U.S. youth international and United Under-17/18 standout Jose Carranza has left D.C.'s academy to train with the NASL's Carolina RailHawks, a development originally reported on Twitter by well-connected local soccer source @DMVsoccer96 on Monday night, and confirmed by SoccerWire.com on Tuesday.
Longtime DCU Academy Member Jose Carranza Has Left DCU To Pursue Pro Opportunities, He Will Join The Carolina Railhawks This Week!

— DMV Soccer (@DMVsoccer96) September 20, 2016

A No. 10 type with technique, vision and imagination, Carranza spent time in U.S. Soccer's Bradenton Residency Program and has represented the United States at multiple age levels. He played for D.C.'s U-17/18 squad in two of their four U.S. Soccer Development Academy matches to date this season, starting both games and making way for second-half substitutes in both. He previously starred for Northern Virginia SC before joining D.C. United full-time.
Carranza is highly unlikely to ever see match action for the RailHawks. Multiple sources tell SoccerWire that the Manassas, Virginia native is simply training with Carolina before jetting off to Europe to go on trial at professional clubs on the continent later this year.
+READ: U.S. U-18 Men's National Team wins Václav Ježek Tournament
Should Carranza take that path, the 1999-born playmaker would be following in the footsteps of his friend and U.S. U-18 national team colleague Nick Taitague, who spent time with the RailHawks before heading to German powerhouse Schalke 04, where he is currently training and is expected to sign a professional contract when he turns 18 in February.
The common thread: U.S. U-18s assistant coach Dewan Bader, who is also an assistant to RailHawks boss Colin Clarke. Both Taitague and Carranza were standout performers in the U-18s' championship run at the Vaclav Jezek Tournament in the Czech Republic last month.
Great team win today to beat Hungary 3-1‼️ Also shout out to Jose for scoring a beautiful goal 🇺🇸 pic.twitter.com/Ofo40On5Rt

— Nick Taitague (@NTaitague) August 17, 2016

A D.C. United source told SoccerWire that the club saw no immediate place for Carranza in the senior squad and encouraged the creative midfielder to seek opportunities elsewhere.
Having been in their system since 2013, it would appear that Carranza has accumulated enough "training units" with D.C. to qualify for Homegrown Player status, but apparently isn't in head coach Ben Olsen's midfield plans despite earning high ratings from TopDrawerSoccer.com, MLSsoccer.com and other outlets.
+READ: Q&A: D.C. United academy's Nolan Sheldon on Homegrowns, much more
"Carranza is a slight, creative midfielder, which brings along its own set of developmental challenges for D.C.," wrote TopDrawerSoccer's Will Parchman in February 2015. "He needs protection and a midfield willing to play along the ground, which isn't always a given in the U.S. Carranza did well in U-17 residency in 2014, and he's in line to replace Fulham's Luca de la Torre as the No. 8 linkup between the deep and advanced midfield at the U17 level when the new cycle fires up next year.
"If D.C. can keep a light grip on Carranza without crushing him, he'll be the club's next impact Homegrown."
A student at Osbourn High School in Manassas, Carranza has been listed as a member of the 2017 graduating class, but may have finished his coursework ahead of time in order to pursue a pro career. Neither Carranza nor family members had responded to requests for comment at the time of this piece's publication.